US study shows pasture-weaned calves put weight back on faster
Pasture-weaned calves lost less weight in the first 21 days after weaning
Recent Arkansas Agricultural Experiment Station research shows that ranchers may be able to mitigate stress in weaned calves and improve the bottom line.
Results from the first year of this three-year study showed calves regained more weight the first 21 days of weaning in a pasture, either with or without physical contact of their mothers, compared to a "dry lot" used for beefing up livestock with feed troughs.
Weaning, which is the act of removing a calf from its mother's milk, reduces the likelihood of respiratory diseases that can result in decreased performance and revenue compared to unweaned calves, said Daniel Rivera, director of the Southwest Research and Extension Center and principal investigator in the study.
"It's probably one of the biggest revenue losses in cattle production," Rivera said of unweaned calves.
He said U.S. Department of Agriculture data indicates cattle ranchers with more extensive operations tend to wean their calves more often than ranchers with smaller operations.
"In terms of helping them make it to that next transition, looking at it from a pasture-based system, it's probably a little easier on the animal than what we traditionally do with a 'dry lot,'" Rivera said.
"Dr. Rivera's research highlights the substantial impact that social and housing environments can have on agricultural animals during stressful and necessary husbandry practices," Shawna Weimer, director of the Center for Food Animal Well-Being, said. "Weaning is one of the most stressful times for beef calves and it is outstanding to see Dr. Rivera's team working on practical, resource-efficient weaning methods to mitigate stress and facilitate good animal welfare."
The Center for Food Animal Well-Being is a unit of the University of Arkansas System Division of Agriculture. The experiment station is the research arm of the division.
Rivera also noted the potential cost-savings for ranchers. In the study, it cost about $2.50 per head daily in the "dry lot" group for 56 days. Feed for the two pastured groups cost around $1.10 per head daily for that time span. In situations where a preconditioning program requires 28 days, Rivera said it could be more economical to wean in pasture the first 28 days. A "preconditioned" calf has been properly vaccinated and can eat and drink from water troughs and feed bunks.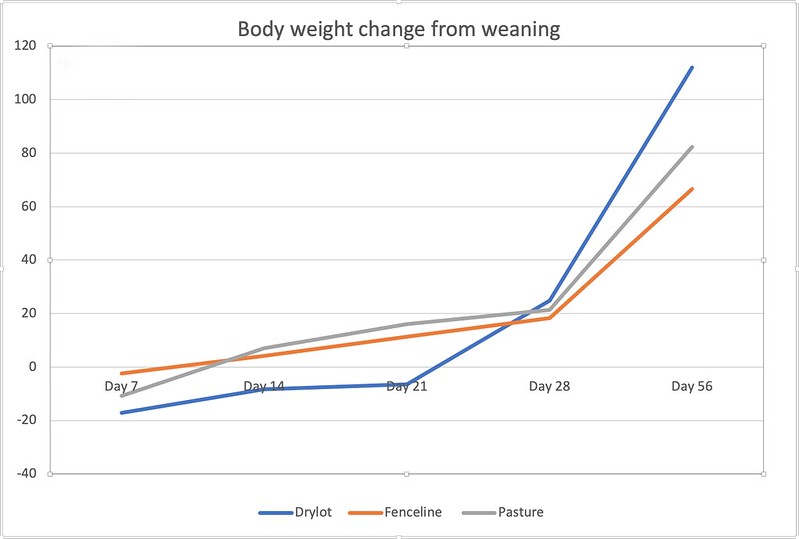 The Study
About 115 Angus-based calves were weaned from September through the end of November in the 2021 study. Rivera said the pastured calves grazed on Bermuda grass and were fed a supplement in a feed trough at a limited rate to match the energy content calves received in the dry lot. One group of pastured calves — dubbed "Fenceline" for the study — had physical nose-to-nose contact with their mothers. The other pastured group — dubbed "Pastured" for the study — did not have contact with their mothers.
Weaned calves were weighed every seven days up to day 28. A final weigh-in for all the calves was on day 56.
While all calves lost weight the first week away from their mothers, the "Dry Lot" group dropped the most weight and then gained back less weight during the first three weeks of the weaning process.
The "Fenceline" group dropped the least weight right after being weaned. At 14 days, the calves weaned in a pasture away from their mothers slightly exceeded the bodyweight of the "Fenceline" weaned calves
Rivera said he and co-researchers believe the steady weight gain during the first 21 days for the two pasture-weaned calf groups was due to the familiar environment and feed.
At 28 days, all three groups were about 20 pounds heavier than when they were first weaned. On day 56, the "Dry Lot" group exceeded the two pastured groups in body weight change.
The first year of this study showed that calves didn't put on more weight just because they had nose-to-nose contact with their mothers in an adjacent pasture.
The study's preliminary results agree with data from the Mississippi State University Agricultural and Forestry Experiment Station that showed in Brahman-influenced heifers it took up to 14 days after weaning before they were consuming enough feed to meet maintenance requirements, Rivera said.
Rivera said part of the Arkansas study's benefit was to show that producers do not need a lot of extra facilities to wean their calves. Pasture space and a dedicated feed trough are the two main requirements. While calves in a non-adjacent pasture, or paddock, can be weaned using an electric "hot wire" fence, Rivera said "fenceline" weaning that allows for nose-to-nose contact between a calf and its mother calls for a more robust "net wire" fence.
"Just a hot wire fence would be torn through by the cows trying to reconnect, so in those cases, we use a stouter net wire fence," Rivera said of "fenceline" weaning.