Canadian government funds research to improve meat processing capacity and efficiency
Canada is making a significant investment in Ontario's meat processing sector to expand the province's slaughter capacity.
The governments of Canada and Ontario are expanding Ontario's meat processing sector by investing $127,000 to support a research initiative by Meat and Poultry Ontario (MPO). The project will identify opportunities to increase meat processing capacity in order to address a growing demand for abattoir services across the province.
Carol Goriup, President of Meat & Poultry Ontario, said, "The pandemic has highlighted some of the vulnerabilities in the meat & poultry sector, one of them being the need to increase processing capacity. This study is the first step in identifying opportunities and possible solutions for the future growth of our sector. We would like to thank the federal and provincial governments for their timely funding of this project."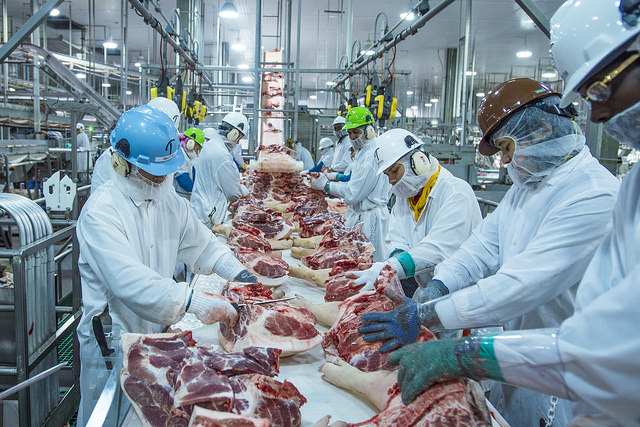 The demand for processing facilities in Ontario, especially in the North, continues to grow. In response, MPO has begun researching a strategy that pairs skills development with innovative technologies to increase efficiency and capacity across the sector. This work builds on three additional federal-provincial funding programs introduced over the last year to deal with more urgent challenges:
$2 million for food safety initiatives
$2.25 million for provincial meat plants to make workplace modifications to increase worker health and safety during COVID-19
$4 million for rapid measures to increase capacity
"Despite challenges caused by COVID-19, the hardworking women and men in Canada's meat and poultry processing sector have stepped up to deliver their quality products to Canadian kitchen tables. The investments announced today will provide these businesses the tools they need to continue delivering for Canadians and prepare for growth in this valued industry," Minister of Agriculture and Agri-food Marie-Claude Bibeau said.
Quick facts
This project is being funded under the Canadian Agricultural Partnership, a five-year, $3-billion commitment by Canada's federal, provincial and territorial governments that supports Canada's agri-food and agri-products sectors.
There are 480 provincially licensed and 230 federally licensed facilities (abattoirs and free-standing meat plants) in Ontario.
The Ontario agri-food sector supports more than 860,000 jobs in Ontario and contributes more than $47.3 billion each year to the province's economy.