Helping to Control Trichomonas foetus in Mexico
Cattle producers were reporting a high incidence of abortions and low pregnancy rates in their beef cattle herds in Chihuahua, Mexico.
Researchers at Autonomous University of Chihuahua started working with producers and Thermo Fisher Scientific to uncover the root cause of the problem.
Javier Alberto Medellin, a cattle producer located in the Chihuahua region, knew he had a serious problem among his commercial cow-calf herd of 2,500 cows, including multiple breeds and crossbreeds.
"We knew we had a problem with high abortion rates," said Medellin. "Diagnostic testing helped us to identify the trichomoniasis (trich) problem and increase our pregnancy rate by 27% in one year, resulting in a return on investment ratio of over 45:1."
Using mainly natural service with Hereford, Brangus and Charolais bulls, Medellin suspects the infection was due to purchasing bred cows from different herds across the state of Chihuahua.
"When we would pregnancy test our cows, we always had a lot of open cows and some that had been open several cycles," he explained. "We could also see that some cows had aborted because their uterus was thick and hard in consistency. Not to mention that the aborted calves were frequently seen in the pastures by our cowboys."
Identifying the Problem
Working with researchers at Autonomous University of Chihuahua and Thermo Fisher, they tested their 150 bulls for trich and found 58 were positive (39%). Any positives were immediately sent to slaughter. Open cows were allowed to cycle for three estruses, then they were synchronized to be artificially inseminated or exposed to clean bulls.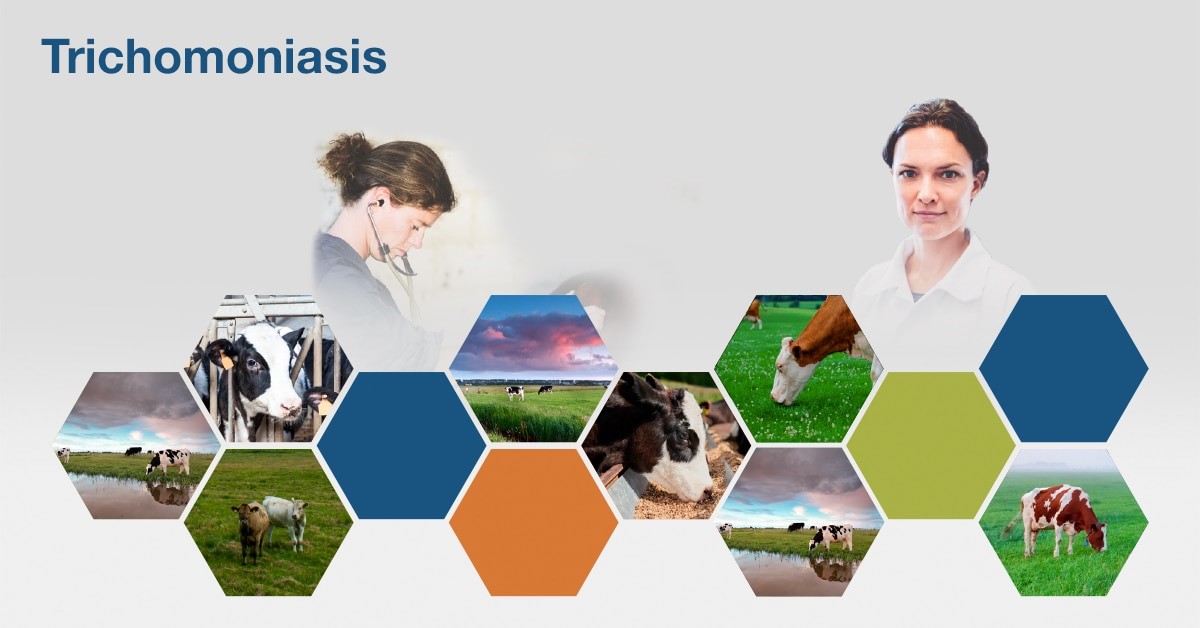 "Diagnostics helped us to identify the problem and take action, so we could get trich under control on our ranch," he noted. "We improved our pregnancy rate from 55% to 82% in one year, so our investment in testing gave us a great return. Testing helped us know what we were dealing with so we could take steps to control the disease."
Medellin stopped buying pregnant cows from other ranches, and now only buys virgin bulls.
"After our first round of diagnostic testing, we waited and then retested all of the bulls that we kept. We slaughtered any new positive bulls, as well as slaughtering any cows that did not get pregnant or that showed signs of abortion," he said. "We still find positive bulls, but the prevalence is definitely going down. We know we need to continue to monitor trich with diagnostic testing and keep working to eliminate it in our herd, but we hope to get there in a short time."
Working with Thermo Fisher Scientific
The Autonomous University of Chihuahua's study was conducted in collaboration with Thermo Fisher Scientific, using the VetMAX™-Gold Trich Detection Kit. Thermo Fisher helped train the diagnostic lab team at the University with a workflow for real-time PCR and provided instrumentation. Workflow is critical to get optimal sensitivity and specificity of results.
"There is no doubt that the real-time PCR test is best for trich testing," said Dr. Jose Alejandro Ramírez-Godínez faculty of Animal Science and Ecology, Autonomous University of Chihuahua, Mexico. "The test itself is more expensive than other diagnostic options, but it gives a great return on investment. When you talk to producers who have experienced how economically devastating the disease can be, they say it's very cheap."
Real-time PCR testing is highly sensitive and highly accurate, and results are available the next day. Using the older method of culture followed by microscopy, results will take weeks because three samples need to be taken every two weeks. Testing with culture isn't as accurate as PCR, so the biggest concern is that cattle producers will end up culling negative bulls.
"For the first part of the program, Thermo Fisher sponsored the diagnostic kits and the Chihuahua University contributed gas and transport expenses to the veterinarians sampling the animals," Medellin said. "Thanks to Thermo Fisher, the trich test is now available to ranchers in Chihuahua and all over Mexico."
Impact of Trichomonas foetus
Trich is a highly contagious sexually transmitted disease caused by Trichomonas foetus (T. foetus). Bulls serve as a carrier of T. foetus and show no outward signs or symptoms of this untreatable infection. Cows become infected when they are naturally bred with an infected bull.
The primary symptom in cows is embryonic death causing infertility, which contributes to scenarios where cows are in heat when they should be pregnant.Infected cows should be allowed three to four cycles to clear any existing T. foetus disease and then synchronized to the same reproductive cycle and bred with Trich-free bulls or artificial insemination (AI). Cows should be pregnancy-checked.
To manage trich, it's important to remove positive bulls from the herd and then PCR test bulls in the herd on a regular basis to confirm disease has not moved back into the herd.
Veterinarians know and understand trich, but producers aren't always enthusiastic about testing, so it requires conversations to change their mindset. Regardless of herd size, cattle producers need to be educated about the significant economic impact it can have on the ranch.
50+ years of expertise. Applied. Visit our webpage.
For veterinary use only. For in vitro use Only. Regulatory requirements vary by country; products may not be available in your geographic area.
TheCattleSite News Desk
Sponsored Article
---

Our Partners
---