Average Global Dairy Farm Looks Different Than You Might Think
ANALYSIS - As of 2015, there are about 121 million dairy farmers around the world. When you think about why dairy and government policy are so closely linked, it's because so many people are involved in milk production globally, said Torsten Hemme, Managing Director of the International Farm Comparison Network (IFCN), to attendees at the Large Dairy Herd Management Conference in early May near Chicago.
Will there still be 121 million dairy farmers in years to come? Numbers are expected to decline.
"When our farmer numbers decline, farmers and policy makers get afraid, and then you start the political process to prevent the losses," said Mr Hemme. "Can we stop this structural change? No, but the policy process will be there, and it's up to us to guide it as much as we can."
Interestingly, until 2013 the number of dairy farms was slowly increasing, so there's been about a 1 per cent increase in farm numbers. This is an indicator that more people have added two to three cows in their backyard because it's an attractive business compared to not having dairy.
What's the average dairy farm size?
Farm size is a very simple indicator but meaningful. Countries with an average herd size of higher than 100 cows include the US, Argentina, Uruguay, South Africa, Oceania, Saudi Arabia, parts of Europe - especially the UK and the Czech Republic. However, the majority of countries in the world are not large-scale, but rather they are much smaller herds.
"The world average dairy farm right now has about 3 cows, producing a 40-pound can of milk. Half of that they drink themselves and the other half is sold. This is the reality," said Mr Hemme.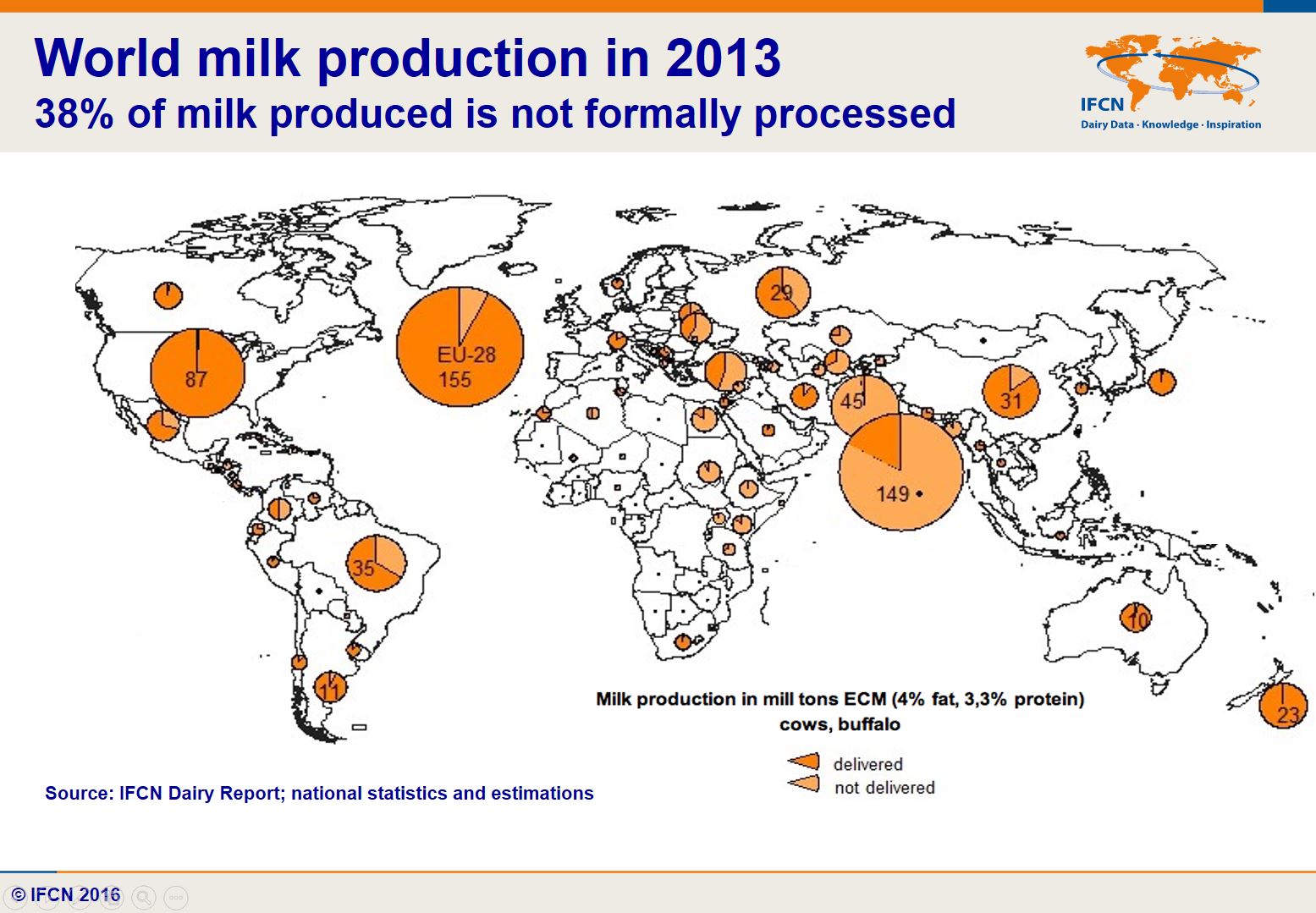 Dairy Farm Size Breakdown
Mr Hemme said 73 per cent of dairies are located in what we call small-scale or household farms, which own 1 to 2 cows, while about 23 per cent own 2 to 10 cows.
"That's really the majority of farms, now the question is where are the cows? This is an indicator where the production is. About 60 per cent of dairy cows are on small-scale and household farms, while about 26 per cent of the cow fall into the medium size family farm category which has 10 to 100 cows," he said. "About 15 per cent of the cows are in business farms with more than 100 cows."
In some countries, 100-cow dairy farms would be considered a hobby farm, but Hemme said it's important to look at the dairy industry with a global view.
"At the moment maybe 3 per cent of total dairy cows are in herds with more than 1000 cows," he said. "Interestingly, we probably have 300,000 herds globally with more than 100 cows. Of course, a lot of these are in the US."