Wagyu Beef Keeps Eye On Expansion
AUSTRALIA - As demand for high quality beef continues to grow across Japan and Asia, the Wagyu beef industry is progressing to meet market opportunities.
This is not easy for a breed only produced in large volumes in Australia and the United States outside of its native Japan. Therefore, artificial insemination and embryo transfer play vital roles in expanding and maintain herds.
And this is where change could be afoot. Earlier this month, news of sexed semen guaranteeing 90 per cent male and female calves was announced.
The semen has the capability to improve both the meat production and cattle breeding sides of the sector, according to Ken Dungey, Co-director of Lake Wagyu, the company now marketing the 90 per cent semen.
"AI is very extensively used in Australia as there are a number of bulls proven for outstanding performance," says Ken, adding that he sees sexed semen having a role to play in progressing beef output in the next few years.
"Firstly, sexed semen will be useful for large producers wanting to supply feedlots – this is where bull calves are desired," says Mr Dungey. "Heifers put on too much fat when fed meaning there is a big preference for males in this segment of the industry."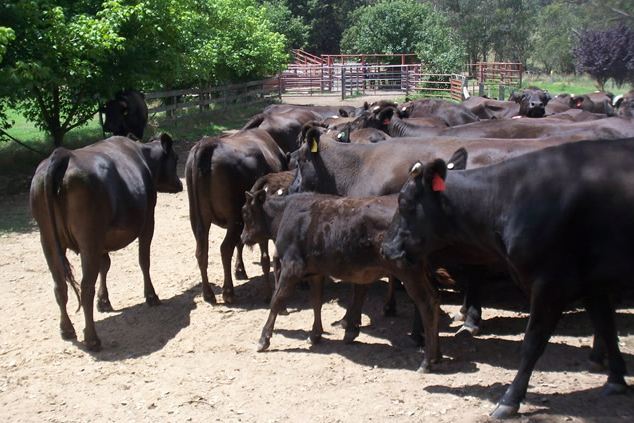 The Lake Wagyu Herd on the Move - This predominantly black breed is very noticeable along the east coast of Australia and in feedlots in Queensland and Northern New South Wales. Photo Courtesy of Lake Wagyu
The flip side of the coin is the breeding sector which produces full blooded Wagyu animals. There are over 400 Wagyu breeders across Australia, he adds.
Because of a preference for faster, more economical cross-bred Wagyu, full blooded animals are in demand.
In Australia, we usually first cross Wagyu with an Angus cow, adds Ken. "This is called F1 or first cross. There is a limited export of live full-blood Wagyu, but a big trade for first cross animals, this is done for weight, size and availability."
"We've got huge numbers of Angus cattle in Australia which marble by themselves to some degree. The best Angus animals will give quite a reasonable marble score. If these are crossed with a high marbling Wagyu bull, the progeny will usually perform well."
Highly prized for its marbling characteristics, the best Wagyu beef cuts end up at expensive restaurants. Such cuts have a marbling score of nine or above.
Beef from Angus crosses rates with marbling scores of six or seven and tends to go to supermarkets, adds Mr Dungey. These animals will be on feed for around 250 days.
But while both breeding and feedlot enterprises are set to benefit from Lake Wagyu's sexed semen, Mr Dungey admits only larger businesses, such as those supplying feedlots, will be able to justify the added costs. Consequently, certain parts of the country could be geared up for changes to their artificial insemination (AI) programme.
"Travel around and you can find Wagyu anywhere down the east coast of Australia and on Tasmania," says Ken. "There are a few herds in Western Australia and some very large herds of 4-5000 in the tropical north - Northern Territory and Queensland."
"Big feedlots can be found in Queensland and Northern New South Wales because there are the numbers of animals there and availability of cheap grain - some herds are rapidly growing."
Over in America, the industry takes a similar form, with markets and production developments stemming from Wagyu being the premier beef breed, says Michael Beattie of the American Wagyu Association.
"The intrinsic value of a Wagyu carcass is much higher than your regular domestic beef carcass because meat quality grade is not only at a premium but the inputs to attain this product grade cost a great deal," adds Mr Beattie, Association Executive Director.
Just as in Australian agriculture, Mr Beattie says that semen plays a huge role in US Wagyu production, ultimately further adding to cost.
"A high proportion of feeder cattle are by Artificial Insemination and even Embryo Transfer calves are bred for slaughter. Also you are feeding these cattle out to feed for 350-550 days which comes at a cost."
Mr Dominic Bayard, Chairman of the Australian Wagyu Association Genetic Improvement Committee, agrees that the use of sexed semen could have great possibilities in Angus crossing programmes.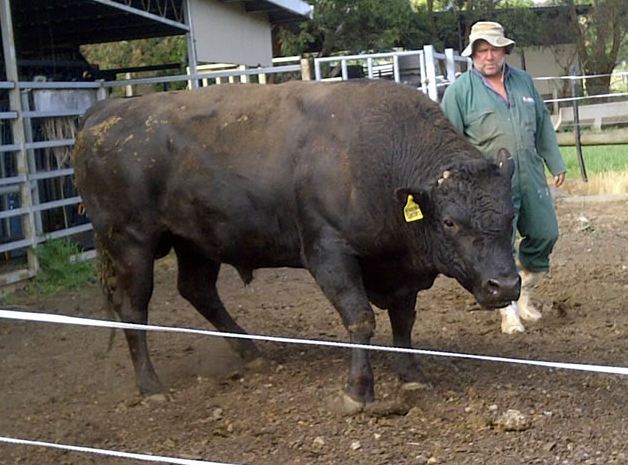 Super Sire - Lake Wagyu's Bull C87. Photo Courtesy of Lake Wagyu
"There would be a good use in a terminal sire situation where no females are kept and so male calves would be an advantage. In the future there may well be advantages again, with the value of full blood Wagyu steers being so high, to producing lines of genomically identified superior lines of Wagyu steers."
But the issue of new semen may not be clear cut and those looking to use it should be aware of some possible shortcomings, he advises.
Mr Bayard is wary of unproven sires on the genetic market and the effects of hormonal cycles on semen efficacy. Wagyu is still in the expansion stage and there may not be a great market for sexed semen at this point, he adds.
"One needs to be a bit careful when using sexed semen as it does appear best results are obtained from mating heifers and first lactation cows in a natural oestrus situation," warns Mr Bayard. "Results from using sexed semen in flushing programs are variable."
So while there may be issues to iron out, the matter of sexed semen comes as good news for a sector desperate to carry on expanding and fulfilling demand. This should be seen in the coming years as large feedlot oriented and breeding enterprises start to tap into the benefits of majority bull or heifer calves.
Whether this effects marginal sectors, such as British Wagyu production, remains to be seen. Although with Lake Wagyu's global reputation and coverage, there is a possibility that Wagyu beef could be on more and more plates in the future.
Michael Priestley
News Team - Editor
Mainly production and market stories on ruminants sector. Works closely with sustainability consultants at FAI Farms