Are plant-based diets better than real meat?
Researchers recommend a more plant-based diet
A new edition of the Nordic Nutrition Recommendations (NNR) was recently released. This time the NNR contain scientific recommendations on a diet that is good both for human health and for the environment. In this new edition, the recommendation is to further reduce meat consumption in favour of a more plant-based diet.
On the 21st-22nd of June 2023, researchers from Sweden (SLU and HKR), Ukraine, Moldova, Poland, and Lithuania met at Wroclaw University of Environmental and Life Sciences, Poland, to discuss the complexities of human diets and the importance of plant-based alternatives. The meeting was a part of the project "Plant-based diet to ensure progress towards sustainable production and consumption", financially supported by Swedish Institute (SI).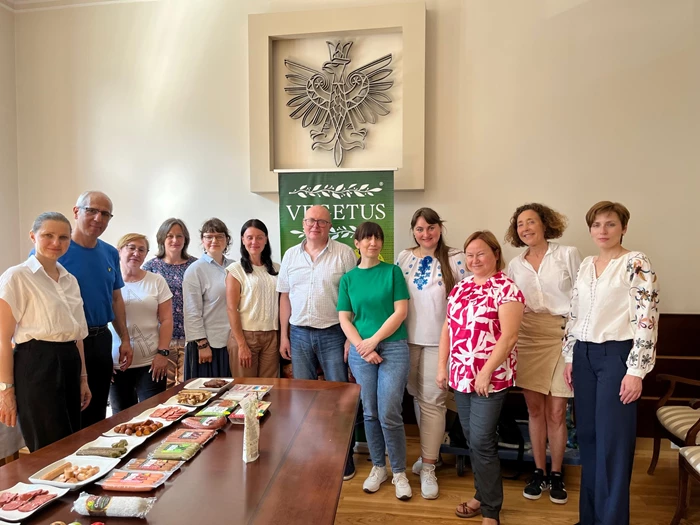 During the meeting, traditional and new protein sources were discussed. Aleksey Gonsky, the owner of the Ukrainian family company Vegetus, which specializes in vegan and vegetarian food, presented innovative products based on wheat, pea and soya proteins. The meeting participants had the opportunity to taste the products and hear exciting stories behind each product.
"Well-planned and delicately designed vegetarian and vegan diets are delicious, better for the environment and may provide health benefits," says Gonsky.
"We are constantly increasing our assortment to meet the demands of not only vegetarian and vegan community, but all people," added Larisa Honska, Gonsky's wife and partner.
"Non-vegan consumers are also increasingly buying our products because they like the taste and structure, and our plant-based analogue can be used in the same way as the meat-based products," explained Gonsky.
"Some consumers choose the plant-based diet for health reasons, and others for ethical reasons, but we all should remember the importance of planning for nutrient adequacy and for taste," said Professor Małgorzata Korzeniowska from the Wroclaw University of Environmental and Life Sciences.
Natalia Hrishchenko, National University of Life and Environmental Sciences of Ukraine, explained the benefits of using chitin-melanin-glucan complex from tinder (Fomes fomentarius) for medical applications and also suggested how it can be used in the food industry.
Anna Michalska-Ciechanowska explained how they work with plant food innovations at the Wroclaw University of Environmental and Life Sciences, especially with the processing of fruits and berries to powders with antioxidative properties and new directions in managing fruit and vegetable by-products.
"It was great to have a knowledge exchange across several sectors, e.g. in food product development, sensory evaluation, benefits and risk assessment and food molecular structure. Such exchange is a key component for transparent and multidisciplinary research," says Saied Karkehabadi, the grant holder and project leader.