Researchers use cameras to study the social interactions between cows
Data from sensors, showing the position of the cows, in combination with a video stream taken by cameras installed in the barn, are used to study the behavior of dairy cattle.
In a pilot study, at one of Swedish University of Agricultural Sciences´s research barns, Keni Ren and her colleagues show that a combination of sensors and cameras gives a really good picture of what is going on among the cows in the barn.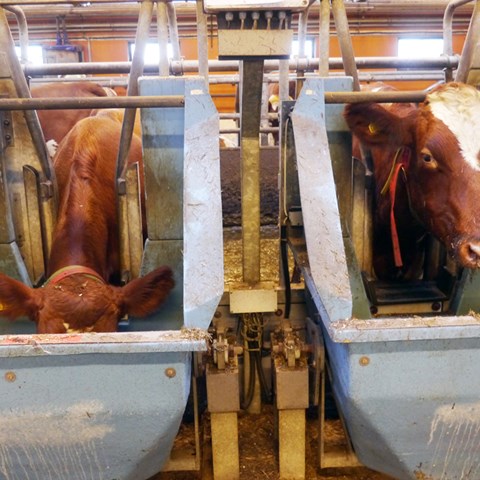 "Data from cameras add a whole new dimension to social behavioral studies," says Keni Ren who recently defended her doctoral thesis at Umeå University.
The method of using cameras as a complement to real-time locating sensors was investigating with a focus on the social interactions between cows gathering around the feeding table, for example when younger individuals are introduced to an existing herd.
"When examining the competition and interactions between cows of different social rank, various sorts of information, like who, where, and what happened need to be taken into the measurement," says Ren who is now a research assistant at the Department of Animal Breeding and Genetics.
All the cows want a place at the feeding table. They can be pushed away by other cows, or voluntarily leave room for someone else. This can be captured by the sensors installed in the barn and then analyzed by computers.
Through machine learning it is possible to analyze a large amount of videos and this gives many clues about the social interactions in the context of the time-series information.
The study was conducted on a smaller scale, with positioning data and visual data from only ten cows. But it shows that the technology works and it can be scaled up for monitoring a larger herd. In practice, it could be used as a tool for early detection of situations of stress among the cows.
The large amount of data that is generated is especially interesting for researchers who want to know more about behavior. The limitations are partly the design of the barn, and partly how many cameras you can set up. Another technical limitation is the battery capacity of the sensors, which currently lasts about two months.
"This study is quite technical but it shows that the method works. It is fun to apply technological development on this type of behavioral study, which can give us valuable information about the dairy cows," says Ren.
This pilot study was conducted by researchers at Umeå University together with researchers at the Swedish University of Agricultural Sciences.