Why Rodeo Bull Breeding is Bringing in the Big Bucks
The US cattle industry as a whole might be suffering market volatility, but one surprising sector is bucking the trend. A select group of ranchers and stock contractors who breed and train bulls for rodeo shows across America is riding high in a lucrative market, writes John Wilkes.
Since formation of the Professional Bull Riders (PBR) organisation in 1992, rodeo has been expanding both in popularity and as a business empire; under the influence of the PBR the sport has grown into a multi-million dollar industry.
A weekly bull-riding TV show sponsored by the Ford motor company – the Built Ford Tough Series – is featured on CBS and networks globally, broadcast to half a billion homes in 50 countries.
In the arena, 3 million fans now watch bull riding, compared to 300,000 in 1995. Here the top riders compete for an end of season bonus of $1 million [£770,000] as part of $10 million [£7.75 million] in prize money offered throughout the year.
Driving this success, alongside the daredevil riders, are the other stars of the show – the bulls. A steady stream of top quality bulls has developed along with the sport and has played its own part in expanding bull-riding's appeal. And through careful management and much investment, many breeders and owners have been able to capitalise on this aspect of the bull-riding boom. Stocking the rodeo is no longer a sideline for ranchers. It is big business.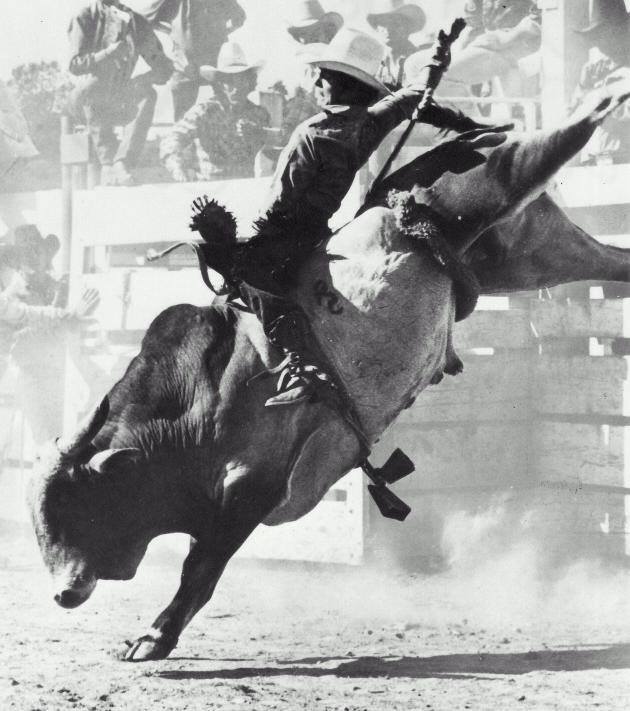 Oscar, a legendary bull from California in the the 1970's. Photo credit: courtesy Gary Bowden.
Take legendary bull Bushwacker, a rodeo veteran who retired in 2014 after earning $600,000 [£460,000]. His owner once refused a purchase price for him of $700,000 [£530,000]. This is understandable given his semen now sells for $5,000 [£3,840] per straw.
And then there's the prize money. At the PBR end-of-season World Finals held every year in October, three- to four-year-old bulls compete for a chance of winning $200,000 [£150,000]. At a major event like this, bulls can earn $2,400 [£1,800] each time they provide PBR cowboys a ride – or an 'out', as it's known in rodeo cowboy circles.
Young bulls can also compete in lucrative 'futurity' competitions, where there are no riders and the animals are judged solely on their bucking performance. Exclusive Genetics offer a lofty $500,000 [£384,000] first prize for the winner of their event.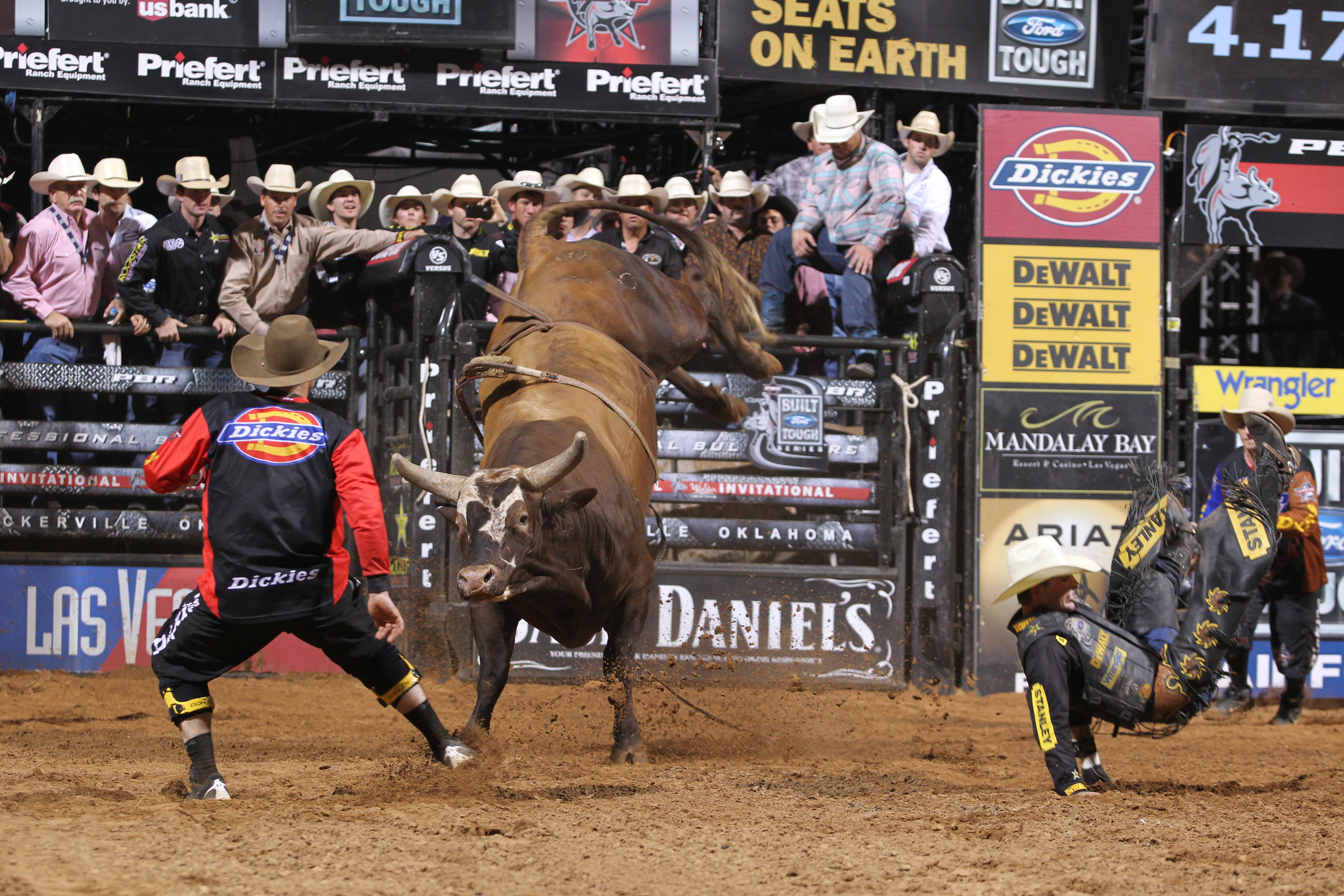 Bushwacker, the most successful bucking bull of modern times. Photo credit: BullStockMedia.com.
To help regulate the sector, the PBR established the American Bucking Bull Inc (ABBI) in 2004. As well as keeping a detailed database of bucking bull livestock, ABBI promotes best practices for breeders and encourages wider bull ownership among the general public.
In one initiative, ABBI introduced Back Seat Buckers to allow members of the public with no ranch or livestock skills the opportunity to buy shares of a 100 per cent managed bull.
The company also manages a registry of almost 200,000 bucking cattle with DNA held from animals across the US, Canada, Brazil and Australia. Its data includes 'pedigrees', ear tag numbers and a visual description, and every animal has an electronic chip.
Slade Long works with ABBI on its DNA-based registry and oversees Probullstats.com – a database where each score attained every bucking bull in its performances is carefully recorded. "The best bulls aren't really any better than they were years ago," says Mr Long. "There are just so few inferior bulls nowadays."
"The era of cowboys mounting mostly mediocre animals with the odd really difficult or 'rank' bull coming out of the chute is long gone," he adds.
"This is like the race horse business," says Jerome Davis of Davis Rodeo in Archdale, North Carolina. "We're looking to breed the next big winning animal."
Mr Davis breeds and trains bucking bulls in addition to organising events for PBR, and his bull Super Freak won the American Heritage event in 2008 which netted the animal, two years old at the time, a prize of $90,000 [£70,000].
A former bull rider, Mr Davis himself was Professional Rodeo Cowboy Association (PRCA) World Champion in 1995. But in 1998 he broke his neck in a bull riding accident, and was paralysed. Since his accident he has dedicated his time to raising and training bulls and he works with his wife, Tiffany, to advance the sport on the east coast.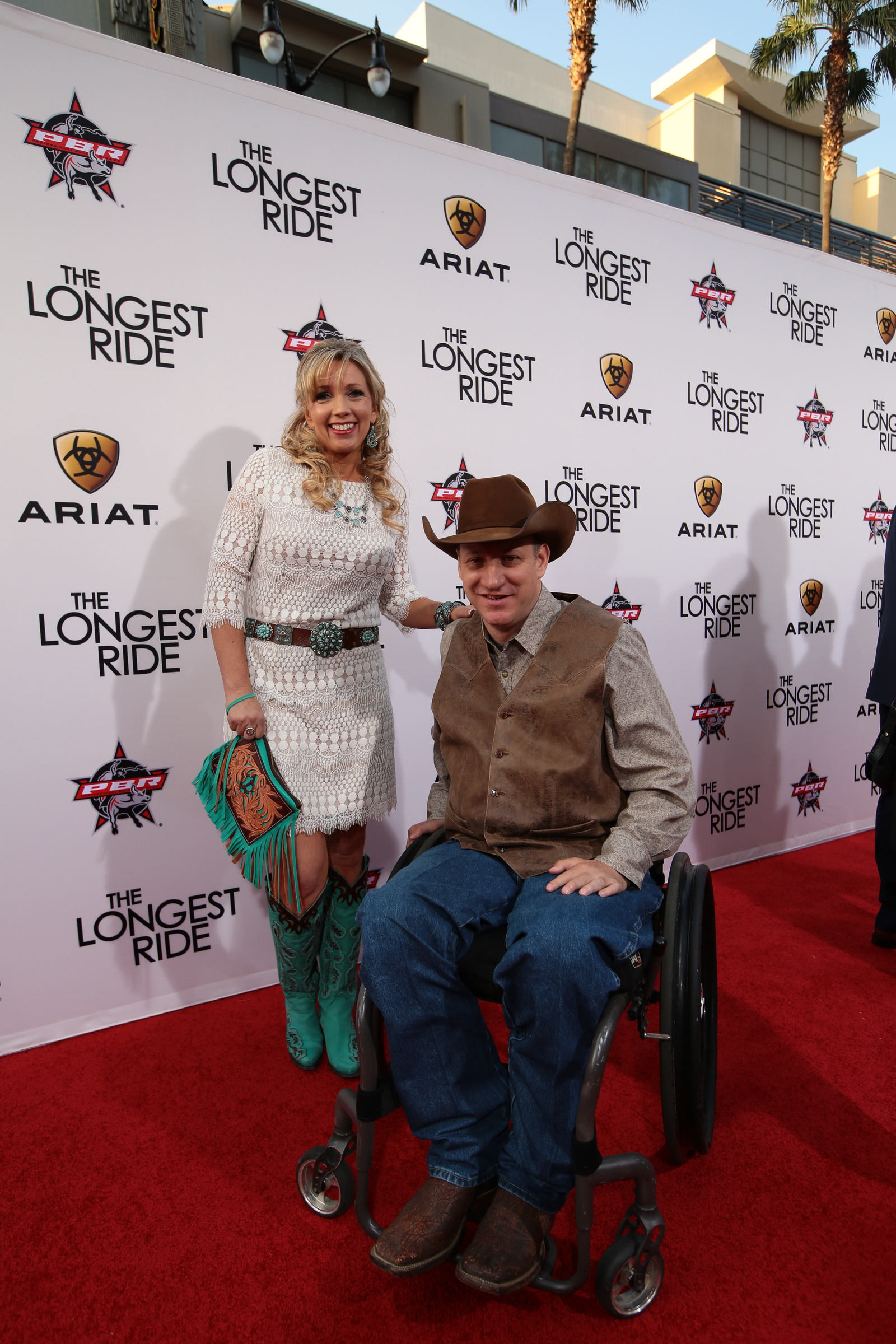 Jerome and Tammy Davis, bucking bull breeders and trainers. Photo credit: BullStockMedia.com.
Super Freak's sons have bucked at the PBR World Finals for the last four years. Mr Davis commented: "That bull was truly a blessing for me."
It's a demonstration of how integral recorded data and genetics are to breeding winning bucking cattle. The goal is to achieve an athletic bull with just the right amount of 'heat' or aggression.
"We don't want a bull that's too mean as they wear themselves out," explains Mr Davis. "They can also flip over in the bucking chute and get injured. But some 'heat' ensures a bull's longevity."
Bucking bulls can carry infusions of Brahman, Mexican fighting bull, Watusi (African cattle), Charolais and Piedmontese genes. Highly successful Oklahoma breeder Charlie Plummer incorporated genetics from feisty heritage British White Park cattle, removed to the US during World War II for safekeeping.
The origins of Jerome Davis's 120-strong cowherd vary greatly. Mr Davis commented: "Our cows are anything and everything and not one particular breed. Every animal is recorded and registered with ABBI."
The Davis cows calve in the spring. Calves are fed a 14 per cent premium ration called Total Bull from Total Feeds at a cost of $20 [£16] for an 18kg bag. Post weaning, they receive 2.8kgs per head with full access to hay and pasture. "It's very high quality concentrate and we don't need to feed that much," says Mr Davis.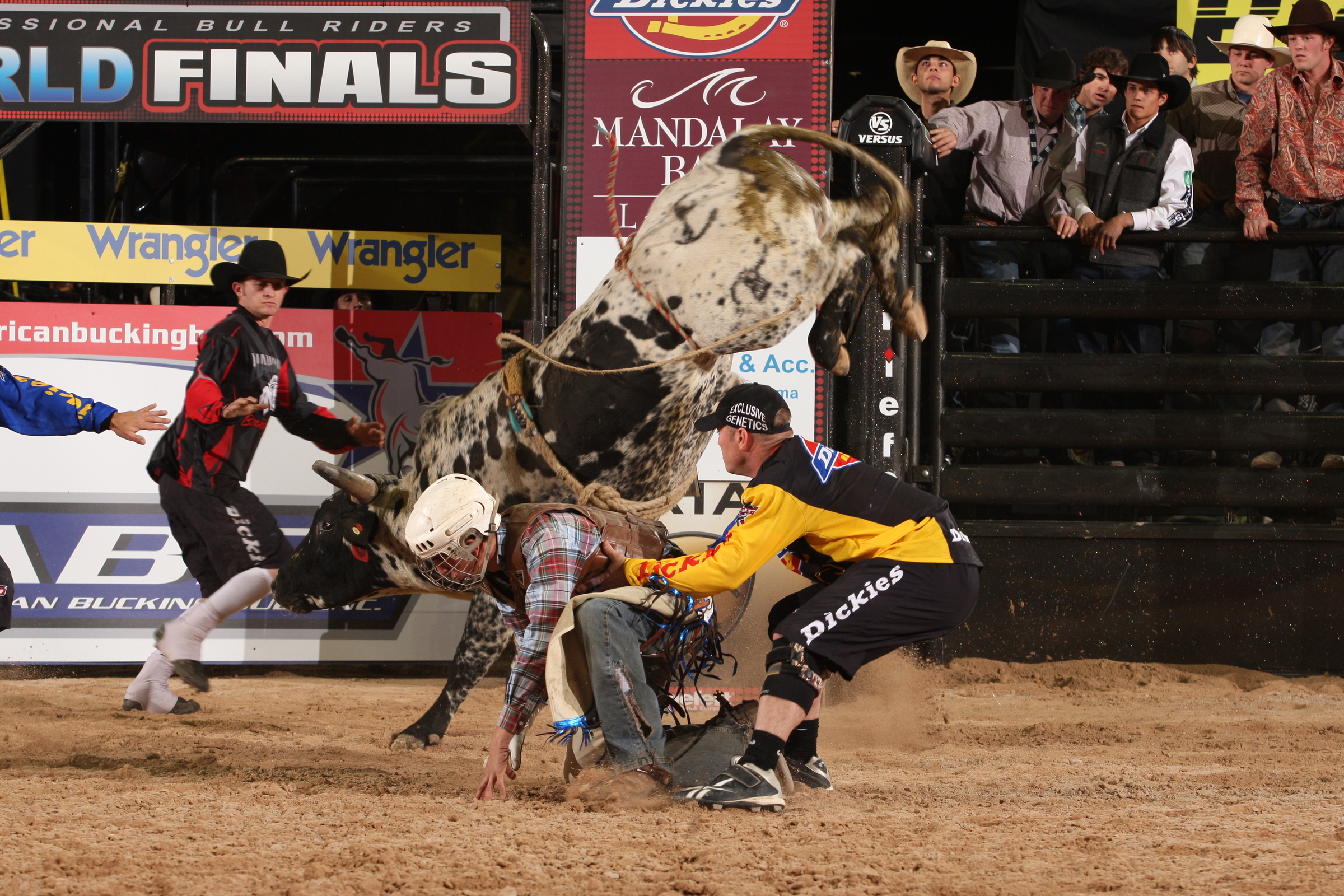 Super Freak bred by Jerome Davis. Photo credit: BullStockMedia.com.
At the yearling stage, their potential gets assessed. This involves a 10kg weight being placed on the animal's back before it is released from the chute into the ring.
Bulls wear a flank strap that sits over their hips. Its role is to increase the tendency to kick out. This doesn't hinder the bull in any way and is not tied tight. The weight is electronically released after four to six seconds. This simulation of an 'out' reveals whether the animal has the right stuff.
Those not making the grade are sold as feeder cattle at the sale barn. As a judge of bucking bulls, Mr Davis has set criteria: "A bull should leap really high, kick over its shoulder and be spinning in the gate with a lot of 'juice' in the tank."
These bulls make good money. Mr Davis explained: "I was at a sale recently where young bulls sold up to $9,000 [£7,000]. Some can go as high as $70,000 [£53,000]. But, your average calf will cost around $4,000 [£3,000]. This is a whole lot better than breeding Angus feeder calves."
After many years breeding bulls Mr Davis knows how important it is for a steady hand to train and care for these raw youngsters in order for them to reach their full potential. He understands his young charges and allows them time to stand, relax and lose any nervousness around the chutes and the ring; only then does he let them buck.
Though training helps hone rough edges, in the end careful breeding wins out. "There's 100 years of genetics behind these cattle," says Mr Davis. "They're simply born to buck."
For Jerome Davis bulls are his calling and despite his early physical setback, his drive and determination to breed and train the very best is undiminished. Mr Davis puts it down to passion: "A man told me once, 'find something you love to do in your life and you'll never work a day in your life.'"
John Wilkes
Freelance journalist
John Wilkes is a former UK sheep and beef producer now living in Washington DC. His experience in both the UK and US gives him a unique perspective on livestock and food production.
Nowadays he writes and consults about livestock and agriculture. He also hosts a broadcast radio programme called The Whole Shebang on Heritage Radio Network from Brooklyn, New York.
John is a board member of The Livestock Conservancy in the US and a member of The American Sheep Industry Association.