How does India's Stance on Cattle Slaughter Affect Farmers?
Hindu hardliners are increasingly clamping down on the potential slaughter of cows in India – so what does that mean for the nation's dairy and subsistence farmers? Olivia Cooper reports.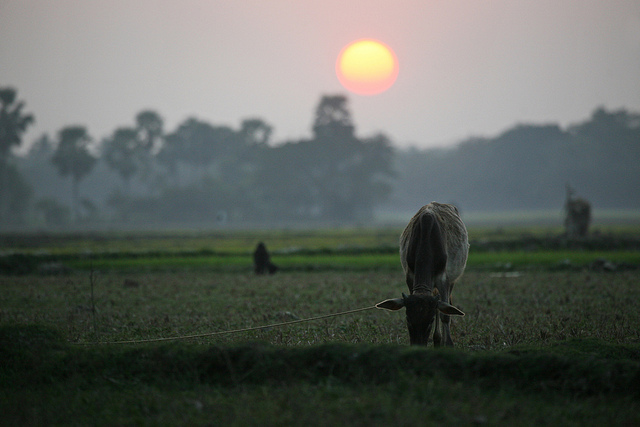 Cows are considered sacred in the Hindu religion, and many Indian states have banned their slaughter for many years. While some states carry a total ban, others allow certain cattle to be slaughtered, depending on factors like age, gender and continued economic viability.
However, since the right wing Bharatiya Janata Party came to power under Prime Minister Narendra Modi in May 2014, Hindu hardliners have taken a stronger and more visible position, stirring up religious tensions and leading to an increasingly stringent stance on cow slaughter.
Fuelling the fire is the fact that most slaughterhouses are run by largely poor Muslims. There is also a high level of illiteracy and a frequent misinterpretation of the term 'beef'. Although India is the largest 'beef' exporter in the world, all of its export sales are of buffalo beef, which can legally be slaughtered. However, radicals use this ambiguity to their advantage, with potentially devastating effects on society and legal farm trade.
Box – Religion in India (2011 census)
Total population – 1.03bn
Hindus - 79.8 per cent
Muslims - 14.2 per cent
Christians - 2.3 per cent
Sikhs - 1.7 per cent
The situation came under the international spotlight last year following the brutal murder of a Muslim blacksmith by a Hindu mob, for reportedly killing and eating a sacred cow. Another Muslim man was later murdered for allegedly smuggling cows. The Government has come under pressure to condemn such actions, but several politicians have since called for a total ban on cattle slaughter, nationwide.
Slaughter bans impact legal buffalo, dairy industries
In a country that boasts around 13 per cent of the world cattle population (at about 191 million head), and 56 per cent of the global buffalo population (about 110 million head), the effects of this are enormous. Not only does it impact on the legal buffalo trade, it also has huge implications for the dairy industry.
With a population of around 1.4 billion people, the average herd size is between one and two cows. "These animals are maintained by rural families with small land holdings of 1-2 acres and landless labourers for milk, draught and meat production," says a report by APEDA, India's Agricultural and Processed Food Products Export Development Authority.
"For city milk supply large herds of superior cattle and buffaloes are maintained under stall fed conditions. However, although India is the world's largest milk producer at 117m tonnes (55 per cent of which is buffalo milk) – contributing 16 per cent of global production, meat production is lagging behind in fifth position at 6.3m tonnes."
Box – Legality of slaughter in India
Most of Central and Eastern India permits the slaughter of bulls and bullocks only.
North-Western states carry a complete ban, with the strictest laws in Delhi, Gujarat, Maharashtra, Madhya Pradesh, Punjab, Rajasthan and Uttar Pradesh.
A few states, mainly in the North-East, permit cattle slaughter under certain conditions (including Mizoram, Manipur, Nagaland, Assam, Arunachal Pradesh, Tripura, West Bengal and Kerala).
Punishment ranges from fines to jail terms of up to 10 years.
If dairy producers are not allowed to slaughter male calves and spent, sick or injured cows, it has considerable implications for animal welfare as well as meat and leather production.
According to a report by Reuters, buffalo beef exports have fallen over the past six months as traders struggle to source sufficient supplies. It claims that religious activists, alleging that cows are being killed falsely labelled as buffalo beef for export, have been targeting meat processors and transporters and disrupting the whole supply chain.
"If we get orders there is no supply; if suppliers try to sell, they are harassed," it quotes one exporter as saying. Between April and September buffalo meat exports fell 13.2 per cent, year-on-year, to 598,901 tonnes, although in value terms they plunged 15.5 per cent to $1.89bn due to adverse currency movements, it adds.
India is also a major player in the leather industry, which is being similarly disrupted. According to a report in The Hindu, the Indian leather industry employs almost 2.5 million people, mostly among the society's lowest and most oppressed rank – the Dalits.
"With the vigilante actions by the Hindutva brigade, there is a growing fear among flayers, contractors, truck drivers, traders and others connected with the industry," says the report.
It quotes a tannery owner in Kanpur: "Now flaying or handling a cow hide is like having a tiger skin, which is totally illegal. Nobody wants to touch the skin of a dead cow; they are too scared." Trade in leather has reportedly declined sharply, resulting in many tanneries and leather manufacturers making workers redundant.
Slaughter clampdown leaves stray cow dangers
The Government says it is clamping down on illegal slaughterhouses and the transport of cattle across borders for the purposes of slaughter. According to APEDA there are about 4000 slaughterhouses registered with local bodies, and more than 25,000 unregistered premises. For export, buffalo must go to only registered slaughterhouses or the 27 Export Oriented Abattoirs. All slaughter is carried out to Halal methods, and new port testing facilities have been unveiled to ensure only buffalo meat is being sent abroad.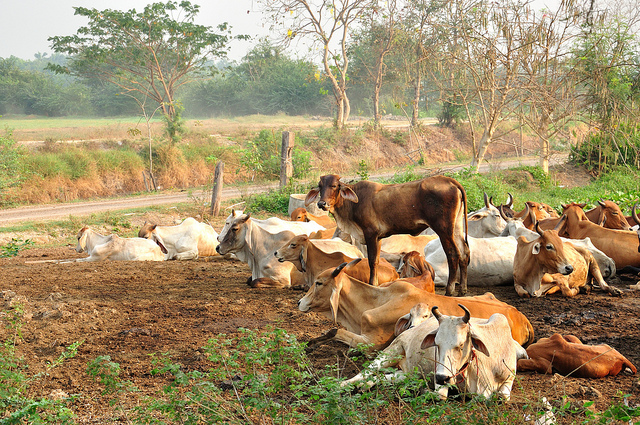 Traditionally, small farmers sell unproductive cattle to contractors – who may transport them to states where slaughter is legal or send them to illegal abattoirs. A blanket ban on cattle slaughter would mean they would have to continue to pay for their upkeep – a financially unsustainable option.
This has another implication. The 2012 census revealed that there were 5.3 million stray cattle abandoned by their owners across the country, almost one million of which were in urban areas.
These animals receive no feed or veterinary care, and are responsible for a number of road accidents. Cow sanctuaries play an important role in managing stray cattle, but do not have sufficient capacity to cope with such high numbers. Further tightening of slaughter rules will only exacerbate this problem.
"India is confronted with many hygiene problems in urban areas that are related to animal populations," says a report by the OIE – the World Organisation for Animal Health.
"These increases in populations of both food-producing animals and stray animals in cities exacerbate such public health hazards as the transmission of zoonoses, vector-borne diseases, occupational health hazards and environmental pollution, as well as compromising animal welfare."
Another threat to the dairy industry is the EU-India Free Trade Agreement, which is currently under negotiation with a view to removing tariffs on EU dairy exports to India. According to speakers at the recent Oxford Real Farming Conference, this has the potential to affect small-scale farmers in India as well as across the EU.
"Not only will these free trade agreements destroy the livelihoods of 90 million Indian dairy farmers, it will severely impact the livelihoods of small scale dairy farmers in Europe by forcing us into competition on a volatile international market," said Jyoti Fernandes, a representative of the Landworkers' Alliance and European Coordination of Via Campesina. "We need a guaranteed fair price and protection of domestic markets rather than export strategies and free trade."