Dung Detective Gets Most Out of Milking Robot
Sieving manure is allowing a dairy cow nutritionist to make important changes to feed preparation and rations.
Cypriot farm adviser, Carolina Kyriacou , is working with a 55 cow herd, a lely robot and three excrement sieves to assess how well cows are digesting feed and its effect on performance.
As part of a preventive approach to cow health, Mrs Kyriacou is working with dairy farmer Cyprus Christodoulos Kouloumbris to break from the widely practiced "fire-brigade" approach to animal health", often seen in the country.
Christodolous's 55 cow herd are milked by a lely robot, a great source of data and fed corn silage, alfalfa silage from his 38 hectare operation and from other farms. The robot feed 5.5 kilos of feed per day, produced on a feed mill on the farm. An Italian Faresin feed wagon is used.
Writer and agricultural lecturer, Stuart Lumb, went to Cyprus to find out more about the farm and the Cypriot industry. Click here for more about Cyprus, its holiday maker demand surge and its testing climate.
Problems
Variable Fat: Protein ratio over the year
Poor Rumen Function (Rumen acidosis)
High Blood Urea Nitrogen (BUN) (Unbalanced dietary energy with protein)
High Non Esterified Fatty Acids (NEFA) (Ketosis)
Milk Fat depression at certain periods (Rumen acidosis)
Low conception Rate (Main reason high BUN)
Underfeeding the high yielding /fresh group
Overfeeding the low yielding group
Cows were suffering from heat stress during the summer months.
Solutions
Move away from traditional – high protein – nutritional practices. / Minimise in-excess protein.
Increase dietary energy to the level of the animal's requirements.
Introduce cottonseed (source of energy and easily digestible fibre).
Correct rumen function by introducing buffers, live yeast and slow release Non-Protein-Nitrogen (NPN) as well as changing from highly fermentable starch (barley) to more slowly fermentable starch (corn).
Change the Feeding Plans to match the requirements of each group.
Devise a basic TMR which satisfies the low yielding group and is also cheaper. Invest more in the high producing animals/periods, by offering a high quality concentrate feed rich in a variety of quality ingredients at the robot, to satisfy the high yielding group.
Work for a flatter lactation curve in high producing cows.
Enables easier provision of adequate energy in early lactation minimising Negative Energy Balance and Ketosis. Increasing dietary protein after week 6-8 ensures that the flatter lactation curve does not reduce total lactation production
Provide direct energy (glucose) to the fresh animals in the form of propylene glycol.
Provide ruminally protected Niacin and Choline
Minimise lipolysis and provide hepato-protection by detoxifying the liver cells from fatty acids stored there after body fat is broken down.
Concentrate the diet during the summer to deliver the nutrients required even with reduced dry matter intakes. Introduction of summer salts such as KCa to counteract the losses due to sweating and panting. Introduction of cottonseed at the time when milk fat was expected to decrease.
Monitoring Tools
Dry Matter Intake (daily)
Silage Dry Matter per cent (weekly)
Body Condition Scoring (Monthly)
Manure testing (Monthly)
Visits to the Robot (daily)
Rumination (daily)
Milk Fat:Protein Ratio (weekly + Monthly)
Rumen pH (where necessary)
Results
Significant increase in milk yield (up to 39L herd average) and solids (Graph 1)
Corrected Milk Fat: Protein Ratio (sign that rumen acidosis is no longer a problem).
Rumination increased
Corrected rumen function (Figure 1).
Fertility is always an issue as milk yield increases and an increased number of ovarian cysts was observed. Higher milk yields need supporting by higher feed energy and the diets did just that , plus the higher energy diets improved conception rates over time.
Supplementing the diet with organic trace elements such as Selenium, Zinc, Copper and Manganese, has played an important role in boosting fertility, plus resulting in a decreased number of ovarian cysts.
Manure Test
Sieving manure through 3 sieves and checking the residues allows Kyriacou to assess how well the cows are digesting their feed and gives an indication if ingredients need changing, writes Stuart.
Broken grain in the sieves shows that the hammer mill screens have holes in them , hence grains are not ground to the proper consistency.
Finding long pieces of roughage in the sieves indicates that the chopper blades in the feed wagon are blunt and not providing a fine enough cut for the forages.
Figure 1. Manure test before and after nutritional changes. Significant improvement observed.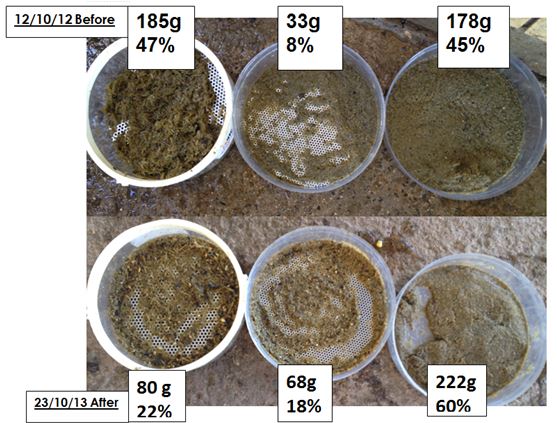 Ideal Situation: 1st sieve: 10-20 per cent , 2nd sieve: 20-30 per cent, 3rd sieve: all the rest.
Close-up Group
Initial observations:
The Close-up diet was very poor (energy and protein) and this was restricting the cows' ability to reach maximum potential in the subsequent lactation . Also this poor diet might explain the extreme loss of body weight after calving.
Solutions
Invest more! It is a critical period for the following lactation. Give a more concentrated diet to match the energy requirements as their DMI decreases before calving. Also introduce ingredients which are included in the lactation diet, so that the rumen starts to get used to these new raw materials. The aim is to maximise Dry Matter Intake (DMI) right after calving , to ensure maximum milk production.
Monitoring Tools


Closely monitor body condition and avoid over-conditioning. Fat cows at calving are those that lose most weight in early lactation.
Earning a living as a self- employed advisor can be very demanding. If herd performance doesn't improve, then that can soon be one less producer employing you . Certainly Kyriacou's dedication and attention to detail is paying off in terms of the increased herd performance of her clients and long may that continue.

(Stuart Lumb wishes to extend his sincere thanks to Ms Carolina Kyriacou, without whom the visit to the above farm would not have been possible).
Further Reading
Go to our previous news item on this story by clicking here.