How Can I Feed to Optimize Sexual Maturation of Beef Heifers?
Ranch profit is hugely hit by replacement heifer rearing and any strategies to assist in getting animals to sexual maturity faster is a major goal for the beef industry.
This is according to Dr Britt Hicks, livestock specialist at the Oklahoma Panhandle Research and Extension Centre, who reminds ranchers that allowing heifers one estrous cycle prior to breeding is recommended.
The Oklahoma University agent explains that this is to optimize pregnancy rates.
In the University's monthly Beef Cattle Research Update, Dr Hicks adds that age at puberty is controlled by environmental and genetic factors, among which nutrition has been a "major influence."
He writes that recent Texas A&M University research examined the ability of a stair-step compensatory gain nutritional regimen to program the onset of puberty in beef heifers at approximately 11 to 12 months of age.5 In this study, crossbred heifers were weaned at an average age of 109 days and assigned randomly to 1 of 4 dietary treatments:
Low control (LC), restricted feed intake of forage-based diet to gain 1.1 lb/day until 14 months of age 2
High control (HC), controlled feed intake of a high-concentrate diets to gain of 2.2 lb/day until 14 months of age
Stair-step 1 (SS-1), ad libitum feed intake of a high-concentrate diet until 6.5 months of age followed by restricted access to a high-forage diet to gain 0.77 lb/day until 9 months of age, ad-libitum access to a high-concentrate diet until 11.5 months of age, and restricted intake of a forage diet to gain 0.77 lb/day until 14 months of age
Stair-step 2 (SS2), reverse sequence of SS-1, with the dietary treatment beginning with restricted access to a forage-based diet.
The heifers were weighed every 2 weeks and blood samples were collected twice weekly beginning at 8 months of age to measure progesterone concentrations to determine pubertal status.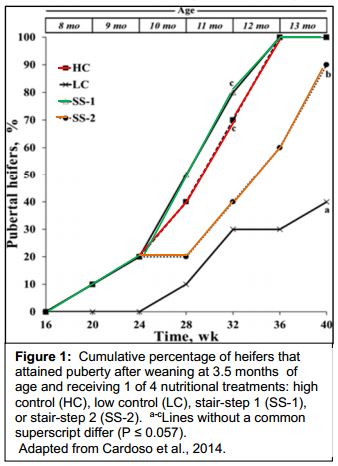 These researchers reported that body weight gain in all groups followed a pattern similar to that they proposed in their experimental design with ADG over the entire 40 week feeding period differing significantly (P < 0.05) between all groups (1.98, 1.85, 1.67, and 1.21 lb/day, respectively, for HC, SS-1, SS-2, and LC).
Analysis indicated that the percentage of pubertal heifers in the LC group was lower (P < 0.05) than all other groups throughout the experiment (Figure 1). At 12 months of age, the proportion of pubertal heifers did not differ (P = 0.36) between the SS-1 (80 per cent) and HC groups (70 per cent).
Whereas, the proportion of heifers pubertal by 12 months of age in SS-2 (40 per cent) and LC (30 per cent) was considerably lower (P < 0.05) than in both HC and SS-1. However, by 14 months of age, 90 per cent of heifers in the SS-2 group had also attained puberty compared to only 40 per cent of the LC group.
These authors concluded that the age at onset of puberty can be nutritionally programmed by exposing heifers to a stair-step nutritional regimen during development, writes Dr Hicks.
They suggested that managerial approaches that focus on increasing availability of nutrients around 6 to 9 months of age (SS-2) can potentially time reproductive maturation consistently so that the majority of replacement beef heifers have reached puberty at 11 to 14 months of age while avoiding a high incidence of precocious puberty.