Do Cows Need Beauty Rest Too?
Sleep may very well be important for cow health, early US research suggests.
According to an article from the William H. Miner Agricultural Research Institute, early lactating cows might require more sleep than dry animals, although much more work is needed to find out more.
As part of a recent study a 72-hour cow watch was conducted in the Miner Institute dairy barn to record cow behaviours, writes Alyssa Couse.
Capturing Sleep
This involved watching from a runway above the pen, also called a catwalk, and recording mouth behaviors, body positions and location within the pen in 10-minute intervals. Investigating cow sleeping behaviors was inspired by a question from a colleague during a midnight to 4 AM cow watch shift.
It was simply, do cows sleep? It's not hard to imagine that when you're sitting up on the catwalk during all hours of the night that questions about sleep enter your mind, especially when just several feet below you, cows are sprawled out in their stalls.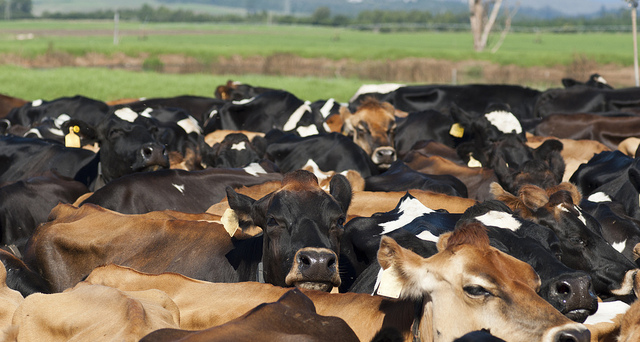 Room and comfort should allow cows to transition between the three stages of wakefulness
Background Research
During my investigation I found that little is known about sleep in cattle. An early study in 1972 is one of the few that investigated this topic.
Since then, a few additional studies suggest that cows sleep about 4 hours per day and drowse for about 8 hours a day. Adult cows do what is called polyphasic sleep, which means they sleep in small intervals throughout a 24-hour day.
According to the 1972 study, 97 per cent of total sleep time and 100 per cent of REM (rapid eye movement) sleep time occurs at night. Sleep time in cows consists of only about 3 hours of NREM (non-rapid eye movement) sleep and 45 minutes of REM sleep.
Types of Sleep
Different body positions are associated with each stage of wakefulness: NREM and REM sleep, and awake. When a cow is awake her head is lifted from the ground while being supported by the neck. During NREM sleep a cow's head will appear to be in a similar position as when she is awake, but the head and neck will be motionless. During REM sleep the head could be resting back on the body or on the ground.
Given these three positions it's important to ensure that your cows are physically able to comfortably transition into the three stages of wakefulness.
This may include ensuring that enough stalls are available and that stall size is large enough to allow cows to rest their heads in front of them and/or curled back on their body.
If cows are housed in a tie stall, make sure the neck chain is long enough to allow for REM sleep positions and for smooth lying/standing transitions. Providing conditions that encourage lying will allow cows to get their much needed power naps.
Sleep Requirements of Early Lactation Cows
As if getting only 4 hours of sleep a day doesn't seem short enough, a 2011 study found that cows in early lactation get significantly less REM sleep time than during the dry period.
This is likely due to increased time at the feed bunk and time spent ruminating that is needed for cows to metabolically support lactation. Imagine requiring so much energy that you need to stay up just to eat and digest! With such little time allowance to catch some Z's, it brings up questions about the effects of sleep deprivation.
Although this hasn't yet been studied in cows, research on other species shows that sleep deprivation can cause physiological effects such as increased metabolic activity, negative energy balance, reduced immune defense and even increased mortality. Further research is required to investigate such effects on cows, but we can infer that getting the required amount of sleep helps maintain cow health.