Wet Autumn Requires Vigilance, UK Farmers Told
Stock keepers should be vigilant in the face of a mild, wet autumn which has seen the UK receive many rain systems and southerly winds.

Although not expected to be a terrible year for disease and parasites, the winter months will require control programmes to be executed to avoid problems, advises the National Animal Disease Information Service (NADIS).
Winter 2014/5 was predicted to be a low/moderate risk year but disease may still occur on many farms unless control measures are implemented
All efforts must be taken to reduce reliance on triclabendazole by husbandry measures and the use of other treatments when appropriate.
Closantel and nitroxynil are very effective against immature flukes from around 7 weeks post infestation and should be used for the treatment of chronic fasciolosis.
Albendazole and oxyclozanide are effective from 10-14 weeks post infestation and can be used when treatment is recommended to remove adult flukes in late spring (often in May).
Quarantine treatments must be carefully considered for all introduced sheep and cattle.
Liver Fluke in Beef Cattle
Un-dosed beef cattle grazing potentially infected pastures should either be treated or checked for the presence of fluke eggs in faeces.
More than 25 per centof bovine livers are condemned because of liver fluke damage; such information from the slaughterhouse should be discussed with your veterinary surgeon.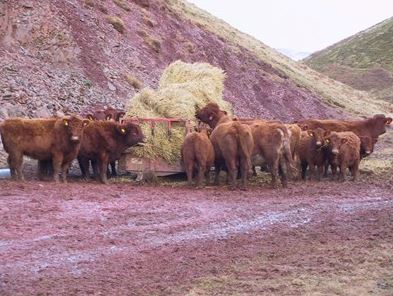 Out-wintered cattle should either be treated or checked for the presence of fluke eggs in faeces.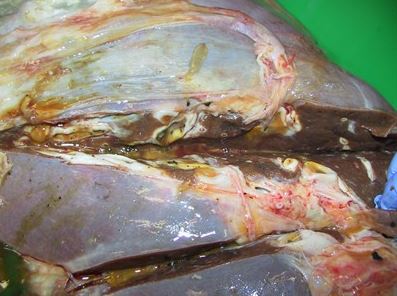 This bovine liver at the slaughterhouse shows extensive liver fluke damage
Copyright © NADIS 2007