Canola Meat and High Protein Distiller Dried Grains for High Producing Dairy Cows
Working out whether canola and distiller's products are cost effective over soybean meal requires calculation around amount of metabolizable protein, according to leading US forage expert.
Canola meal (CM) and high protein dried distillers grains (HPDDG) are relatively less expensive protein feeds compared to soybean meal (SBM) on a per ton basis, appearing to be a good buy, writes Kurt Cotanch, forage laboratory director at the William H Milner Institute.
Though when comparing these products on cost per pound of protein or energy, these feeds tend to be similar in value. For instance, what may appear to be a good buy with lower per ton cost may end up costing the same per unit of protein.
The questions, then, are whether these feeds provide similar amounts of metabolizable protein (MP), and provide the proper protein fractions and amino acids (AA) that best fit your dietary feeding strategy and profitability, and if there is an optimal feeding rate. Even the best dairy ration models differ on their prediction of MP and AA provided in feeds relative to animal requirements.
The cow ultimately tells us how accurate the ration model and feed characterization is.
Swanepoel et.al. (2014) conducted a large feeding trial to determine the optimal ratio of CM and HPDDG in corn based dairy rations, where CM and HPDDG were maximized in the ration without use of SBM. The study was a 4x4 Latin square design comparing diets with proportions of CM and HPDDG respectively, as percent of the total diet DM of: (a) 0 per cent and 20 per cent , (b) 6.5 per cent and 13.5 per cent , (c) 13.5 per cent and 6.5 per cent , and (d) 20 per cent and 0 per cent . The study was conducted on a large California dairy feeding the same base ration to all cows, varying only in the levels of CM: HPDDG. The diets were similar in total protein and energy (Table 1).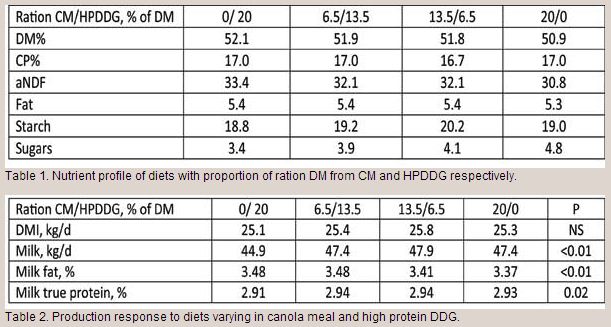 Nutritionally CM and HPDDG are similar in CP (41.0 and 39.5), aNDF (27.1 and 33.8), fat (2.64 and 5.45), though they differ greatly in protein fractions and AA profiles. Canola meal has high rumen-degradable protein (RDP) and lysine while HPDDG has high rumen-undegradable protein (RUP) and low lysine. HPDDG has much lower fat levels than conventional DDG and is less vulnerable to causing milk-fat depression due to high unsaturated fatty acid content.
Cows had similar dry matter intake (DMI) across the diets, but milk was significantly greater when CM was included in the ration compared to the 20 per cent HPDDG/no canola meal ration (Table 2). Milk fat proportion was optimal when CM was in the diet at 6.5 per cent and lowest when CM was at 20 per cent of the diet DM.
Based on blood plasma concentrations of AA, the authors suggest that at this level of CM, methionine and phenylalanine became limiting for milk protein synthesis. Predictions of microbial protein yield across diets indicated that the CM level did not affect microbial protein synthesis by over supplying rumen degradable protein and that production of milk components was most likely limited by amino acid supply.
Overall the researchers concluded that the range of canola meal (CM) inclusion of 12.0-13.5 per cent of the ration DM is optimal in terms of total milk yield and components yield, and that at the highest level of CM inclusion, 20 per cent , that methionine and phenylalanine were most limiting AA. For rations balanced for DMI of 60lbs, this amounts to about 7.2-8.10lbs of CM when optimizing use of CM in conjunction with HPDDG.
As we feed lower and lower levels of CP in our rations, whether to be more profitable or ecological by reducing N waste, it's good to know the optimal feeding level of various protein ingredients. In order to maximize income over feed costs, levels of MP, protein fractions and all amino acids need to be considered not just methionine and lysine, or cost per ton.