Dairy: World Markets and Trade - December 2011
Global dairy markets in early 2011 experienced a surge in prices as strong global import demand for dairy products outpaced available supplies. As a result, major producing countries, responding to high returns, expanded milk production significantly which increased the supply of available exportable dairy products, according to the USDA's World Dairy Market Outlook.

Summary
Consequently, in the last half of 2011 as favourable weather conditions ushered in Oceania's production season, dairy commodity prices started to slip. Further pressuring dairy markets was undoubtedly a growing caution by buyers as the increasingly volatile financial situation in the EU grew to dominate the financial outlook.

At present, global dairy prices appear to have settled although the forecast for Chinese imports of whole milk powder (WMP) in 2011 has been revised down significantly from July. In early 2011, China had absorbed a significant portion of the additional milk supplies on global markets through the substantial purchase of WMP thus underpinning international dairy prices.

For 2012, Chinese purchases of WMP are expected to pick-up but at a more modest pace. WMP prices on the Global Dairy Trade platform, which covers future deliveries, have been rising tentatively suggesting that there is a growing current of underlying demand.

From an economic standpoint, the outlook for 2012 is positive with global GDP slated to grow from a 2.7 per cent rate in 2011 to a 2.9 per cent rate in 2012. In the critical Asian and Oceania markets, GDP growth is expected to expand at a five per cent rate – up from the 4.2 per cent estimated for 2011. However, GDP growth in China is forecast to slow from 9.1 per cent to 8.5 per cent which could dampen growth in domestic demand and slow the rapid pace of increases in dairy product imports from the heady pace experienced in recent years.

For 2012, milk production in the major producing countries is forecast to moderate while import demand for dairy products will remain relatively stable as developing countries – particularly in the critical Asian markets – continue to grow economically. Expanding populations and rising disposable incomes will be the key drivers. Consequently, it appears that the price correction for dairy commodities may be over and that there will be some price stability in 2012. However, the lack of any surplus stocks, particularly in the form of Government stocks, makes the market susceptible to any supply shocks and prices are likely to react rapidly.

Milk Production: 2011 Forecast Summary

After an anticipated sharp rebound in milk production in 2011, largely as a result of excellent forage conditions and high prices, Argentina's dairy industry is expected to continue to expand in 2012 albeit at a slower pace. Domestic inflationary pressures are expected to squeeze profit margins; consequently, milk production growth is forecast to grow modestly by four per cent.

Australian milk production is forecast to expand in 2012 by two per cent as pasture conditions and fodder availability are expected to be similar to 2011. The 2011 production season benefited greatly from the abundant rainfall in 2010 which set the stage for excellent growing conditions. Although drier conditions are expected to prevail for 2012 as rainfall patterns revert to the long-term average, the major constraining factors to additional output are expected to be the chronic shortage of replacement heifers and relatively high grain prices.
After an excellent forage season, New Zealand's forecast milk production for 2011 was revised up four per cent to 18.68 million tons – up nine per cent over the 2010 season. For 2012, milk output is expected to slow down and register a modest two per cent gain assuming normal weather conditions persist. The herd is expected to grow by 110,000 cows and milk output per cow is forecast to rise due to improved productivity gains.
Milk output growth in the EU is forecast to slow down to 1 per cent in 2012 - down from the 2 per cent gain estimated gain for 2011 – as higher costs of production, lower consumption, and the clouded financial uncertainty are expected dampen expansion plans. In 2011, high farm gate prices as a result of higher domestic and international demand provided a strong incentive for dairy farmers to increase output.
US milk production for 2012 is forecast to expand by one per cent which will be below the two per cent rate of growth currently estimated for 2011; dairy farmers are expected to face lower milk prices and relatively higher feed costs which is expected to pressure returns. Producers are currently projected to receive an annual average all milk price of around $18.10-$18.90 per cwt down from the estimated average of $20.05-20.15 per cwt in 2011. Although the herd is projected to contract, expected milk per cow increases are expected to lead to higher milk production. Most of the additional milk is likely to be channeled into the production of cheese.
Cheese:
Cheese production in Oceania for 2011 is projected to decline by one per cent over 2010 primarily due to a four per cent drop in New Zealand's output. New Zealand's projected jump in milk production for 2011 is expected to be used primarily to support the production of whole milk powder for the booming export sector. For 2012, New Zealand cheese production is forecast to rebound by 9 per cent. Exports, however, are expected to decline slightly leading to a slight increase in stock levels. New Zealand exports primarily to Japan, Australia, and South Korea.


EU-27 cheese production is forecast to increase in 2011 and 2012 due to the expected increases in milk production and growing domestic consumption. Following an 18 per cent jump in cheese exports in 2010, EU exports for 2011 and 2012 are expected to continue to grow but at a more moderate pace – about three per cent annually. The major destinations for EU exports are Russia and the United States. EU shipments to Russia through September 2011 have declined by five per cent but have been offset by increased volumes- up 11 per cent – to the United States.


US cheese production is projected to expand by one per cent in 2011 to 4.8 million tons largely as a result of high cheese prices driven in part by strong export demand. For 2012, favourable prices for cheese relative to SMP/butter are expected to lead to a three per cent increase in cheese production to a record 4.9 million tons with most of the additional cheese expected to be absorbed by domestic consumption. Exports for 2012 are forecast to grow at a much slower pace than the 22 per cent rate expected 2011 as global markets are likely to be more competitive and economic concerns may limit demand. Mexico which accounts for nearly 30 per cent of US cheese exports, will no longer apply the punitive tariffs which were in effect for part of 2011 following resolution of the US-Mexico trucking dispute. This should provide some solid support for an expansion in US shipments and offset declines in other markets. Beginning stocks, which were historically high at the start of 2011, are expected to be drawn down during 2012.
Butter:
During 2011, Oceania butter prices (mid-point FOB) increased dramatically reaching nearly $5,000 per ton while European prices exceed $6,000 (mid-point FOB) per ton underscoring the tight global supply situation evident in the first half of the year. However, since July 1 through to end of November 2011, butter prices have dropped by nearly 20 per cent. Demand, nevertheless, appears to be holding as trade data indicates that imports this year for some key butterfat consuming countries through September 2011 remains strong. For example, Russian imports of butter (excluding Belarus) through September are up 16 per cent to 49,000 tons compared to 2010. This may explain why butter prices appear to have recently stabilised and may be an early indication of stronger prices particularly as the Oceania production season winds down.


Butterfat production among selected countries is forecast to expand by two per cent in 2012, however, India which trades minimal volumes will account for the large majority of the expected increase. In Oceania, butterfat production for 2012 is forecast to remain largely unchanged from the prior year as milk supplies are expected to flow primarily into the production of WMP. However, exports are expected to increase by six per cent which is expected to reduce stock levels.


EU-27 butterfat production is estimated to increase by two per cent in 2011 over the previous year due to the higher milk fat content in raw milk and strong export demand experienced in the first half of the year. However, total EU butter exports in the January-September 2011 period were down 24 per cent compared to the same period last year; consequently, total annual exports are currently pegged at well below 2010 levels. For 2012, production will grow less than 1 per cent and exports are forecast to grow modestly on the basis of export demand, particularly by Russia.


US butter production for 2011 increased sharply as early year returns from butter/powder production favored a shift away from cheese. For 2012, relative values are expected to favor cheese production and butter production is forecast to drop by one per cent. Exports, which are forecast to grow by 34 per cent in 2011, are expected to drop in 2012 as US exporters face growing competition in international markets. US trade data for September and October 2011 has shown a marked decline in butterfat exports which may mark the beginning of slower sales.


SMP:
Exports of SMP from selected countries are expected to experience a banner year as shipments for 2011 are pegged to expand by 16 per cent over 2010. This was reflected by the rapid climb in Oceania SMP prices which by mid-year had soared to over $4,000 per ton (mid-point FOB) as strong demand from Asia pressured markets. Oceania prices have since corrected sharply, falling to around $3,350 per ton (mid-point FOB) by late October 2011. However, SMP prices in November have started to rise slightly, suggesting that purchasers may be starting to place orders as inventories are replenished. For 2012, exports are expected to contract marginally as a drop in US and EU-27 exports will be nearly offset by increases in Oceania. Shipments of Oceania SMP are projected to increase by almost nine per cent in 2012 to reach 635,000 tons.


EU-27 exports of SMP are projected to expand by 19 per cent in 2011 driven by the increased availability of intervention stocks released to the market and strong export demand particularly from the North Africa and Far East import markets. For 2012, shipments of SMP are forecast to contract by seven per cent despite an expected rise in domestic production. Exports are expected to be constrained by domestic demand as stocks were largely drawn down during 2011.


The 2011 (July) forecast for US exports of SMP for 2011 has been revised up by 5 per cent and shipments expected to set a record at 435,000 tons – up 13 per cent from the previous year. Trade data through October 2011, indicates that 143,000 tons of SMP has been shipped to Mexico making it by far the most important market for US SMP. For 2012, exports of US SMP are slated to decline by 8 per cent due to increased competition in the key Asian markets and a decline in Mexico's expected purchases.


On the import side, the 2012 outlook is mixed with some of the key Asian countries such as China, Indonesia, and the Philippines expected to register increased import volumes. China, which is rapidly becoming a key SMP import market, is forecast to grow by 19 per cent to reach 140,000 tons. In contrast, in other major markets such as Mexico and Algeria, imports for 2012 are projected to decline from 2011. However, these levels will still be historically high and well above import levels registered in 2010.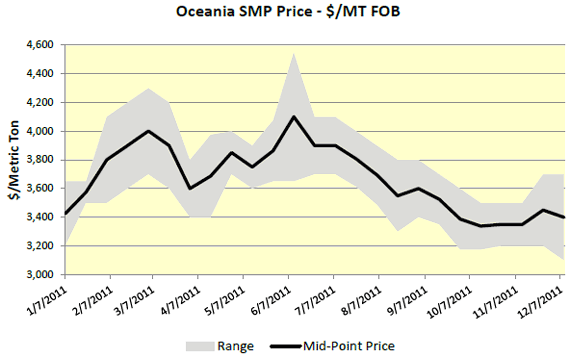 Whole Milk Powder (WMP):
Oceania WMP prices have followed a similar trajectory as SMP prices – peaking early in 2011 at around $4,600 per ton (mid-point FOB) and then dropping by 25 per cent to slightly over $3,425 per ton in October 2011. There are, however, signs that the market has stabilised and recent price increases, particularly during the peak production period in Oceania, point to resurgence in purchasing activity.


China's 2011 (July) import forecast has been pared back significantly – 19 per cent to 350,000 tons - as the pace of monthly imports has been slowing since mid-year. The high price of WMP has been attributed as a major factor in the drop in import demand as smaller processors are now sourcing their WMP from domestic producers. Most of the imported WMP is used for the manufacture of infant formula and processed foods such as yogurt, ice cream, UHT milk, etc. For 2012, imports of WMP are forecast to grow by seven per cent driven by domestic demand for processed dairy products and lingering concerns over the safety of domestic dairy products.


New Zealand, which is projected to account for nearly 55 per cent of trade among selected exporters in 2011, is forecast to further increase its exports of WMP in 2012 by four per cent to 1.09 million tons. In contrast, EU-27 exports for 2012 are projected to remain stagnant relative to 2011 as stronger domestic competition for fluid milk supplies and a more competitive export market are expected to limit efforts to expand WMP production. The other major global supplier, Argentina, is forecast to increase 2012 WMP production by five per cent to 330,000 tons as milk production rises. Most of this will likely be destined to Venezuela, Algeria, and Brazil, which have been Argentina's principal markets for WMP for the past five years (2006-2010).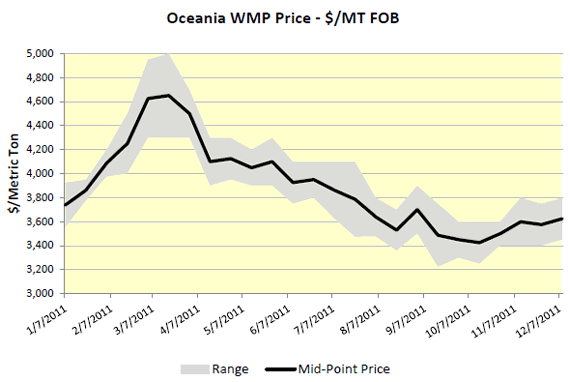 Further Reading
December 2011