Winter Feeding Of Pregnant & Lactating Suckler Cows
A survey among Irish discussion group members indicated that in apportioning the feed costs of a suckler cow about two-thirds was attributable to winter feed, mainly silage, and one-third to grazed grass, writes Liam Fitzgerald, Teagasc Animal and Grassland Research and Innovation Programme.
Therefore, reducing the proportion of winter feed in the annual diet and increasing the proportion of grass will reduce overall feed costs. The feeding value of grass is up to 50 per cent higher than average silage, taking intake and digestibility into account, so cows on grass will milk better and gain weight cheaply while at pasture. Extra weight in the form of body reserves can be used to reduce more expensive winter feed in both lactating and dry cows.

In the Irish climate, with a long grass growing season, the manipulation of the cows' body condition between winter and summer is an important strategy in controlling costs. This dictates that both spring and autumn calving cows come into the winter in good or excess condition and go out in spring at a lower body condition in the order of 0.5 to 1.0 body condition score. Adjustments are made to take account of the stage in the production cycle.
Table 1: Target Body Condition Scores
| Production Stage | Autumn Calving | Spring Calving |
| --- | --- | --- |
| Calving | 3.0 | 2.5 |
| Mating | 3.0 | 2.5 |
| Turnout to grass | 2.0 | 2.5 |
| Weaning | 2.5 | 3.0+ |
Body Condition Scoring (BCS)
The system of body condition scoring is very useful for setting feeding guidelines for suckler cows and works on the simple principle of "feed to achieve appropriate condition score in relation to the production stage". Body condition scoring involves regular assessment of the body condition of individual cows and the calculation of the herd average. The appropriate body condition score varies with the stage in the production cycle.

The targets refer to herd averages and indicate that herd body condition scores should move in the range of 2.0 to 3.0 or slightly higher. Individual cows will be 0.5 to 1.0 scores outside the targets. Where cows are significantly off target there are consequences for the cost of winter feed (concentrates may be required) and for reproduction.

Having cows much above 3.5 is wasteful and increases calving dificulty if they are too fat at calving. On the other hand, if cows are too thin at calving or mating, return to breeding will be signicantly delayed. Research by Professor Michael Diskin shows that cows that are under condition score 2.0 at calving will be up to two weeks slower going back in calf than cows that are at condition score 2.5 at calving. Since suckler cows do not come in heat until about 50 days after calving a further delay of two weeks will result in a lengthening of the calving interval (period between calvings) and mean it is impossible to maintain a 365 day calving interval.
System of Body Condition Scoring
There are a number of methods of body condition scoring - Scottish, American & French. The method generally used in Ireland is the Scottish one (Loman et al. 1976) with a zero to five scale and fractions of units commonly used. Cows are assessed for body condition on the loin (spinous and transverse processes) and tailhead. (Figure 1).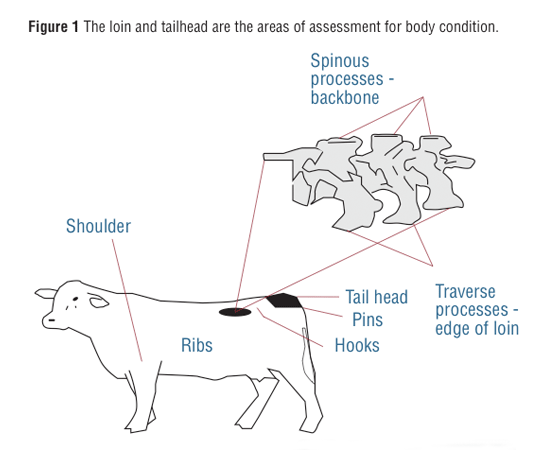 Body Condition Scores
Score zero » Emaciated, the animal is literally "skin & bone".
Score one » The individual spinous processes (loin bones) are sharp to touch, tailhead visibly raised with no fat.
Score two » Spinous processes can be individually identi ed, but feel rounded rather than sharp. Slight tissue cover on tailhead.
Score three » Spinous processes can only be felt with rm pressure. The area on either side of the tailhead has fat cover that can be felt easily.
Score four » Spinous processes cannot be felt. Slight "rounds" of fat can be seen on either side of the tailhead and is soft to touch.
Score five » The bone structure of the animal is no longer noticeable and the tailhead is almost completely buried in fat tissue. Folds of fat appear over the ribs. In extreme cases the movement of the animal may be impaired
Feeding the Pregnant Cow
Energy is measured in units called UFL where one UFL is equivalent to one kg of air dry barley. Energy in all other feeds is related to this. Table 2 shows the energy requirements of a dry suckler cow of 600 kg in late pregnancy in terms of UFL and the equivalent as moderate and high quality silages. Over the final three months of pregnancy the 600 kg cow on 64 per cent DMD silage, fed to appetite, has a defecit of 168 UFL (30 & 54 & 84). However, if the cow goes into the winter in good body condition (assume 3.25 body condition score) she can mobilise body reserves in the nal months of pregnancy to make up for the shortages in energy supplied in the feed. A loss of one unit in body condition score contributes about 280 UFL. Therefore, 168 UFL can be made up from a loss of 0.60 of a condition score which will bring the cow back to 2.65 BCS at calving.

This example shows that suckler cows in good body condition BCS 3.0 or better, going into the winter can be adequately fed on low to moderate quality silage (64 per cent DMD) which is fairly typical of the quality, especially that in bales, being fed to dry suckler cows. If the same cow was at BCS of 2.5 or less, approximately 168 kg of barley would need to be fed to maintain body condition up to calving or a higher quality silage of 70-72 per cent DMD would need to be fed. With high quality silage, the accumulated deficit over the three months is just 15 UFL (15 kg barley equivalent) which keeps the cow almost in energy balance over the final three months of pregnancy.

Where high quality silage is available (72 per cent DMD) it will need to be restricted to cows in good condition at housing, otherwise they will be over fat at calving. Ideally, cows at condition score of 3.0 or higher need to be brought down to a score of 2.5. Restricted feeding of high quality silage presents practical feeding difficulties. It means all animals must have access to the feed face at the same time and that silage has to be brought into the shed every day.

Where silage is fed to appetite, many farmers, especially those with off-farm occupations, only take in silage in bales or blocks twice a week which cuts down on labour and machinery use. This works well with low/moderate quality silage fed to appetite. To reduce the energy intake, if straw is available, it can be mixed with the high quality silage (as in a diet feeder) and fed to appetite or straw could be fed for three days and the silage for four days per week.

Silage generally has adequate protein for dry cows but where half the diet consists of straw there is a calculated shortage of protein equivalent to 0.5 kg soyabean meal or one kg rapeseed meal per day.
December 2011