Brazil Annual Dairy Report 2011
The USDA Foreign Agricultural Service forecasts fluid milk production in Brazil to increase by two per cent in 2012, supported by a relatively strong Brazilian economy which will support higher domestic demand.

Commodities:

Dairy, Milk, Fluid

Production:

Post forecasts fluid milk production in 2012 to increase to 31.3 billion liters, up two per cent from the current year, this increase will be supported by firm domestic demand as Brazilians are able to increase their purchasing power.

However, uncertainty remains regarding Brazilian dairy exports since the appreciation of the Brazilian currency and low competitiveness make Brazilian dairy products less competitive in the world market. The increase in domestic consumption in 2011 helped the sector avoid a decrease in production, since the internal market offered more profitable milk prices than the global market.

The Brazilian government (GOB) does not maintain milk stocks, so the strong demand for milk products coupled with a late start in the producing season led to high milk prices in the local market and fewer products available for export.

The Southwest and South are the top milk producing regions in Brazil. In August 2011, there was an increase of 6.3 per cent in milk production in the southern of Brazil (from the three producing states of Rio Grande do Sul, Parana and Santa Catarina) compared to August 2010. Rio Grande do Sul decreased milk production in the first quarter as a result of unfavorable weather conditions, but it recovered in the second half of 2011.

Consumption:

Brazil dairy consumption is estimated at 150 liters per capita per year. Consumption of fluid milk is forecast to increase around three per cent in 2012. The increase is derived mostly from an estimated increase in industrial use, supported by higher disposable consumer income.

Milk products in Brazil are not only expanding in volume but also gaining in sophistication and health orientation. Innovation is focusing on functionality as manufacturers seek to meet the health requirements of an increasingly health-oriented middle-class. Cooperativa Central dos Produtores Rurais de Minas Gerais Ltda (Itambé), for instance, recently released a version of long-life/UHT milk enriched with calcium, iron and vitamins, while Cooperativa Central Agropecuária Sudoeste launched similar products under its Frimesa brand.

Demographic growth, along with economic recovery, is underpinning demand for drinking milk products in emerging economies, and Brazil is no exception. According to Euromonitor International's Countries and Consumers database, Brazilian GDP grew by eight per cent in real terms in 2010, reversing the 0.2 per cent decline registered the previous year. Furthermore, the urban population, accounting for most of the consumption of processed drinking milk in the country, is projected to grow by 11 million people over the 2010-2015 period.

Dairy, Milk, FluidGood economic prospects and an expanding population in urban areas will drive future growth. By the end of 2015, per capita expenditure on drink milk products will reach US$67 in Brazil, exceeding the level projected for developed markets such as France (US$52) and Germany (US$45). By then, Brazil will no longer be known as an 'emerging economy' in milk product terms.

Prices

The average fluid milk prices increased 16 per cent compared to the same period in the previous year. From January to September 2011, the milk price paid was almost nine per cent above the average prices in 2010. Lack of stocks and higher domestic demand kept strong prices in 2011.

Despite higher receipts, production costs have also increased, limiting the financial recovery of the milk producers.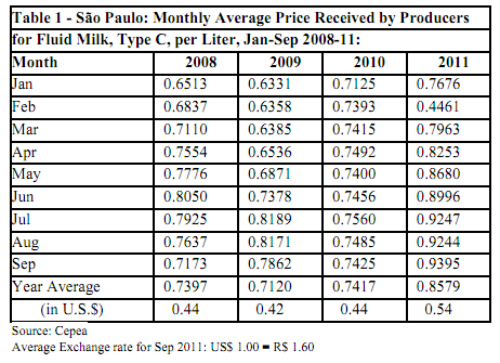 Milk drink products experienced a 10 per cent current value growth rate in 2010. This was due to the strong performance of long-life/UHT milk, which accounts for the bulk of total sales, and the recovery of the unit price of raw milk which had previously suffered a steep decline as a result of the economic slowdown. Sales of long-life/UHT milk increased by three per cent in volume terms in 2010 compared to a review period average of one per cent.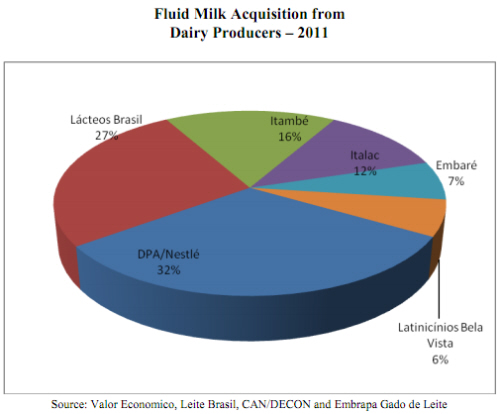 The Brazilian dairy sector continued to experience further consolidation in 2010. Over the last few years there have been several important acquisitions in the sector. Last year, Laticínios Bom Gosto Ltda and Leitbom merged to become Lácteos Brasil. In early 2010, Monticiano Participações established a consortium together with Gloria Alimentos and Ibituruna, in which Laep Investments (the owner of Parmalat) will lease the assets of both companies to Monticiano and will also license the Parmalat brand until 2017. Brasil Foods is the other brand from the result of the merge from of Batavo and Elege.

The potential merger between Cooperativa Central dos Produtores Rurais de Minas Gerais Ltda (Itambé) with other cooperatives in the state of Minas Gerais, such as Centroleite, Confepar, Cemil and Minas Leite will lead to the establishment of one of the largest operators within the milk drink sector, with revenues estimated at over US$2 billion per year. Distribution will become an important issue for these companies in terms of increasing or even maintaining their volume shares. Value-for-money products such as fortified UHT milk will continue to remain a niche, and are not expected to have any impact on the rankings of these companies in the short term.

Trade:

Brazil imports insignificant volumes of fluid milk and packaged UHT milk imports are sold by companies from Argentina and Uruguay with commercial interests in Brazil. Another effect of the strong Brazilian currency is that imports of dairy products (cheese, milk powder) also increased, since the imported products are more competitive than domestic produced products.

Commodities:

Dairy, Cheese

Production:

Note: There are no official statistics on production and consumption of cheese in Brazil. OAA production estimates for cheese are based on trade sources and also include "informal" cheese production.

Post forecasts cheese production in 2012 to increase by 3.7 per cent boosted mostly by an estimated strong domestic demand for cheese, principally from the fast-food industry/sector. Also the recent mergers and consolidation in Brazil are forcing these companies to be more aggressive overseas. Post revised cheese production in CY 2011 which is estimated to increase by four per cent compared to previous year due to higher industrial demand.

Consumption:

Post forecasts cheese consumption to increase by three per cent in 2012 supported by firm consumer demand. Local companies are innovating and launching value added cheeses copying European style cheeses, they have also launched different varieties using buffalo milk, which is becoming popular too.

Current Brazilian cheese consumption is estimated at 3.4 kilos per person per year below the recommended value by FAO which is nine kilos/person/year. Human consumption of fresh cheese is expected to continue to increase in 2012. Mozzarella and "queijo prato" accounted for more than 74 percent of unprocessed cheese retail value sales during 2010 and 2011. This type of cheese is very popular due to the tradition among Brazilians of eating cheese with French bread for breakfast or brunch.

Prices

Average wholesale prices of Brazilian-produced cheese by major types are: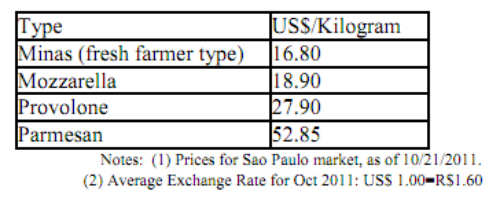 Given further consolidation occurring within the drinking milk sector, the same trend is expected for cheese since many companies that produce long-life/UHT and fresh/pasteurized milk also manufacture cheese. As the major players in both areas strengthen their businesses through acquisitions or jointventures, this is likely to stimulate small and medium-sized companies into improving their operations by investing in machinery, extending distribution, reducing costs and diversifying the product portfolio.

Trade:

Exports of cheese are projected to increase by over 30 per cent in 2012. Brazilian companies are becoming more aggressive in the international market.

Cheese imports in 2012 are projected to drop 13 per cent from 2011 level because dairy companies are expected to be less dependent on imported cheeses. The Brazilian government is likely to implement measures to protect the internal market against imports from Argentina and Uruguay. Such measures would be to establish the non-automatic licensing procedure for imports from those countries and establish import quotas.

The strong domestic demand increased cheese imports by 32 per cent in CY 2010. Argentina and Uruguay remain the main suppliers of cheese to Brazil, due to the preferential tariff treatment derived from the MERCOSUL agreement.
November 2011
Further Reading