Farming In The Falklands
With over a million sheep and almost 5,000 cattle on an area the size of Wales, the unique farming industry of the Falkland Islands is explored. Lucy Towers, TheCattleSite Newsdesk Assistant, discusses the farming limitations and challenges faced with Helen Thoday, Agricultural Advisor to the Falklands.
Limitations and Overcoming the challenges

The Falkland's has a unique beef industry. With a harsh climate and strict biosecurity practices, the Islands face a series of challenges to farming. With information provided by Falkland's Agricultural Advisor Helen Thoday, the report will look at the challenges faced, from grassland management to breeding.

Grassland management

The Falkland's has a remarkable system when it comes to grassland management. With its location 850 miles north of the Antarctic Circle, the islands experience cold harsh windy weather, with summer temperatures around 8.3ºc. Combined with a low soil pH, this results in a short growing season, proving a difficult environment for vegetation to grow in. Despite the challenges, it may be surprising to know that a large proprtion of the land mass is used for farming.

To overcome the poor environment, most farmers farm extensively. The average farm is often around 13,500 hectares, the huge size needed in order to make the most out of poor quality land.

Ms Thoday states that due to the low nutrient soils, grasses such as Timothy (Phleum spp) and Cocksfoot (Dactylis spp) are grown. Although these are not viewed as high quality grasses elsewhere, their robustness makes them suitable for the Falkland's climate. The grasses are planted through rotational reseeding and provide the grazing land for sheep and cattle. The best area of soil is picked to reseed and then systematically other sections are reseeded. Often an area can last for up to 10 years before it needs to be reseeded again.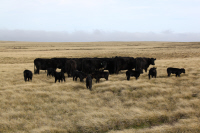 National Beef Herd cows and calves grazing
Cattle and sheep are grazed together on a rotational grazing system to allow maximum usage of the land in one go.

Breeding

With limitations to live imports and breeds available it is necessary to understand how the Falkland's has built up its cattle stock, including it's National Beef Herd. In 1982, the Falkland's War almost led to a complete destruction of livestock and agricultural practices on the islands. In a move to rebuild the stocks, a ship nicknamed 'Noah's Ark' left the UK and provided the islands with replacement cows, pigs, sheep and horses, following the war.

The replacements were mainly females, with many being close to calving. This not only helped to rebuild the stocks, but also provided genetic diversity, which has led to the varied stocks of today.

The strict biosecurity laws in place, to protect animal health and a fragile ecosystem, has meant that there are challenges to breeding. With live animal exports a danger to the country, how do the Falkland's maintain a healthy stock with genetic variation? Answering my question, Ms Thoday stated that the country is reliant on the use of extensive artificial insemination (AI) and the Embryo Transfer (ET) programme.

The government has worked hard to build up its National Beef Herd. Facing an original herd of mixed Angus types with unknown heritage, careful and controlled breeding has resulted in a herd for which all heritage is now known. Through a long process the best animals were brought together for AI and ET. Many farmers also sold their best bulls to the government for building up the nations herd. The original herd was located on the west island but has now been moved to the government base in Saladero on the East around three years ago. The herd is now used to provide a superior breeding base for Falkland Island farmers who produce beef for markets.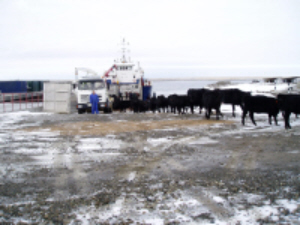 National Beef Herd arriving at Saladero
Annually, an Australian vet visits the islands to carry out AI for sheep. As she only visits for one month a year, there is a mad rush as all sheep farmers rush to take part. However, for cattle there is a more developed flexible breeding system in place. The presence of an cattle AI trained vet in the country means that cattle breeding can take place year round, acting more efficiently for farmers.

Ms Thoday stated that the old genetics of cattle on the islands tended to be Aryeshires. However, with UHT cheaper to import than the costs of home milk production, dairy cows are slowly being phased out as beef demand soars. The Falkland's is now mainly breeding Aberdeen Angus. The need for beef cows has grown in response to market demand. As part of AI, animals with good meat quality and body condition are now selected (sexed semen is not used). Traits such as hardyness, fast growth, ease of calving and a dark colour are also important in selection due to the climate; light coloured cattle often become sunburnt.

Similarly, with any live selection of cattle, body condition, beef traits and having a known heritage are the most important characteristics examined in selection. However as a result of biosecurity and successful AI, there are now no live exports to the Falkland's. The last live export was Herefords from Chile in 2004. New this year, Australian Stabilisers composed of four breeds have been introduced into the breeding plan to help diversify the gene pool.

Another successful breeding strategy the country has in place involves renting out bulls from the National Herd. With 10 bulls available to rent, this scheme has proved very popular. The rent a bull scheme keeps costs down for farmers as they no longer need to keep a bull full time. The additional feed and fencing costs needed to keep a bull are not always feasible for farmers, so this scheme proves more cost effective. This scheme is also important as it maintains knowledge of the family history of all cattle in the country and ensures high quality genes are passed on.

Also to be noted as resulting from the hard work done to create an excellent beef herd, for the 30 breeding females of the National herd there is a 100 per cent conception rate.

Feed

One of the biggest limitations that farmers face in the Falkland's is being able to provide their cattle with high quality feed. Providing feed for cattle is a vital component of the industry. However with poor grassland and high importation costs (for example, oat costs £700 per tonne to import and 16 per cent Premier dairy cubes are around £518 per tonne), the Falkland's has had to refer back to more basic additional feed practices.

The majority of crops grown are used for animal feed. Due to ease of growing, Swedes are grown for additional feed. The swede is strip grazed in a normal system with 70 per cent inclusion, as supported by EBLEX. This is carried out alongside animal rotational grazing.

In order to fit in with EU regulations, no cattle are fed animal waste. Some pigs may be fed on animal waste, such as home killed goose or mutton, but this is only done when a farmer will slaughter the pig for his own use.

Markets

Although only a small market in comparison to the UK's, the Falkland's has a strong growing demand for its beef. In the 2011 financial year, 736 cattle were culled in total, including abattoir and home kills.

At present, demand for beef outstrips supply. Ms Thoday stated that the Falkland's mainly produces manufactured beef, such as mince, for export to EU markets and that population increase is now driving the growing demand. Additionally, demand for fillet and prime cuts in the home market is also rising as the home population grows.

The increasing EU market demand can be seen through figures supplied by the Falklands Department of Agriculture. Ms Thoday stated that in 2005 total payments to farmers from the abattoir for cattle totalled £80,000. By 2010, this figure had rose to £180,000.

Exporting to the EU market only, all beef and lamb is exported under the EU criteria, with the Falkland's abattoir accepting only cattle fed on swede and vegetation from grazing.

The Falkland's meat export industry is also controlled via volume. To make it cost effective, meat buyers expect a large volume of meat to be exported. However, as the Falkland's is still an emerging market, in order to meet the export volume needed, all farmers must send their cattle to the abattoir at the same time.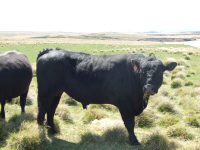 National beef herd bull
Meat forward pricing

Differing from the UK methods of payment to farmers for the meat they supply, Ms Thoday stated that farmers in the Falkland's are paid via meat forward pricing. This method is based upon Meat and Livestock Commission (MLC) standards but the farms know what price they will receive for meat each year, unlike the fluctuating meat price market in the UK. Although prices paid tend to be lower, farmers are guaranteed a fixed meat payment.

The price paid depends on quality, with farmers aiming to have their cattle assessed as being optimum for fatness and weight. The price paid also differs depending on whether the meat is for the home or EU market.

In terms of the export market, for prime (18 - 36 months) premium grade beef, the average dead weight price paid this year varies from £1.35 per Kg to £1.65 per Kg, with the top premium grade earning around £2.10 per Kg. Young (six to 18 months)and Mature beef (36 - 42 months) can fetch around £1.90 per Kg for their top end premium grade.

Ms Thoday explained that those exporting to the EU get paid a higher price as they have more production and management costs. These extra costs are due to slaughter limitations. Home kill slaughter can take place all year round but slaughter for export only takes place during a few months of the year. Cattle therefore require longer on grazing to reach the required weight ready for slaughter, meaning higher costs from extra input/management.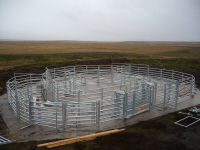 New cattle yards
Future/ Conclusions

As agricultural advisor for the Falkland's, Ms Thoday's work is based around promoting and engaging farmers in improving genetics and setting up breeding programmes. Her work also focuses heavily around the management of the National Beef Herd and National Stud Flock.

Although the Falkland's has found ways to cope with challenges, there are still areas which need further work. The animal transport system needs to become more efficient. There is only one main transport truck available, and trailers to be rented out only hold around eight animals. There are also issues around transporting animals from the west to the east where the abattoir is located. Bad weather conditions often mean the ferry service linking the Islands is stopped without warning meaning trips to transport animals to the abattoir can last for days. If demand for meat is to increase then transport systems will need to be developed accordingly.

However this development of transport is facing its own economic challenges. In order to make a transportation business economically viable there needs to be both inputs and outputs creating a system that transports to and from the abattoir. The current situation sees journeys made to the abattoir but, as there are no outputs, journeys tend to be only one way.

In terms of the future of the industry, Ms Thoday expects a steady growth in demand for beef from the abattoir in correlation with population growth. The last four years saw the cattle industry take huge steps, with the National Beef Herd being in increasing demand. For a grass based meat system the low input costs mean there is money to be made.
November 2011