An Overview Of The Italian Dairy Industry
With the International Dairy Federations Wold Dairy Summit held in Italy this year, TheCattleSite gives an overview of the Italian dairy industry.
Italy, where tradition is industry

Italy is one of the main players of the world dairy industry: the national production combines quality, volumes and tradition. Most advanced milk processing technologies have turned it into a favorite drink – fresh, UHT, LSL – compatible with special diets and accessible to customers suffering from intolerance.

The cheese-making tradition is testified by 37 PDO cheeses and by numerous local cheeses, where the traditional practice has become industrial process, besides cheeses made with modern production technologies. A variety of cheeses that meet the diverse and demanding needs of domestic and foreign consumers.

Yogurt and fermented milk are available in a wide range of characteristics, flavouring, size and they are the ideal products under numerous occasions of consumption. Besides traditional products, there are probiotics fermented milks that answer to modern demand for health products, thanks to the intuition that characterized Metchnikoff's research one century ago.

Numbers of Italian Dairy sector

The dairy sector is the first Italian food division, with a sale of 14,2 billion of euro.

Seventy-five per cent of the milk is produced in the North districts of Italy: Lombardia, Emilia Romagna, Veneto e Piemonte.

In Italy 11 millions of tons of milk are produced and 13 millions of tons of milk are converted in one millions of tons of cheeses (more than 440.000 tons are PDO cheeses), almost three millions of tons of pasteurised drinking milk (1.300.000 tons) and UHT milk (1.600.000 tons) and 190.000 tons of yogurts and fermented milks.

Italian Cheese: variety, quality and safety

Italian dairy industry produces a great variety of traditional cheeses, all of them unique in their organoleptic and nutritional characteristics and processing technique:

Mozzarella occupies the first place as far as volume is concerned – 250,000 tons/year – followed by the two most popular DOP (Protected Denomination of Origin) cheeses in the world:

Grana Padano – the most exported with 163,000 tons/year

Parmigiano Reggiano – the most imitated with 116,000 tons/year

Gorgonzola, Pecorino, Asiago, Taleggio are also part of the Italian tradition, always evolving and highlighting its quality.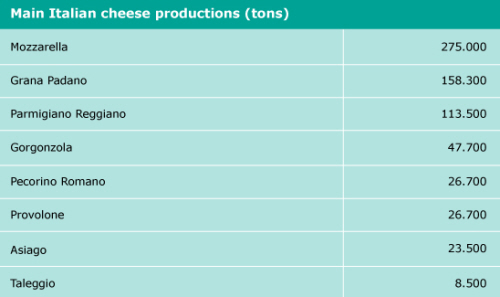 Export

Italy exports almost 250.000 tons of cheese, with a value of €1.4 billion. Main Italian exported cheeses are Mozzarella and other fresh cheeses (36,4 per cent), Grana Padano PDO e Parmigiano Reggiano PDO (25 per cent), Pecorino Romano PDO, Gorgonzola PDO and Provolone.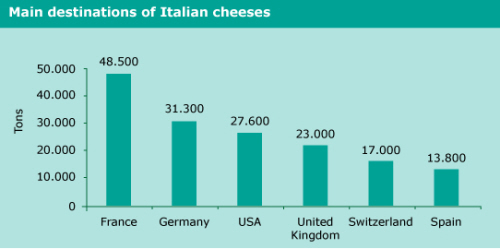 October 2011