AD on Farms Could Turn Agriculture Green
Research carried out by the Rural Economy and Land Use Programme has shown that small scale digesters on farms could be profitable for farmers, good for the environment and help the UK meet targets on green energy and greenhouse gas emissions.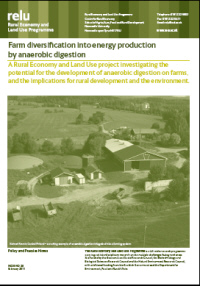 The research report says that anaerobic digestion on farms can not only provide additional income through using the biogas to generate electricity and heat, or upgrading it to a transport fuel, but that this also contributes towards renewable energy targets, with the option of using the energy to supply the local community.

Anaerobic digestion offers environmental benefits by reducing greenhouse gas emissions associated with farming, and promotes the recycling of nutrients, which can be used in place of artificialfertilisers, the report "Farm diversification into energy production by anaerobic digestion" says.

The process can use waste biomass, manures, slurry and energy crops and, by careful planning and adaptive land use, can maximise the use of the whole crop for food and energy.

A typical dairy farm could supply most of the electricity it needs to milk the cows, by converting their manure into energy. And it would help the Government to hit green energy targets and cut greenhouse gas emissions, according to researchers from the UK research councils' Rural Economy and Land Use Programme.

The interdisciplinary project, based at the universities of Southampton and Reading, has researched the potential for small-scale farm-based anaerobic digestion plants.

It found that relatively small digesters could be economically viable, when fed with mixtures of animal slurries and imported wastes or energy crops, and had the potential to boost the profits of both arable and dairy farms.

Wider adoption of the technology would also help farming to become greener. Digesting the slurry produced by one dairy cow has the potential to reduce methane emissions by 25 kg, and generate 1000 kWh of electricity per year – equivalent to three months' electricity consumption for an average household.

The digestate left at the end of the process is a valuable fertiliser if spread on the land, reducing the amount of money farmers spend on artificial fertilisers - and also saving the CO2 emissions involved in their production.

Anaerobic digestion is a very flexible technology, which may be used to process a wide range of agricultural crops, crop residues, animal wastes and imported food wastes, into usable energy.

The team also researched public attitudes to the building of anaerobic digestion plants in rural areas. Consumers tended to support the idea, particularly if cattle and pig manures were used to feed the digester, but most were also happy for food crops to be used. They thought that the most important benefit was that the digesters provide an alternative to landfill for organic waste, including waste food.

The economics of anaerobic digestion on farms in England were modelled for arable farms, where energy crops can be produced, and for dairy farms, where large volumes of animal slurries are captured.

Two alternative models of farm-level anaerobic digestion were considered - arable farms, where energy crops can be produced, and dairy farms, where large volumes of animal slurries are captured.

In the first, the researchers found that anaerobic digestion competes with existing farm enterprises to secure crops for feedstock. In the second, it co-exists with existing enterprises and uses their waste products.

The modelling showed that:
Under 2009 prices and policies, anaerobic digestion is economically viable. A 500kW anaerobic digestion unit would double the net margin of a 300ha arable farm, and a 200kW unit would add six per cent to the net margin of a large dairy farm. A significant part of the improvement comes from savings on fertiliser purchases.
While many potential feedstocks are available, not all can be used profitably. On dairy farms, slurry is the feedstock of choice, while on arable farms a small number of crops can be used profitably.
Forage maize is not the most profitable crop to use in digesters – better returns are available for whole-crop wheat and beet crops, though rotations will have to be based on a broader set of crops.
Anaerobic digestion would remain profitable even if commodity prices rose by 50 per cent and more; but a 50 pe cent cut in feed-in tariff would make most units uneconomic. Anaerobic digestion units based on use of waste products are far more resilient in the face of commodity price rises than units based on energy crops.
Cropping patterns and livestock numbers would not change much on farms adopting anaerobic digestion, but there might be some simplification of rotations, as farms would focus on crops that can profitably be used in the digester
.
Use of waste material, pre-processed before arrival on farms, would reduce the farm based capital investment and improve the economics of the enterprise by enhancing biogas yields and reducing artificial fertiliser requirements.
The researchers found that the environmental impacts of amaerobic digestion can be minimised by crop selection - legumes reduce the nitrogen requirements and flowering crops to attract insects and bird populations.

Crops grown as feedstocks do not need to be 'weed free' so reducing herbicide and pesticide requirements and although there is some possibility of weed spread from the application of the digestate, digestion of slurries and other feedstock materials has been shown to reduce pathogens and weed seed viability.

The researchers say that digestion of slurries and manures reduces uncontrolled emissions that would occur if waste and animal slurry are left untreated.

The anaerobic digestion plant itself has a physical appearance similar to other farm buildings and structures and with careful attention to siting the impact on the landscape should be negligible in most cases.

Professor Charles Banks from the University of Southampton who led the research said: "Other European countries have forged ahead with this technology. But although the UK Government has expressed its support, this has still not led to widespread adoption of the technology on farms.

"This research has shown that there is an economic incentive for farmers, but further encouragement may be necessary, and perhaps some financial support for demonstration projects. Widespread adoption could provide multiple benefits, not just for the farmer but also for the environment."
March 2011