Producing Omega 3 Enriched Milk In Spain
Dairy farmers in Europe are crying out for more money for their milk, with many going out of business. Despite this, Stuart Lumb speaks with one Spanish dairy business, which is in the middle of a 30 million Euro expansion project.
The situation in Spain
Five years ago there were 1.2 million dairy cows in Spain, now there is just 800,000.

When Spain entered the EU in 1985, there were 240,000 dairy farms. By 1992, this had halved and nowadays there are 22,000 dairy units in Spain.

"The numbers will drop to just 4000 by 2020," commented Jaume Pont Camps, who manages the Granja San Hose dairy farm, one of the biggest in Spain, located near Huesca, in the middle of the country. "Spanish dairymen can't meet the demand for milk and so much is imported, from neighbouring France and even from Ukraine, Rumania and Lithuania, where production costs are less."

"The Spanish government is not interested in the plight of Spanish famers - all the government is interested in is keeping the price of milk low for the consumer," continued Mr Camps. "Furthermore French dairy famers get 6-7 cents per litre subvention, whereas here in Spain we only get 1 cent per litre".

Yet despite this gloomy picture, in the middle of Spain one dairy business is bucking the trend, so much so that the Granja San Jose farm is in the middle of a 30 million Euro expansion project.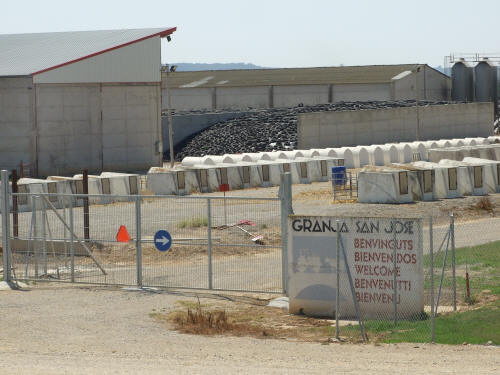 Granja San Jose
In any business these days to make money you have to "think outside the box " – and do something different. In the food industry, the profit is made in the retail sector and so to survive farmers have to go "beyond the farm gate". Mr Camps and seven other farmers did both these things.

Spain is the number one country for enriched milk consumption. Consumers are concerned about heart problems and want a healthier life style and are prepared to pay a premium for healthier foods, including milk. Consequently, in 2008 this group of farmers decided to produce Omega 3 enriched milk, which could be sold for a premium price. The milk was called ATO Natura.

Currently the milk attracts a premium of 0.8 cents/ litre. They also went beyond the farm gate and bought their own dairy. The dairy processes other milk but the ATO Natura has its own dedicated processing line - the only one in Spain having this facility.

The enriched milk, which is advertised both on TV and in magazines, is then shipped out and sold in supermarkets in Catalonia and around Barcelona.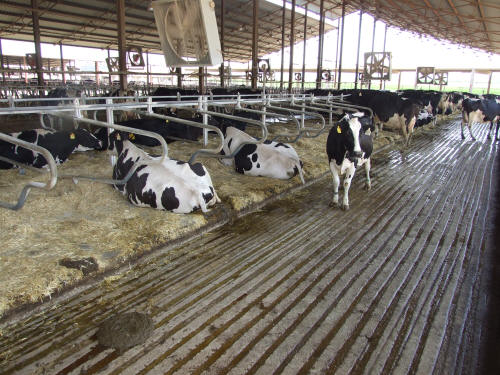 Cow shed at Granja San Jose
Granja San Jose farm has 1300 Friesian milk cows, a far cry from 1951 when the current manager's grandfather had a mixed farm with just 6 cows a few sheep and a few hectares of arable land. Now the farm extends to an area of 400ha. Of this, 360ha is farmed with the remaining 40ha being occupied by the huge dairy buildings, silage clamps, manure stores and irrigation ponds.

The Huesca region is extremely arid but thanks to the massive pivot irrigators it's possible to grow two crops a year. The alfalfa is cut seven to eight times during the year and the winter barley is irrigated in November to encourage good growth. Water comes from high up in the Pyrenees, flowing 100km along irrigation canals ending up in vast artificial ponds / mini lakes, purposely created to store huge volumes of water on the farm.

Everything is big on this farm. There are 36 staff, including three vets, mainly locals from surrounding villages, although there are a few non Spaniards on the payroll.

The cows lie in straw bedded cubicles. Each shed has solid floored walkways and these get swilled down on a regular basis. The decanted dirty water is mixed with the irrigation water and then sprayed on the growing crops. The solid manure is taken out of the sheds at six monthly intervals.

Away from the sheds is a large area is devoted to manure storage, with the manure being eventually spread on the land. There are no plans to put up a biogas plant as the solid manure is valuable as a natural fertiliser.

Cows are fed on the floor down each side of the shed. A complete diet is fed, consisting of maize silage, cereals, alfalfa, soyabean meal, minerals, vitamins and linseed (pellets) to enrich the milk. As a consequence, the milk contains 2.5 times more conjugated linoleic acid (CLA) than normal milk. This is the only feed the cows receive – no concentrates are fed in the parlour.

Large fans and misting systems help to keep the cows cool. All the cows and heifers are zero grazed with the silage being stored in huge concrete sided clamps. Cows are milked every eight hours, at 12am, 4pm and 8pm in a "rapid exit" parlour to speed up cow movement.

1300 cows are milked every seven hours so the parlour is in use 21 hours per day. Production is around 50,000 litres/ day. After milking, the cows pass through a shedding system where cows can be isolated for insemination.

Each cow has a pedometer strapped to her lower leg to help with heat detection ( top quality semen is sourced from Semex , IDS and Global sires ) and animal identification.

Much of the dairy hardware was sourced from Israel and the dairy can filter 30,000 litres of milk per hour. A second milking parlour is used for freshly calved cows plus any cows on medication, although mastitis is not a problem ( 0.5 per cent cows exhibit clinical mastitis).

To enable the dairy to export to the US, the whole plant was built to USDA standards - for example all the PVC had to be American and no latex gloves can be worn. However, so far the economics of this have not proved favourable.

The average yield is 12,500kg (305 day corrected lactation), with 3.55 per cent fat and 3.25 per cent protein. Cows average three lactations with a third of the cows being replaced annually.

The farm is currently increasing the herd size by another 600 cows. Cows will be bedded on sand as straw is too expensive and has to be handled, plus a weeping wall manure storage facility is being constructed to store the extra effluent.

The long term plan is the to build the herd up to 4000 cows, which would make Granja San Jose the biggest dairy farm in Spain.
November 2010