Dairy Farming Systems in Great Britain
Following the recent application for the development of a 'large scale' dairy unit in Britain there has been a huge increase in consumer, media and political interest in British dairy farming systems.

Consumer media has generally focused on negative aspects of such plans – often playing on consumer conscience with emotive headlines that suggest a move to 'factory farming', poor animal welfare, pollution risks and the end of the British countryside as we know it. With fewer than one hundred dairy farms in Britain producing over 4 million litres of milk currently (equivalent to around 500 cows) it's no surprise that any proposal for a large-scale dairy farm arouses public interest and will subject to intense scrutiny. Specifically, the proposal for an 8000 cow dairy farm in Lincolnshire is something of a "test-case" for the British dairy sector. Whatever the outcome of the proposal however, it is important that policy makers, journalists and consumers have access to factual and unbiased information on the different types of dairy farming systems that exist and understand the motivations for and meaning of 'large scale' dairy farming. This briefing provides an overview of British dairy farming systems, outlines the potential benefits of large scale dairy farming and attempts to dispel many of the myths that cloud this debate.
Current facts and figures
Dairy farms are situated across Britain, but are concentrated mostly in areas where the climate encourages favourable conditions for grassland farming. In recent years milk production has gravitated towards the West and South West of England, and West Wales.

The number of dairy farmers in Britain has fallen dramatically over the last decade, and continues to decline. In 2000 there were 23,286 registered dairy production holdings in England and Wales, and today this figure stands at 11,2331.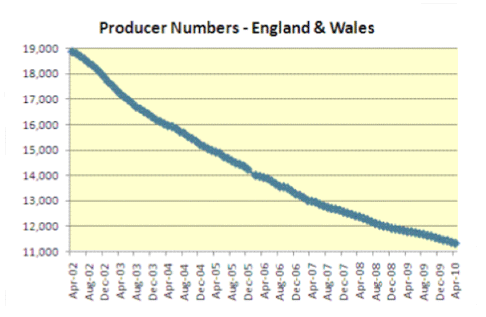 Over the same period the average size of dairy herds in Britain has increased from 75 cows in 2000 to 113 in 2010 whilst the national herd has reduced from 2.6 million to just over 1.8 million cows. At the same time, genetic and management improvements in dairy cattle have seen the average cow steadily increase milk production from 5,958 litres in 2000 to 7,096 litres in 2010.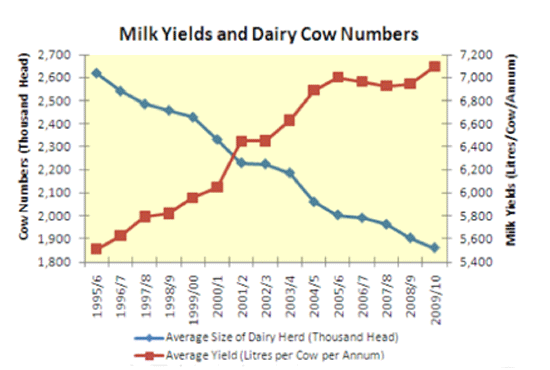 This gradual increase in herd size, coupled with improving milk yields has meant that despite the steep decline in the number of dairy producers, milk production in Great Britain had, until 2004, remained relatively stable. In more recent years, however, there has been a marked decrease in milk production brought about by the loss of larger milk producing herds and a reduction in the number of dairy farmers that have the ability, and confidence to expand their herds.

British milk production currently stands at just over 11 billion litres.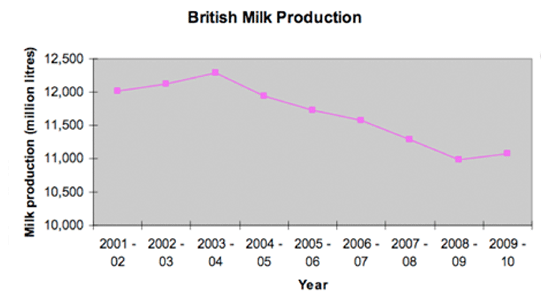 A typical dairy farm with a herd of 113 cows is likely to produce approximately 1 million litres of milk per year. The table2 below reveals the huge range in dairy farm sizes in Britain expressed as the volume of milk produced by each herd. Over 5000 farmers produce less than 500,000 litres of milk a year – this is equivalent to c.50 dairy cows. At the other end of the production scale there are fewer than one hundred dairy herds producing over 4 million litres, equating to a herd of around 500 cows. These statistics highlight the diversity in dairy farm scale in Britain and also puts the number of 'larger scale' units into perspective, which is frequently overestimated.

Dairy farm management systems
There are a number of different types of dairy farming system in Britain with each one carefully selected to suit the local conditions, the breed of cow and the size of the herd.

- Grass-based systems

The vast majority of British dairy cows are extensively grazed to take advantage of the British climate, which is generally warm, wet and ideally suited to growing grass. This is typical of what the general public might consider to be a "traditional way of farming". Most British dairy herds will graze during the spring and summer months, and be housed for up to six months of the year, usually from late autumn through to the end of winter, when the weather is wet and cold and grass stops growing. This practice can vary depending on weather conditions, availability of feed and stage of lactation. In extreme weather conditions farmers may decide to house their herds to allow for better care and attention – the dry, hot conditions seen this summer caused some dairy farmers to house their cows indoors as grass growth was minimal, feed availability was low and to overcome the impact of heat stress.

- Housed systems

A small but growing number of dairy herds may spend the majority of their time indoors in modern, well ventilated and light cattle sheds. This is referred to as 'continuous', or 'year round' housing. In some cases, these cows may spend up to three months outdoors during their dry period (the three months before a cow gives birth to a calf), and may have access to pasture for exercise and to socialise. Within these systems each cow is required to have space to move around, a bed to lie in and sufficient space to feed. It is common in housed units for farmers to also provide loafing areas, cow grooming brushes, fans and water sprinklers to ensure maximum cow comfort. Cows that are predominantly housed indoors in Britain are fed a diet of freshly cut pasture or silage and mixed ration feed to ensure that all their nutritional requirements are met.

In recent years there has been a small yet gradual increase in the number of farmers adopting year round housing systems. This is due to a number of factors, which include the reported health and welfare benefits of being able to provide a consistent feed ration to cows (particularly those with higher milk yields), the increased uptake of robotic milking systems, and, in some cases, an increase in herd size.

- Extensively grazed, or 'New Zealand' style systems

An extensively grazed, or 'New Zealand' style system is one where the cows spend the majority of the year outdoors and are likely be out wintered in all weather conditions. This style of farming is commonplace in the southern hemisphere but not widespread in Britain due to the winter weather conditions we experience. It is generally suited to areas where there is adequate rainfall and soil temperature to ensure prolonged grass growth and for lower yielding cows. During the winter months, when grass stops growing, cows will be fed a supplementary diet of forage on feed pads (areas of hard standing). In the countries that practice this system herds tend to be block spring calved, and milk production is low during the winter period.
The Independent View
The Farm Animal Welfare Council (FAWC) is an independent body created to provide advice to Government on welfare issues. FAWC recently concluded that there are few disadvantages to keeping cows in large herds or housed units as long as the stockmanship is of the highest standard. FAWC states that being part of a very large herd actually has the potential to benefit an individual cow's welfare when a team of experts, including a nutritionist and a specialist veterinarian, can be employed to monitor health, disease prevention and control. FAWC recommend that larger herds should be divided into appropriate groups, with each managed according to nutritional and other needs. The RSPCA does not endorse systems which house cows 365 days a year within its Freedom Foods Scheme; however, it does state that large units can provide good welfare. The RSPCA's Farm Animal Department believes that the current debate on large scale dairy farming has been too simplistic in its focus on size and housing alone. The RSPCA suggests that new thinking is required in how the mental and physical well-being of the modern, high-performing cow can be maximised in all systems.
The potential benefits of larger dairy farming systems
It is important to understand the motivations for larger scale dairy units, and indeed the potential benefits for farmers, their cows, the environment and ultimately consumers.
Animal welfare
Big does not mean bad. Often on larger dairy farms dedicated individuals are solely responsible for animal health and welfare management, and some may even employ the services of a permanent veterinary surgeon to oversee the health of the herd. Farmers that operate housed systems (which are generally larger in scale) have reported improved fertility rates, better control of diet and nutrition and a general improvement in animal health and welfare. This is mainly due to the close monitoring of cows that an indoor system allows, and the speed with which any problems can be spotted and treated. To better understand large scale, housed dairy systems Defra has commissioned research with the Scottish Agricultural College to investigate the management and welfare of continuously housed dairy cows. The study will explore the health of cows in continuously housed systems and those managed in summer grazing systems and compare culling and fertility data. The study will also investigate how to best rates, better allow housed dairy cattle to perform a full range of natural behaviour. The results of the study will be presented to farmers, relevant industry bodies and farm assurance groups in 2012. The recently launched Dairy Cow Welfare Strategy aims to improve and promote the health and welfare of dairy cows across all management systems and, importantly, to bring about recognition that welfare in any system is dependent on the quality and standard of husbandry and stockmanship.
Food security
The predicted need to increase food production by at least 70% by 2050 to meet the needs of a growing world population is widely documented. However, challenges exist that may hinder our ability to secure food supplies and increase food production including limited availability of land; depletion of natural resources such as water and soils in many parts of the world and climate change which will place a strain on attempts to increase productivity.

Addressing these challenges will require serious investment in research and development, knowledge transfer and sustainable agricultural production. Furthermore all farm management systems will be required to play their part. While the problems of food insecurity will be felt the most in the developing world, the NFU believes that farmers in the developed world, including the UK, will have an increasing role to play in global food security. As the Efra Select Committee argued recently, the UK has a 'moral duty' to increase food production, not only to respond to any growth in demand domestically, but also to play a part in meeting growing global demand. If Britain is going to produce more food without damaging natural resources then proposals for large scale dairy units must be examined on their true merits. That is not to say that we will move towards large scale units at the expense of grass based systems – nor would we want to. Grazing grass is one of our biggest competitive advantages. That said, if we want to have a dairy farming sector that can produce more, impact less and make a profit at the same time then we need to embrace the diversity of farming systems and technologies available to us and make production decisions that are based on research, science and evidence rather than myth, misconception and emotion.
The Environment
Dairy farmers, regardless of scale or management system, take their environmental responsibility very seriously. That is why the industry is well ahead of the targets set for it within the Milk Roadmap including 50% of dairy farmers participating in Environmental Stewardship Schemes, 65% of dairy farmers actively using a Nutrient Management Plan, a continued decline in water pollution incidents on farm and the uptake of on-farm anaerobic digesters. Methane emissions from dairy farming have fallen by 17% since 1990 as a result of increasing efficiency of milk production, a reduction in the number of cows and improved application and management of manure and fertiliser. Larger scale dairy farms can offer the opportunity and infrastructure for farmers to invest in anaerobic digestion facilities – something that is not always practical for smaller dairy farms. In addition, the current advice on climate change and methane emissions has even suggested that there is usually a reduction in methane emissions when cattle are housed compared to those on pasture due to the improved efficiency of milk production.
The Consumer
There is a growing consumer conscientiousness about where food comes from, how it is produced and the welfare of the animals that produce it. Public perception of dairy farming is positive. The recent Dairy Council Public Attitudes survey revealed that 75% of the public believe dairy farmers do a good job looking after their animals and 62% believed that animal welfare in Britain was amongst the best in the world.

To improve understanding of British dairy farming in the public arena, DairyCo has recently launched a consumer facing website: www.thisisdairyfarming.com, which provides accurate and factual information about British dairy farming and management systems. This provides a platform for the industry to educate consumers on dairy farming systems, standards and practices.

Over 95% of British dairy cows are Farm Assured and that means consumers can buy dairy products safe in the knowledge that milk from a British dairy farm is produced to world leading standards of quality, hygiene, welfare and environmental care, which is promoted on packaging by the Red Tractor logo. There is no requirement to label milk produced from housed cows any differently to milk from cows from other management systems.
The British dairy industry is constantly changing as farmers take advantage of new technologies in breeding, milking and farming systems, and as relationships in the dairy supply chain evolve. This progress means that the industry is continually finding new and better ways to manage dairy cows, while delivering to consumers the huge range of quality, British dairy products they enjoy.

Public confidence in dairy products is an absolute priority for farmers and as an industry we will always be guided by consumer preference. However, these preferences need to be informed by balanced, scientifically-based research and assessment wherever possible.

Predicting the future direction of the British dairy industry is a difficult task; however, certain trends are beginning to emerge – such as a gradual increase in herd size. It is in the whole industry's interest to be united and consistent in its messages to farmers, consumers and the general public. Greater industry co-ordination, communication and collaboration will better prepare us for coping with the changes that may face the British dairy industry - be they expected (through technological advances, food security challenges or agricultural policy) or unexpected (future disease threats or the impacts of climate change).

Above all, cow welfare is a priority on all British dairy farms and good welfare is underpinned by good stockmanship and management. It is in the interest of all dairy farmers to have healthy, contented cows that produce high quality milk and the production system chosen does not relate directly to the health and welfare status of the cow.
October 2010