Kimber's Farm Veal
Producing veal on their dairy unit, the Kimber family sell their product through farmers' markets and their farm shop. Charlotte Johnston, TheCattleSite junior editor speaks to Ruth Kimber about how the business has developed over the years.
Primarily a dairy farm, the Kimber family initially began selling meat over the kitchen table to friends and family. As demand grew the family realised they had found a real opportunity.

In 2000, an old shed was converted into a butchery and in 2006, the existing butchery was expanded and a farm shop built, where meat reared on the farm is sold as well as other local produce.

It was in 2001, when Mrs Kimber first thought about producing veal. Following the foot and mouth crisis, the export market for calves collapsed. Due to the poor value of calves, the only feasible option was to shoot them. However, Mrs Kimber, ever the opportunist, decided to make something out of nothing.

As a trial, Mrs Kimber started with two Simmental cross heifers. She left these suckling for a couple of months, after which she weaned them onto a diet of straw topped up with milk.

The calves were slaughtered at six months old and returned to the farm to be butchered.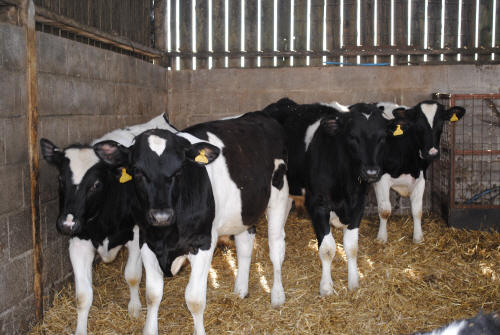 Mrs Kimber says that there was little to no information available on veal cuts. With this in mind she decided to look up old recipes and went forward from there with the help of trial and error.

Now the farm slaughters two freisian calves a month for veal.

Calves are fed a diet of milk (about 14 litres/ day), nuts and barley straw. Milk fed is from the dairy unit, including first milk and that with high cell counts.

Calves are housed in open, straw yards in groups.

Now the majority of freisian bull calves, from the farms 200 head strong dairy herd, are reared under a veal production system.

Veal calves are killed at approximately seven to eight months of age.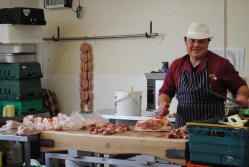 Carcases weighing 135-150kgs are returned to the farm, where the farm shop butcher cuts the carcases into traditional cuts of veal and they are then sold in the farm shop. There is no waste from the carcases, offal and bones are sold in the shop alongside the cuts of meat.

Veal was first sold at Wincanton Farmers' Market but as the popularity grew she approached other local markets. It was at Bathmarket, in 2008, where Mrs Kimber was approached by Hugh Fearnley Whittingstall's River Cottage.

Initially Mrs Kimber was sceptical regarding the idea of appearing on a TV show, as veal received enough negative publicity.

She was also aware that TV chefs were involved with Compassion in World Farming and campaigning against the exportation of calves to the continent, although they hadn't realised the consequences of this, says Mrs Kimber.

The consequences were that bull calves were been shot at birth due to their low value, in Mrs Kimber's case she had managed to add value to a worthless by-product, which is what Mr Whittingstall was interested in.

Appearing on the programme had a massive effect on the Kimber's sales, which increased substantially. As part of River Cottage's TV programme, The Veal Deal, Mrs Kimber took a couple of calves to Taunton market - to show the public that the calves were healthy and kept in good conditions. At the same time, Mr Whittingstall carried out a cooking demonstration, giving out tasters to the public.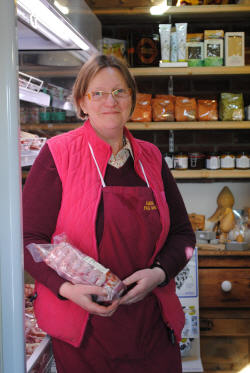 Mrs Kimber says that despite her previous reservations, she felt that the programme had a long term positive effect on the British veal industry, as it made the public aware of production methods and the alternatives for dairy bull calves, as well as making veal 'OK' to eat.

As a result of this and other TV chefs, Mrs Kimber feels that demand is increasing. "It is much more acceptable to eat veal," she says.

With regard to carcase balance, Mrs Kimber is as positive as ever.

"We work hard on this, the forequarter on a veal carcase does contain the lower value cuts. But we are working to educate our consumers," she says.

"Whether it be through giving away recipe ideas, producing veal burgers, sausages or casserole meat, we are working hard to show customers that these cuts are often even tastier than the standard escalope."

At the moment, the Kimber family are succeeding in producing quality, welfare-friendly veal. Using their initiative they are creating products which enable them to sell the whole carcase and are working hard to show the public the benefits of what they are doing.
May 2010
Further Reading
Further Reading