Milk Production In The US
Figures from the National Agricultural Statistics Service (NASS) suggests that milk production in the US is falling due to a diminishing national herd.

Milk production in the 23 major states during December totaled 14.6 billion pounds, down 0.8 per cent from December 2008. The November revision represented an increase of 24 million pounds or 0.2 per cent from last month's preliminary production estimate.

Milk production in the US quarter October - December totaled 46.2 billion pounds, down one per cent from the October-December quarter 2008.

MIlk production was down for all quarters if 2009, except for April - June, when there was a 0.2 per cent increase.

Looking at the figures monthly, milk production seemed up for all first six months, excluding February. However for the last six months of 2009, milk production fell.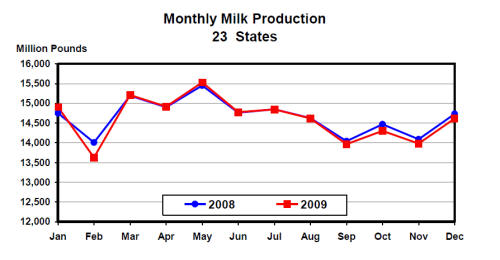 Production per cow in the 23 major states averaged 1,758 pounds for December, 29 pounds above December 2008. Looking at the graph below, as of April onwards, it appears as though milk yields per cow have increased compared to 2008. A fall in overall milk production would therefore suggest a decrease in the national herd.
The number of milk cows on farms in the 23 major states was 8.31 million head, 206,000 head less than December 2008, and unchanged from November 2009.

The average number of milk cows in the US during the quarter was 9.09 million head, 243,000 head less than the same period last year, which could explain the drop in milk production.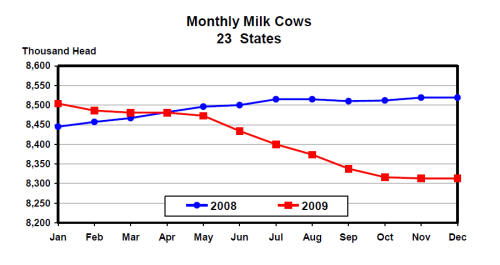 Further Reading
January 2010