China - Livestock And Products Annual Report
The Livestock and Products Annual report for China by the USDA Food and Agricultural Service (FAS) predicts that beef production will continue to fall in 2010 due to low returns.
FAS expects Chinese beef cow inventory to decline for the third year in a row due to comparatively poor farm returns. Despite high beef prices, cattle supplies continue to fall, driving beef production down an estimated six per cent in 2009 to 5.8 MMT, with further declines expected in 2010.

Small backyard operators, who account for 80 per cent of Chinese beef producers, have been discouraged in recent years by high grain prices and a cattle marketing structure that disadvantages small producers. Small operators typically sell their cattle through brokers to medium-small slaughterhouses for wet markets. With poor access to market information, farmers accept comparatively low prices for their cattle. Chinese producers have also been discouraged by a long beef cow and steer production cycle. Farm returns are uncertain during the long production period, especially with fluctuating production costs and continued outbreaks of foot and mouth disease (FMD), which have been increasing in 2009. The declining interest in raising cattle among small-scale operators has led to a significant reduction in China's cattle supply in many areas.

Large-scale slaughterhouses have become increasingly integrated and their products are mostly geared to high end beef markets where demand is comparatively strong. They normally own their own feedlots, and often sign contracts with cattle farmers, while also buying through brokers and directly from cattle farmers without contracts. If steers do not meet contract requirements, they are not accepted. These facilities typically buy two-way or three-way cross bred steers at 18 months to place them at their own feedlots. The fattening period takes three to six months depending on animal weights. The primary marketing channels for these products are high-end hotels, supermarkets and restaurants.

FAS expects China's dairy cow production to continue recovering from the nation-wide milk melamine crisis in September 2008. Dairy consumption remains well below normal levels at just 75 per cent of the level prior to melamine. As a result, some dairy cows were slaughtered for beef during the end of 2008 and beginning of 2009. Following the introduction of a government subsidy for loan interest on dairy cows procurement, and higher offer prices for milk from dairy processing plants, dairy cow slaughter has reportedly stopped. Overall, the impact of China's higher dairy cow slaughter on the beef market has been minimal and will further diminish through 2009.

The beef cattle genetics market in China could represent new sales opportunities due to expected demand for improved beef genetics in China. Currently, there are very few pure-bred beef cattle in China. Domestic high-quality cattle normally come from three-way cross bred cattle between local cattle and western Simmental, Caroline, and Limousine, but the improved stocks are small. As a result, high-quality beef accounts for less than five per cent of total Chinese beef production. FAS believes that consumer demand for consistent, higher quality beef will continue to rise, driving demand for genetically improved beef production.
Consumption
Beef Consumption to Continue Falling due to High Prices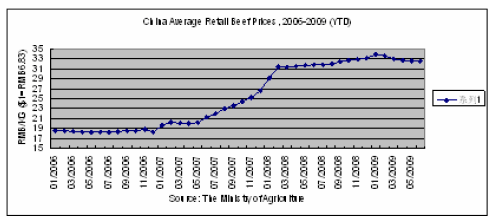 FAS expects China's beef consumption will continue sliding in 2010 to below 5.5 million tons as high prices discourage sales. Through 2009, average nationwide wholesale beef continued to rise from record levels in 2008, exceeding $3.50 per kilogram in August, up 6 per cent from August 2008. This compares to $2.08/kg for pork (down 21 per cent from August 2008) and $1.34/kg for broiler meat (down 5 per cent).

Regular short plates sell best for hot pot among all consumers because of comparatively cheap prices. Bone-in and boneless short ribs and rib fingers are popular at Korean and Japanese restaurants in China. Rib-eye rolls, boneless strip lions, short lions, and tenderloins are mainly consumed at high-end hotels and restaurants. Chinese consumers prefer grain-fed beef because of the tenderness with marble lines. High-end hotels and restaurants like to use imported beef and require specific cuts, grades, and animal age, in order to guarantee the quality for specific menus.
Trade
Strong Demand for Breeding Dairy Cow Imports
FAS forecast China's live cattle imports will surge 17 per cent in 2010 to 21,000 head as China continues to rebuild its dairy industry following the nationwide melamine crisis. With a significant number of Chinese dairy cows slaughtered in early 2009 due to slack milk demand, demand will be fueled by a need for herd replacement as well as improved genetics. The government's subsidy of RMB500 ($73) per cow for MOA (Ministry of Agriculture) certified high-quality dairy heifers will further encourage imports.
Beef Imports to Continue Rising
While a tiny share of total consumption, China's beef imports in 2010 are forecast to continue rising to 18,000 MT, due mainly to lower domestic production. Imports from Australia have been particularly strong in 2009, with imports through July nearly doubling to 3,074 metric tons. Sales have been fueled by depreciation in the value of the Australian currency against the yuan that began in late 2008 and continued through mid-2009. Traders report continued robust sales of beef imports through gray channels in 2009.
Chinese Live Cattle and Beef Exports Expected Lower
FAS forecasts China's live cattle exports in 2010 to decline seven per cent to 28,000 head, which follows a 9 per cent decline in 2009. Beef exports in 2010 are forecast to decline 24 per cent to 25,000 MT, following an estimated 43 per cent decrease in the previous year.

Lower demand for Chinese beef imports in 2008 and 2009 is due primarily to the overall global financial crisis and rising Chinese beef prices. Food safety has also played a role as key markets such as Japan and South Korea have tightened inspection, quarantine, and audits of Chinese processing plants. Meanwhile AQSIQ suspended issuance of export health certificates for several weeks in 2009 and directed exporting plants to re-evaluate their food safety systems and make improvements where needed.
Further Reading
January 2010