Milk Production, Cow Numbers in Dairy States Down in June
In June 2009, milk production in 23 major dairy states dclined by 0.1 per cent, according to Robert Tigner of the University of Nebraska, writing in the August 2009 issue of Iowa Farm Outlook from Iowa State University.

Iowa June 09 milk production was 2.51 per cent higher than one year ago. Cow numbers were down by 1,000 compared to one year ago and milk production per cow was 50 pounds higher than one year ago. May 2009 Iowa cheese production was up by 4.579 million pounds, 32.2 per cent higher than one year ago and 170,000 pounds, 0.8 per cent less than April 09.

Nebraska second quarter milk production totaled 302 million pounds, up 14 per cent or 37 million pounds, the largest quarterly increase in the continental 48 states.

Recent CWT cow culling has reduced the 23-state dairy herd, which was the major reason behind the year-to-year milk production decline during June. Milk production per cow rose slightly. However, US second quarter average milk production dropped 170 million pounds. Many of the non-reporting states had large percentage declines in milk production. A second round of CWT was announced and will further reduce dairy herd numbers.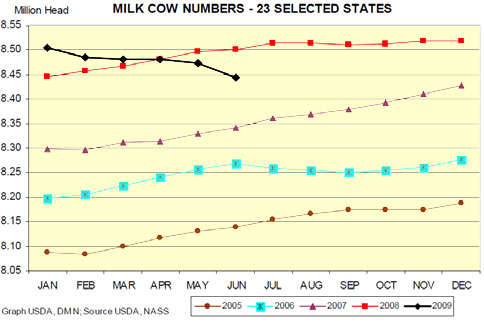 Source: Dairy Market News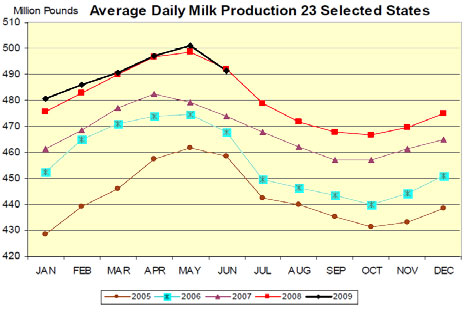 Source: Dairy Market News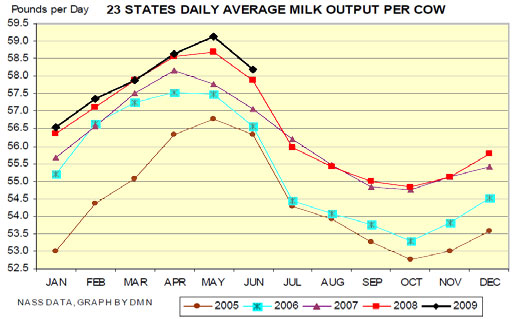 Source: Dairy Market News
Dairy cow slaughter was up by 41.5 per cent from one year ago, mostly due to CWT. However, slaughter may be offset by a large volume of replacement heifers in the pipeline. Dairymen had 3.9 million dairy replacements on hand in July, the same number as in 2007 and 2008, according to the biannual Cattle report. This matches the highest figure of the last 15 years (see chart). There were 42.4 replacements for every 100 cows in the herd, up from 41.7 per 100 last year.
Demand or Disappearance
May total cheese output was 860.747 million pounds, up 2.6 per cent from one year ago and 1.8 per cent less than March 09. Year-to-date cheese production is 1.3 per cent higher than the same period one year ago. California cheese production was -2.6 per cent, Idaho +1.8 per cent compared to one year ago. Wisconsin cheese production was +3.2 per cent from one year ago but 1.4 per cent from April 09. Italian-type cheese production totaled 350 million pounds, 0.3 per cent above May 2008 but 0.1 per cent below April 2009. American-type cheese production totaled 366 million pounds, 3.9 per cent above May 2008 and 4.3 per cent above April 2009. Butter production was 139 million pounds, 0.3 per cent below May 2008 and 2.2 per cent below April 2009.

Fluid milk sales continue to be in positive territory compared to one year ago.

Recent cheese production has continued to be high, and that level of production has shown up in cold storage. June total cheese stocks are slightly higher than the revised the May number, about 13 million pounds lower. That extends the highest storage total since August 1985.

The Consumer Confidence Index reported for July dropped to 46.6, a 2.7-point drop. 46.3 per cent of those surveyed said business conditions are bad while only 8.1 per cent thought business conditions were good. while 48.1 per cent said jobs are hard to get.
Analysis
Dairy farms are rapidly losing equity, and the next several months continue to look like the last few months also. Several policy reactions and hearings have been hitting the message boards and government offices. A variety of proponents have called for some degree of supply management, an increase in the support price and reductions in the use of various technologies. None of the proposals would have a quick enough impact to raise milk prices this late in the season. Milk and dairy product consumption needs to increase to have any impact on the current milk prices. Large inventories of dairy products continue to overhang prices.

Dairy cow numbers are showing declines that will eventually affect milk prices. Several large dairy farms are in turmoil due to the closure of New Frontier bank in Colorado. These dairy farms may close but will eventually return to operation. Many of the larger dairy operations that close due to financial problems will reopen with new owners.

Milk pricing opportunities are not providing positive cash flow for several months as well. A sell-off in the Class III futures did not raise the probability we will see positive cash flow prices in the near term. MILC does help dairy producers. Those that run out of the payment due to production limitation for MILC have indicated that when the payment ends, they are in trouble.

Feed cost reductions may relieve some of the financial pressure but the June milk-feed price ratio remained the same as May 1.47. Feed price used for the calculation was: corn, $3.93; alfalfa hay, $128 per ton; and soybeans, $11.60. Feed prices for future calculations will drop but not enough to soon get to the 2.5 needed for financial stability in the dairy industry.
Further Reading
August 2009