NFU Dairy Survival Plan for Turbulent New Age
The UK dairy industry has a bright future say analysts, so long as it can see out the accumulating short-term difficulties it currently stands on the verge of confronting, writes Adam Anson, reporting for TheCattleSite.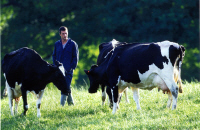 NFU Survival Plan: a Vision of cohesion
Cast an eye in the direction of current trends and the future of the UK dairy industry looks good. Worldwide demand will continue to soar as populations boom and the global economy gets back on track. Meanwhile, UK consumer interest in British food will continue to rise, providing strong market potential both at home and abroad.
But the industry must have patience before it will experience these benefits. Short term pressure and instability are adding to an overwhelming lack of confidence within the dairy farming community. Consequently, many farmers are leaving the sector for more immediately profitable ventures, inflicting damage on market and power structures that could become irreversible.

As dairy farmers find themselves tiptoeing towards the verge of a turbulent new age, the National Farmers Union (NFU) has released a Survival Plan. Building Confidence - Boosting Supply provides a vision of cohesion, which - they believe - will allow the industry to retain its potential throughout this time and thrive once more.
The Times Ahead
According to the NFU report there are 13,601 dairy farmers in Britain, milking 1.620 million dairy cows and producing 11.285 billion litres of milk a year. In 2007, there were 14,296 British dairy farmers, whilst in 1997 there were 28,119. According to the numbers, dairy farmers are leaving the industry at a rate of two a day. This translates into an average annual loss of 6.5 per cent over the past ten years.

Despite the falling figures of British dairy farmers, milk production has fluctuated steadily at around 12 billion litres a year. However, since 2004 even this figure has been in sharp decline. In 2008 only 11.3 billion litres of milk were supplied in Britain. The lowest level in 30 years. Reflecting this trend, the UK milk output has also declined.

According to the NFU, a tipping point is reached when "domestic supply cannot meet the needs of the core market". In the UK this figure has been estimated at 12.95 billion litres. It is apparent that we can no longer meet this figure. Currently the shortfall is made up by Irish milk exports, but this is not desirable, or profitable. If current trends continue, milk production will fall another 0.6 per cent by 2010.

According to statistics gathered in the report, if milk prices drop just 2 pence per litre (ppl), 30 per cent of farmers would consider leaving the industry - if this figure rose to 4ppl, 65 per cent would. Such a dramatic loss of farmers would render the UK dairy industry capable of producing only 5.2 billion litres per year, devastating current markets. In order to sustain the UK dairy industry, adequate returns must be the key priority to any survival plan.
Annual Milk Production - Long Term Trend of Decline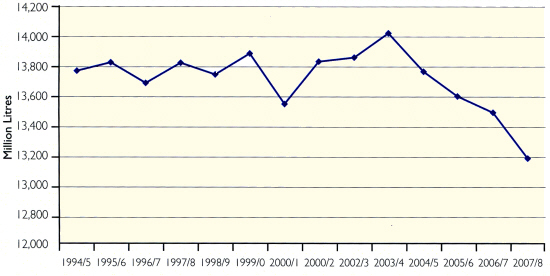 Rumbles in the dairy market are being felt worldwide. Financial crisis and feed supply fluctuations are creating a market of volatility highlighted by unprecedented fluctuations in milk value. Oil, energy, fertilser and feed prices are all on the up also. In the UK, milk prices dropped substantially at the beginning of the year, but the NFU believes there is no need for this further unrest. Buyers and retailers have a crucial role to play in this survival plan.

British milk is "much more than a commodity" argues the Survival Plan. Although the EU commodity markets are strong, they have little little effect on how the UK chooses to value its milk. The reasons the NFU gives for this is that the UK has minimal trade on the commodity markets, whilst current exchange rates still remain in British favour, providing for competitive exports whilst protecting the industry from imports.

Meanwhile, the market domination of liquid milk, means that milk sources must be fresh 365 days a year. The UK milk industry is perfectly suited to this measure. It is also a cheap source of milk, consistently 1ppl beneath European prices. These conditions have led to some dedicated supply routes to retail chains, but the NFU says that further support needs to be guaranteed.

Statistics based on the EU 15 milk price league table from October 2008 showed UK milk prices to be ranked as one of the lowest. Although this is healthy on the foreign market, it provides little relief to struggling farmers. One of the reasons that milk price is being kept so low is a misconception that production prices have been in decline. The NFU says that while there have been some falls, the benefits of these changes have not been passed on to the farmer, whilst forward buying in this difficult era has ensured that dairy farmers will not see any price relief for some time yet to come.
The Survival Plan
Outside Help
The upcoming Nitrate Vulnerable Zones Action Programme is set to add further woes to the farmer, especially many of those in the tenanted sector whom can ill afford to make the necessary upgrades to fulfil these obligations. The NFU has announced that it will lobby Defra in order to increase the current timescale to four years.

Furthermore, the Bovine Tuberculosis situation across Britain is becoming worse year-on-year and requires devastatingly expensive action from those unfortunate enough to be afflicted. As part of the survival plan, the NFU believes that the government should establish a TB Eradication Plan by the end of the April. Meanwhile, the union will call for an independent body to take the politics out of animal disease, resisting attempts by Defra to transfer these costs to the industry. Part of this disease challenge could also be met by a reduced level of the current dairy hygiene inspection burden,

Financial assistance form the government will be needed throughout this tough year. In the absence of government help, the NFU says that banks will need to show their support. "Ensuring that lending is available to dairy farmers at sensible, competitive rates, would send a very positive signal to producers at a time when cash flow requirements are likely to rise," says the NFU.
Market Development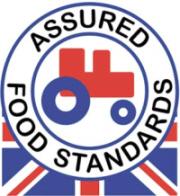 Red Tractor: giving consumers what they want?
The first thing that the NFU mentions in its survival plan is market development. Supporting and promoting brands such as Red Tractor is an essential goal if British products are to stand out in the supermarket. Consumer awareness campaigns like this can help to cultivate the growing consumer demand for British, local, quality-assured, traceable food. The NFU asks that all manufacturers and retailers should play their part in promoting the red Tractor logo predominantly on their dairy products.

However, there is concern that many food retailers and government departments are shifting towards foreign cheaper sources that do not ensure the same quality. Lower end cheese products have saw a large increase in UK imports between 2007 and 2008. It is important that farmers begin to see some long term commitment for cheese, butter, cream and yoghurt from retailers.

Innovation research and promotion are the driving forces of any product and costs to uphold these measures must continue to be met. The NFU says that it is essential that cutbacks on advertisement do not occur during these difficult time. The knowledge that the industry has an ambitious vision of its future is invaluable for promoting sector confidence.
Supply Chain Efficiency
Farm inputs are one of the main determinants of efficiency on a farmers level and are, by-and-large, out of their hands. However, farmers still have an important role to play in this survival plan. Forward buying tools and buying groups may assist in access to certain products and farmers must seek out the best deals to ensure that they make the market work for them.

Farmers should also make sure that they benchmark their performance and not get complacent about the need to continuously improve. Whilst new programme costs will add pressure to farmers with no financial support packages offered by the government, farmers should make full use of funds available through Axis 1 of the Rural Development Plan for England.

The farmers must also work with supply chains to find out what the market wants. In order for this to happen, processors must be transparent with farmers and show where costs are being driven out of the business. "Farmers cannot be regarded as a blank cheque for processors to redress their margins", says the report.

Large challenges still remain on these farmer/processor supply routes. Whilst efficiency and dedication do not always go hand in hand in business, in these difficult times the report asks for the sectors to come together to ensure a consistent supply of that which the UK consumer demands - the same high-quality product, says the NFU - that the farmers can supply.
Supply Chain Relationships
Honest, transparent and long term relationships between farmers, buyers and retailers are essential to boost confidence in the industry. Only through improved contracts will this supply chain garner the confidence required to invest heavily and boost production.
---
*
"It is time for retailers to demonstrate a new, fundamentally more responsible approach to retail policy"
National Farmers Union
---
"It is time for retailers to demonstrate a new, fundamentally more responsible approach to retail policy" says the NFU. Pressure forced down from retailer, to processor, to farmer, squeezes margins at every level to create the most competitive prices on the supermarket shelves. But the NFU points out that these practises will only lead to reduced consumer choice, quality and innovation, whilst hampering the efficiency of the supply chain.

In response to this trend the NFU has called for a supermarket ombudsman and a new code of practice. This body will ensure that the supply chain is fair, transparent and sustainable, by launching necessary investigations and possessing certain monetary powers. The expenses needed to cover these changes will come from the industry.

The NFU says that retailers have recently been let down by processor imposing further milk price cuts, undermining all the good work that has previously been done. Such a policy will see the milk base erode beyond repair. In response, the NFU calls upon the retailers to take control of their supply routes and remove pricing decisions from the hands of processors.

Communication is a key part of the Survival Plan. Farmers need to know where they are heading too and how they can prepare for this destination. Farmers deserve to be reassured and valued if they are to have faith in the industry chain. As the UK dairy industry teeters on the edge of recession an industry-wide leap of faith, will ensure that it arrives at a brighter destination.
February 2009