UK Cattle Disease Quarterly Surveillance Report (to June 2008)
This report, by the Veterinary Laboratories Agency, monitors trends in the major endemic cattle diseases. The report is compiled using disease data gathered by the network of VLA Regional Laboratories.

Quarterly Surveillance Report Cattle: Second Quarter 2008
April – June, 2008
Published July 2008

Contents

OVERVIEW (here)

Introduction to GB Report

Factors influencing disease and submission rates

Notifiable diseases reported

Farm visit investigations

Chemical food safety incidents

Endemic disease surveillance

Unusual and new diseases

Scanning surveillance for new and emerging disease

OVERVIEW
Factors influencing disease and submission rates
Many factors combine to influence the patterns of disease in cattle, and the ability to detect changes to these patterns through scanning and active surveillance. They include:
Cattle Demographics
The UK cattle population is the third largest of any EU country (see figure 1). Cattle in GB constitute a single epidemiological unit for most diseases.

In this quarter, approximately 8.4 million animals were present on 77,000 premises in GB compared to 8.5 million cattle on 79,000 premises in the same quarter in 2007 (source, RADAR, DEFRA).

A total of 61% of the cattle were registered beef breeds, 37% dairy cattle and the remaining 2% registered as other cattle.

The 1% drop in number of cattle from April 2007 to April 2008 was equally distributed between beef and dairy cattle. Figure 2 shows the geographical distribution of cattle and the location of the diagnostic laboratories (present in all areas of GB with a large cattle population) that contribute data to this report.
Figure 1
Percentage of each country in the European Union's bovine head


Weather
In April and June, temperatures were close to average across the whole of GB but in May, which was the warmest for the UK since 1914, they were generally 2 to 3oC above average (but only 1 to 2 oC above the monthly average across eastern parts of Scotland and NE England).

Rainfall was slightly above (about 120%) average in April, but more so in parts of eastern Scotland and north-east England (140%). In May, rainfall was well above average across southern areas of England and Wales (145%), but below average across central and northern areas of GB (e.g. 34% of average in Scotland). By contrast, in June rainfall was generally close to or above average across much of the UK, but below average across some southern and central areas of England.
Figure 2
Distribution of Cattle and location of Diagnostic Centres in Great Britain (2007)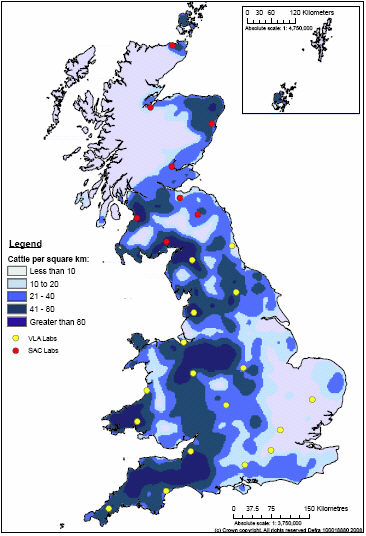 Economics of the cattle industries
In general when profit margins of the industries are acceptable there is a greater tendency to use disease diagnosis in the health management of the individual herd. The effectiveness of the surveillance carried out by the SAC and VLA is directly related to the financial health of the industry.
Dairy sector
The milk price has dropped slightly in the second quarter of 2008, but farm gate average prices are still around 24.5 pence per litre, which is approximately 7 pence per litre up from this period in 2007. The recent slight drop is due to seasonal variations and milk price rises are again expected in the autumn. Prices for feed wheat have decreased compared to the previous quarter, and are now around £140-£150 per tonne. On the other hand, protein prices have soared; soya trades at around £300/tonne and rape seed meal is even more expensive at £330/tonne. Fuel and fertiliser costs have continued to rise, eroding much of the profit margin on dairy farms.

Prices for dairy cows remain high at an average of £1,300 for freshly calved cows and £1,500 for heifers. Demand for dairy cows and heifers remains high. This value maintains a higher throughput of clinical material for veterinary practitioners and associated disease surveillance material.
Beef sector
The value of finished cattle continued to increase - it remained close to 210 pence per kg deadweight throughout 2007 but has increased steadily 280 pence in 2008. Despite this increased income, the cost of production is still a concern of beef farmers, who are under continued pressure to reduce the costs of inputs.

Export of live calves has been threatened by a, self imposed, ban on import of calves by some Dutch farmers. This is because of presence of bovine TB reactor calves in a recently imported batch of calves from the UK.

Another concern for UK beef farmers is the EU plan to reduce beef import tariffs by 70% at the World Trade Organisation negotiations. It could mean that excess production from other parts of the world is imported into the EU, which traditionally has a higher price for beef products compared to non EU suppliers.
Further Reading
September 2008