Alternative Renewable Fuel Synergies Create Potential for Northern Plains
By J.W. Schroeder, Dairy Specialist. NDSU Extension Service, Dairy Focus. North Dakota is in a good position to benefit from the production of alternative, renewable fuels.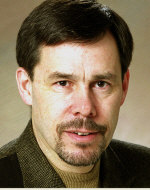 J.W. Schroeder, NDSU Extension dairy specialist
This is a classic case of supply and demand.

The increased demand and elevated price for corn for ethanol production has forced producers to look elsewhere for affordable feedstuffs. That increased demand has, in turn, driven the price of those feedstuffs up. So where does the opportunity lie?

I think that the opportunity is in the relative difference of the cost of the product. While rising costs are digging into livestock profits, the relative advantage for the northern Plains could become a big deal.

Cattle Fax recently predicted that the movement in expanding and establishing feedlots will be to the north. Inquiries from dairy investors suggest they are seeing the same trend. So, if North Dakota wants to be part of this exciting opportunity, now is the time to act.

Take the example of the geographical price of corn. By January 2007, the relative price for corn in northeastern North Dakota still was 80 cents per bushel above the price in Texas. Even though ethanol plants are being constructed in Texas, the supply of dry distillers grains with solubles (DDGS) is far outstripped by demand. The cost for DDGS is very proportional to corn. The difference would appear to be giving us a distinct cost-to-feed relative advantage.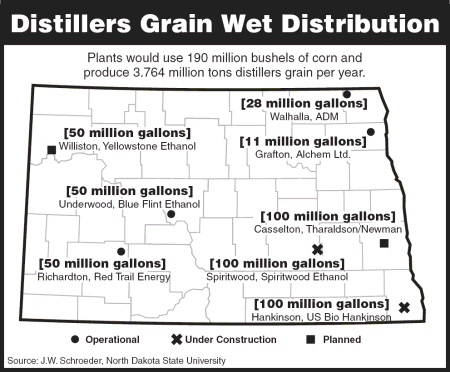 Now we are entering a harvest market and yield estimates have softened prices significantly. Nonetheless, as of July 23, 2007, the difference, interestingly, is up 63 cents per bushel for terminal bids for corn when comparing the cattle feeding area of Texas.

Yes, being close to the corn and corn milling plants pays, but once the cost of transportation is removed, the relative difference in cost still has an upside profit potential for the northern Plains that will continue until the saturation of feedlot cattle and dairies removes that competitive advantage. The timespan for that to happen likely is very long. The good news is that North Dakota, South Dakota and Montana are in a splendid position to capitalize on that opportunity for roughly the next seven to 10 years.

The speculation is that yet more ethanol plants are being planned for construction. Now ethanol has gone beyond corn-based supplies and is exploring other cellulosic opportunities.

The cost of drying distillers grains is high. The more DDGS consumed locally, the more it can be a win-win situation for the plant and for the cattle producer. A 50 million gallon ethanol plant uses approximately 18.5 million bushels of corn and yields 315 million pounds of distillers grains. If dairy cattle were fed 20 percent of their diet in distillers grains either as dry distillers grains (13 pounds per day) or wet distillers grains (approximately 40 pounds per day), a single plant could produce enough feed for roughly 60,000 dairy cattle.

Projected figures for North Dakota distillers grains production are approximately 489 million gallons per year - enough to feed more than 10 times the current number of dairy cattle in North Dakota (upward of 589,000 head). We have the capacity, the resources and the environment. All we need is more infrastructure.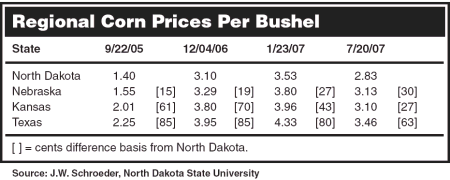 Processing technology to extract more value from the corn kernel will continue to change the byproducts available for animal feed. Nutritionists and producers also will look for ways to offset the rising price of corn on the feed cost of production. The higher cost of production, facing a given demand, will result in losses for producers and, eventually, less production. Reduced production leads to less employment and economic activity associated with animal agriculture.

To put this trade-off in perspective, a 100 million gallon ethanol plant will employ approximately 80 people and use 37 million bushels of corn. The same 37 million bushels would feed 120,000 head of dairy cattle and employ more than 800 people. Finding a way to have ethanol and animals is essential to North Dakota's rural economy. It is going to happen with or without our participation.
August 2007