Calculating Grazing and Forage Needs
By Grant Lastiwka, Forage program manager, ARECA/AF and published by Alberta Agriculture, food and rural development. Pasture seasons see some real challenges as beef producers strive to keep costs down by grazing longer.

In order to be profitable or sustainable grazing longer cannot come at the expense of future pasture productivity. If there is not enough forage for animal numbers and grazing days being planned pasture production will decline from the overgrazing that results. Production will be less and less with each additional grazing year. Pastures will not be sustainable and will be in need of rejuvenation or being plowed down. This does not have to happen. Pastures can remain similar in productivity or even get better over time when proper grazing principles are being used. By applying good grazing management principles more forage will be grown for animal use earlier or later in the season this year and in future years.

Are your cattle number/pasture acre high as you try to capture more profit by running higher animal numbers or grazing longer? Is your pasture land more limited as pasture acres are worked up and put into grain? Have higher animal numbers been run, drought, grasshoppers and overgrazing taken a toll on your pastures? If you find yourself in any of these situations what alternatives do you have? It is best to find out now by sitting down and geting a good handle on your particular situation. When you pencil out this picture you get a clear and more personal account of how you are set up. This puts you in the driver's seat to make better decisions before the grazing season starts. Planning beforehand is proactive. It prevents mistakes from even happening. Plans help reduce surprises and gives you less to worry about, more you can count on!.

So how do you start? It is easiest to look at percentages and compare them to normal. If your cattle numbers are up 10%, or pasture acres down 10% you will need 10% more grass. If pastures were assessed as lacking in vigor or overgrazed, do you feel they could be 30% less productive this growing season? If so, we will be short of forage by 40%. Doesn't sound good, but now that we know we can plan to graze hayland, rent more pasture, seed annuals, sell cattle, fertilize or feed longer. If you do not know what you have, you will probably be grass and cash flow poorer by the end of the year. Next year it will be that much tougher to make ends meet. Let us look at the situation more closely.

Start by doing an inventory to see if animal numbers and desired length of grazing season are in balance with pasture production. Everyone knows at least roughly when they start and finish grazing. Then calculate the number of grazing pairs and/or yearlings. Finally, calculate pasture production as head/grazing days or animal days or animal unit months.

For example, last year 150 cow/calf pairs were grazed from May 25 to October 30 (150 days) equals 22,500 Animal Days (AD) of grazing. This year we have 165 pairs (10% more), so an additional 2,500 Animal Days (AD) are needed if the goal is to graze to October 30th. If we do not grow more grass or sell the extra cows, the grazing season will be done by October 15th. Since grazing is about ½ the cost of feeding hay or silage, we are setting ourselves up for a cash flow problem.

What about the pasture production side? Last year we had 600 acres of pasture that produced 22,500 AD of grazing, so each acre produced 37 AD. If the pasture is expected to produce 30% less this year, we expect 15,750 AD or 26 AD/acre. 15,750 AD/165 pairs works to out to a 95-day grazing season. This year we will run out of pasture by August 28th.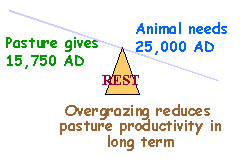 By knowing the shortfalls it is possible to take action before damage is done to pastures, cash flow and cattle performance. From the animal side of the business the best solution may be to sell a few of the poorer cows or wean early and ship the culls. From the management side if some winter feed is left, delay turnout to help set up a grass buffer. As a rule of thumb for every day cattle are held off grass in spring, you gain three days of grazing back later in the season. Managing grazing using a rotation with a good rest between shorter grazing periods is also a smart solution for getting more grass growth. Another option is renting pasture to make up the shortfall. In the example, 25,000 AD - 15,750 AD = 9250 AD/26AD per acre = 356 additional acres are needed to graze 165 cows until October 30th. Grazing your hayland and buying winter feed is usually the best economic decision. Other solutions like seeding annuals, fertilizing your best pastures for most economical returns on fertilizer dollars, arranging for crop aftermath use on your own or a neighbors property will also help offset pasture production shortfalls.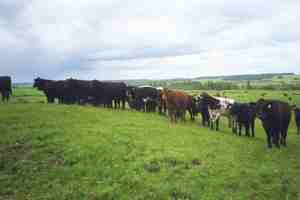 It is wisest to keep flexible with enough grass and cash to create options to thereafter make wise cattle decisions.
May 2007