CoBank's 2022 Outlook: Lean supplies, strong demand bolster prices despite export unknowns
Incredibly strong US consumer demand for meat products negated fears this year that a higher feed cost environment would limit processor margins, writes Brian Earnest, livestock analyst with CoBank.

The story for 2022 is consumer-level meat inflation. The Bureau of Labor and Statistics' CPI for all meats, poultry, fish, and eggs hit an all-time high in October, up 12% YoY. As restaurant menus and grocery prices adjust, consumer-level meat inflation is likely to continue well into the new year.
While higher retail prices could limit consumption growth, tighter cattle supplies, ongoing broiler breeder issues, and sow herd reductions should support favorable processor margins through at least the first half of 2022. The supply outlook implies that per capita U.S. meat consumption likely peaked at 225 pounds annually in 2020 and will edge lower through at least 2023.
The early 2021 tailwind of record profitability for beef packers would typically bring significant slaughter capacity expansion, but this is not the case. Low farm-level cattle prices from 2019 through mid-2021, combined with the extreme drought in the Western U.S., have set the stage for lower feeder cattle supplies for at least the next 2-3 years. Expect the major packers and smaller independents to fiercely battle for fed cattle supplies, which in turn, will raise cattle prices and moderate packer margins.
Wage rates and overall labor costs are expected to remain firmly higher in 2022 as the industry seeks solutions to reduced labor availability. Automation capital expenditures at the plant level will continue in earnest despite the rapidly rising costs of machinery and equipment. Most processors view this as a necessary cost of doing business moving forward. The U.S. broiler sector, which has been highly successful in expanding capacity in recent years, is probably best suited to benefit from expanding automation.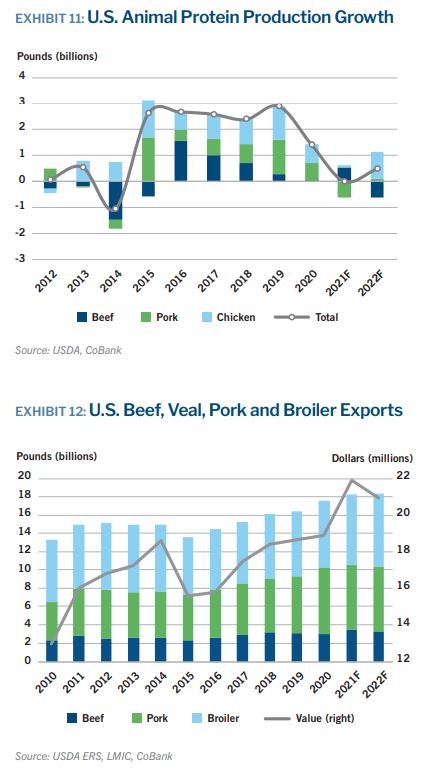 The U.S. pork sector faces a challenge in managing hog production and product supplies to accommodate the upcoming implementation of California's ballot measure, Prop 12. It mandates that pork sold in the state must be raised under compliant sow housing standards. Estimates suggest that only about 4% of sow operations were compliant through mid-2021, but California currently consumes 14% of all U.S. pork production. With the industry having exhausted most of its legal options, it appears that Prop 12 will indeed become law, with the full impact expected in the second quarter of 2022. Expect much higher pork prices in California, at least until the appropriate supply chains are developed.
U.S. meat exports have been growing steadily since 2016, but as the Phase One trade agreement with China sunsets in 2021, it is unclear if the U.S. will remain a primary source for China's protein needs. China has rapidly rebuilt its domestic hog supplies after the African Swine Fever outbreak of 2018-19, and domestic hog and pork prices have dropped sharply in recent months, corresponding with notable declines in pork and poultry shipments. Although beef exports have been robust during the second half of 2021, the collective U.S. protein opportunity in China may have already peaked. Ongoing port delays and container shortages are likely partially to blame, but those will persist throughout 2022. Mexico will remain a top destination for pork and poultry exports in 2022, but it is unlikely that it would be able to absorb the entire deficit from reduced opportunities in China.
To read CoBank's full report, click here.