US beef exports post record value for July 2021
New data from the USDA and US Meat Exporters Federation (USMEF) shows that US beef exports set another new value record for July 2021.

July export value climbed 45% from a year ago to $939.1 million, while volume was the third largest of the post-BSE era at 122,743 metric tonnes (MT), up 14% year-over-year.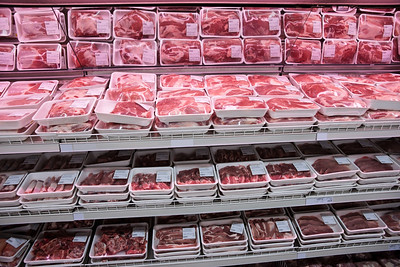 For January through July, beef exports increased 18% from a year ago to 822,830 MT, with value up 30% to $5.58 billion. Compared to the pace established in 2018, the record year for US beef exports, shipments were up 6% in volume and 17% in value.
"Beef exports were really outstanding in July, especially with COVID-related challenges still impacting global foodservice as well as persistent obstacles in shipping and logistics," said USMEF President and CEO Dan Halstrom. "Retail demand continues to be tremendous, as evidenced by the new beef value record."
Asia underpins record beef export value; volumes rebound in Western Hemisphere
July beef exports to the mainstay Asian markets of Japan, South Korea and Taiwan were relatively steady with last year, but at significantly higher value. Japan was the pacesetter in both volume (28,549 MT, steady) and value ($225.3 million, up 21%) as retail demand offset on-going restrictions in the restaurant sector. Through July, Japan was the leading volume destination for US beef (184,836 MT, up 1% from a year ago) and a close second to Korea in value ($1.27 billion, up 9%).
Despite volume falling 4% from a year ago to 23,369 MT, July exports to Korea still posted a 23% increase in value ($207.2 million, second highest on record). Through July, exports to Korea are on a record pace at 165,669 MT, up 17% from a year ago, with value up 29% to $1.29 billion.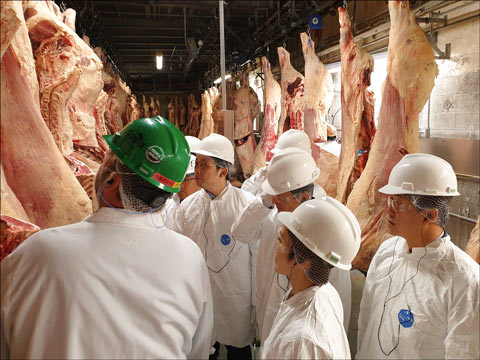 Taiwan was one of only a few global markets that did not impose foodservice restrictions in 2020, but suspended most dine-in restaurant service in mid-May of this year. The ban was lifted in late July but with significant restrictions still in place, so demand for US beef continues to shift toward the retail sector. Similar to Korea, July exports to Taiwan fell 3% from a year ago to 5,815 MT, but value still soared 28% to $61.8 million. Through July, export volume was steady with last year at 35,176 MT, while value increased 14% to $341.4 million.
Beef exports to China continued to post impressive growth, with July shipments reaching a record 18,021 MT, valued at $150.5 million. Through July, exports to China were up about 1,000% from a year ago in both volume (99,022 MT) and value ($773 million). US beef accounted for 5% of China's total imports, and the US is now the primary supplier of grain-fed beef to China. Although beef exports to Hong Kong have trended lower in 2021, shipments to the China/Hong Kong region more than doubled from a year ago to 128,748 MT (up 137%) valued at $1.05 billion (up 139%).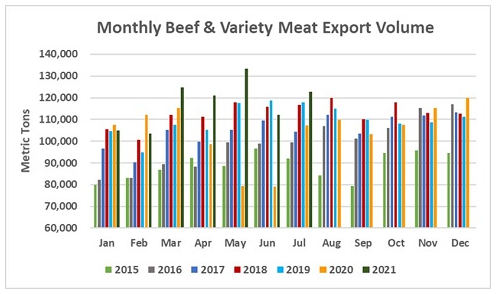 Other January-July highlights for U.S. beef exports include:
July beef exports to Mexico increased 17% from a year ago to 15,568, with value nearly doubling to $93 million (up 90%). Through July, compared to last year's relatively low totals, exports to Mexico posted a 15% increase in volume (115,189 MT) and jumped 30% in value to $574.3 million.
Beef exports to Central America were also down in 2020 but have staged an impressive comeback this year. January-July exports set a record pace, climbing 53% to 11,086 MT while value soared 74% to $66.3 million. Exports nearly doubled from a year ago to Costa Rica and were sharply higher to Guatemala, Panama, Honduras and El Salvador.
Led by a strong rebound in Colombia and solid growth in Chile and Peru, beef exports to South America increased 24% from a year ago to 16,663 MT, valued at $84.1 million (up 57%).
July beef export value equated to $425.68 per head of fed slaughter, up 52% from a year ago. Through July, export value was $369.15 per head, up 24%. Exports accounted for 15.4% of total July beef production and 13.2% for muscle cuts, up significantly from the July 2020 ratios of 12.9% and 10.8%, respectively. Through July, exports accounted for 14.8% of total production (up from 13.2%) and 12.6% for muscle cuts (up from 10.9%).
TheCattleSite News Desk