Functional Feeds and Matters of Taste: Research Insights on Feed and Palatability for Ruminants
Selko, the Feed Additive brand of Trouw Nutrition, Nutreco's animal nutrition division, is sharing research on the role that the source of trace mineral plays in helping or harming feed palatability. Palatability research in swine and ruminants has demonstrated that mineral source influences feed intake.
Research finds that reactive mineral sources, like sulphate-based trace minerals, can change the flavour profile and reduce feed intake, especially when high levels are present in pre- and post-weaning diets. Use of less reactive trace minerals - like hydroxychloride-based trace minerals - can support or even improve intake of feed for young swine and calves. Establishing and supporting strong feed intake early in life can help animals reach their full potential as seen in better adaptation following weaning, along with stronger weight gain earlier and throughout the production process.
Weather and feed waste - insights from ruminant research
The taste of feed, especially for young animals, can be quite important as taste helps spur or suppress appetite and feed intake. Both ruminants and swine can taste different compounds, making palatability a priority.
Palatability also plays a role in feed and mineral intake for ruminants especially when minerals are provided in an ad libitum form and supplement intake needs to be managed.
An initial step in guiding the use of freely provided mineral supplements is reducing waste of the mineral. A study done at the University of Florida examined the amount of trace mineral that can be destroyed by weather conditions based on the type of minerals being provided to an outdoor herd.
The study looked at hydroxychloride minerals, organic trace minerals and sulphate-based trace minerals and compared how mineral blends survived a series of 2-, 4- or 6-inch rainfall events. The trial found that when blended minerals or a complete mineral premix interacted with a rain event both sulphate and organic trace minerals saw larger reductions in the metals provided compared to the losses seen by hydroxy-based trace minerals.

Providing a mineral less prone to interacting with weather means more is in place to be used by livestock.
In a palatability study at the University of Florida examining trace mineral inclusion in creep feed for limit-fed calves, researchers found that removing sulphate-based minerals from the feed improved feed intake. There was about an 8-fold difference as supplement intake increased from 20g to 160g during the 14-week trial.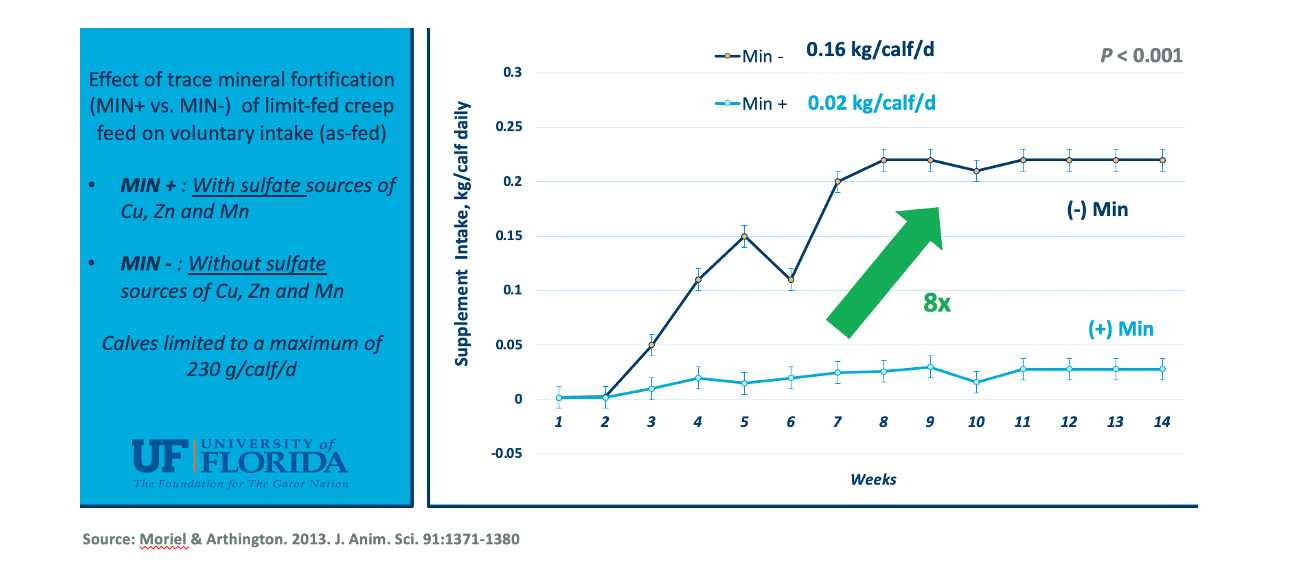 A two-year study, also at the University of Florida, explored the use of creep feeds combined with no mineral, or a blend of copper, zinc, and manganese from either a sulphate or hydroxy-based mineral source. Creep feeds were provided starting 84 days before weaning. The researchers found that calves ate the largest amount of the hydroxy-fortified creep feed -0.109kg/day or 8.73kg for the period – followed by intake of the control feed. However, intake of the sulphate-fortified diet was significantly lower, with the hydroxy feed seeing about a 26% increase in consumption.
Similarly, feeds with hydroxy-based trace minerals out-performed those with either sulphate or organic trace minerals in a 14-day examination of mineral concentrate intake. Additional research also demonstrated that calves with better mineral intake have a faster post-weaning recovery.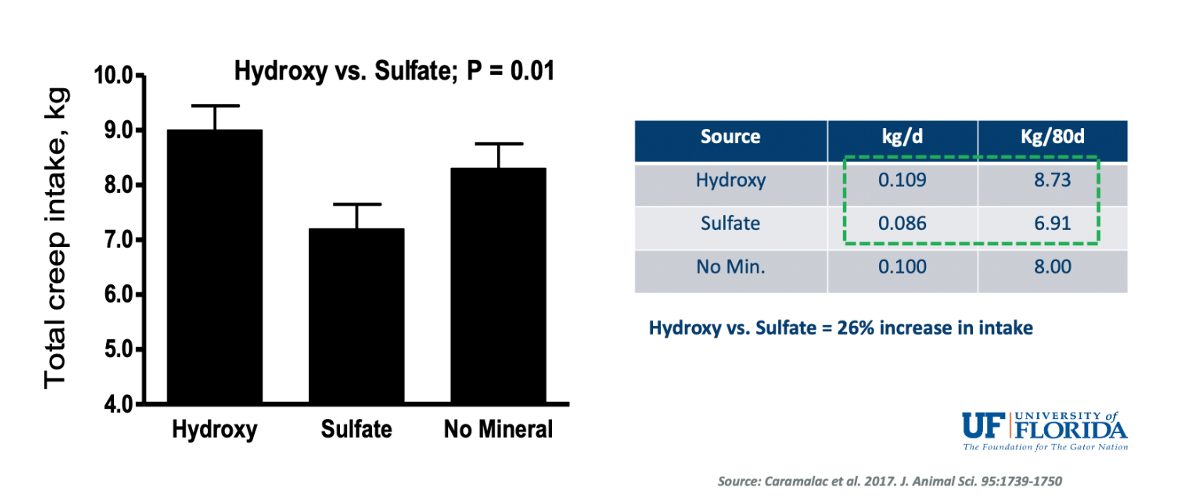 Additionally, preweaning intake for both beef and dairy calves has been linked to improved post-weaning performance. In dairy heifers, strong post-weaning performance helps dictate age at first calving, which also influences lactation performance meaning that mineral use can have a long-term influence throughout the cow's lifetime. In cattle, intake and body weight at weaning plays a role in weight gain and feedlot performance.
Conclusion
As feed contains flavours that animals avoid, feed intake may decrease in the presence of such flavours. These tastes can include bitter, sour, and salty flavours, similar to flavours released by highly soluble trace minerals. As such, sulphate-based mineral inclusion produces an adverse response for several species when the additives are present in feed, while use of less reactive trace minerals such as IntelliBond hydroxychloride minerals can support or increase feed intake.
In reviewing the findings, researchers concluded that calves and pigs prefer to consume more stable trace mineral sources such as IntelliBond over sulphate or also over organic trace minerals across a variety of supplementation stages and strategies. Increased preferential intake and palatability as a result of stable, non-reactive trace mineral source supplementation can help lead to greater performance results including higher feed intake, daily gain and also body weight at and after weaning. Research shows that higher weaning weights also result in higher lifetime performance in swine and ruminant species.