Vilsack: Long-range Optimism about US Exports
Despite a lingering trade war with China, U.S. Dairy Export Council (USDEC) President and CEO Tom Vilsack listed reasons today for dairy farmers to be optimistic about the long-term growth of U.S. dairy exports, especially in high-demand markets in the Middle East, Asia and Mexico.
"This will require patience. We have to play the strategic long game. But I am convinced now more than ever that we are competing to win, not just for today's dairy farmers, but for the next generation," Vilsack said in an address at World Dairy Expo, the largest dairy-focused trade show in the world.
Exponential increase in exports
Since USDEC was founded and funded by its parent organization, Dairy Management Inc., U.S. dairy exports have increased seven-fold to nearly $5.6 billion annually. Last year, the U.S. dairy industry exported the equivalent of nearly 16% of U.S. milk solids.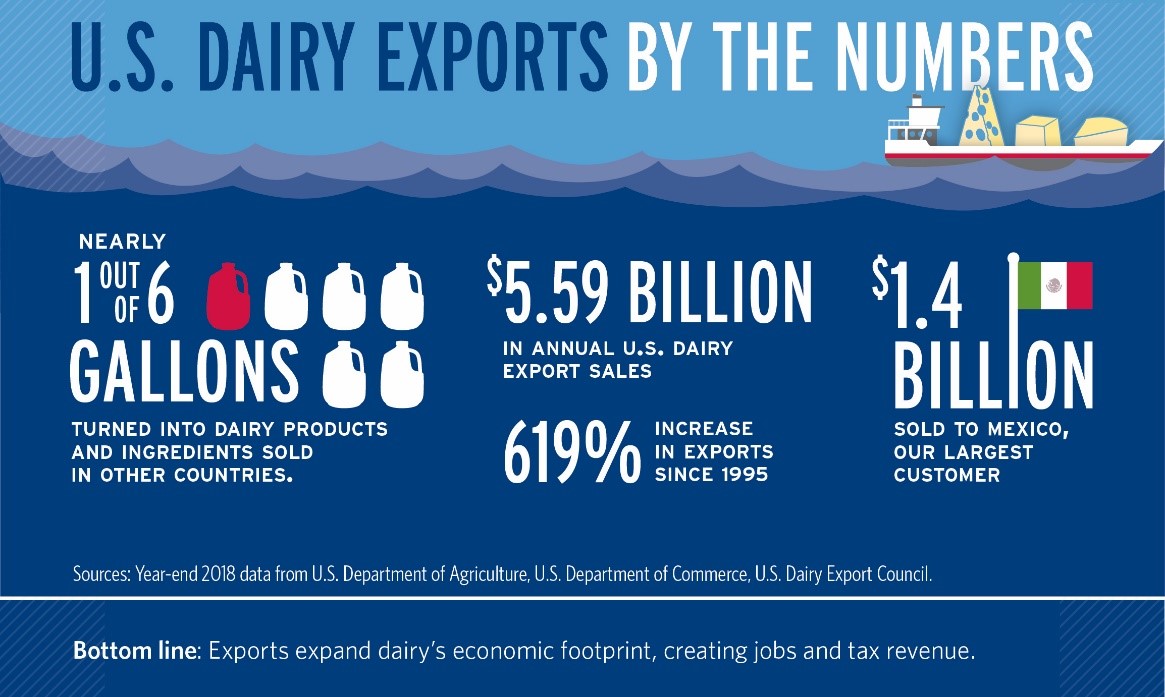 That 2018 volume percentage set an all-time U.S. dairy export record-despite the drag of retaliatory tariffs in the largest U.S. export market, Mexico, and in the world's most populous country, China.
For several years, export volume plateaued around 15% of total U.S. milk solid production. Vilsack began an industry-wide initiative in 2017 called "The Next 5%." It aims to increase export volume five percentage points to 20% of production.
Value is also up. Through the first six months of 2019, U.S. suppliers exported about $800 million more in dairy products and ingredients compared to the same period in 2016. That's a value increase of more than 30%.
Trade challenges in Mexico, China
The 2018 retaliatory tariffs have been lifted in Mexico and Vilsack said if Congress passes the United States-Mexico-Canada Agreement (USMCA) to replace the North American Free Trade Agreement, it will bring more stability. Another positive development: an interim agreement announced last month with Japan, the world's largest importer of cheese, that will deliver improvements in market access for U.S. Dairy.
In China, U.S. dairy exports are roughly half of what they were before the tariffs. Nonetheless, the industry must maintain a strong presence there, Vilsack said, establishing and cementing relationships to increase demand for U.S. dairy products.
Vilsack met Aug. 30 in Beijing with officials from China's Ministry of Finance and Commerce to stress that the United States has the dairy ingredients, scientific research and know-how to help rebuild China's pig herd decimated by African swine fever. Eleven days later, China announced it was waiving its retaliatory tariff on U.S. permeate for feed.
USDEC is playing a role accelerating the uptake of permeate to rebuild China's swine population with two full-day seminars Oct. 29 in Beijing and Oct. 31 in Nanchang.
Investment in Southeast Asia
Vilsack said one of the most promising markets is Southeast Asia, where U.S. dairy exports increased 12% last year and USDEC is making a new investment to develop the U.S. Center for Dairy Excellence in Singapore.
"The vision," said Vilsack, "is to create an educational center within the hub of Southeast Asian food innovation."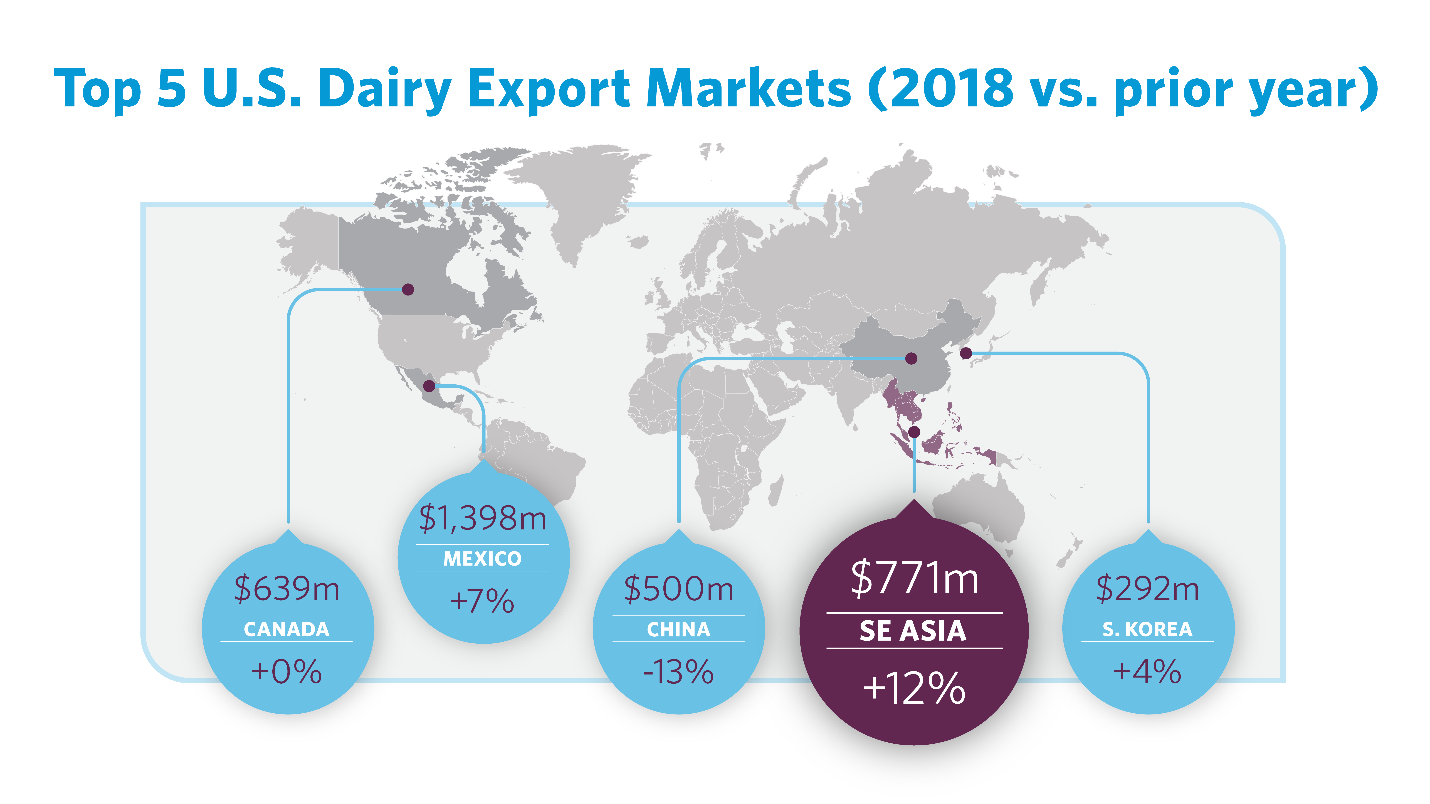 Vilsack highlighted other USDEC long-term investments in fast-growing markets where he said there are "outsized" opportunities for growth as reasons for optimism, including:
Broadening partnerships within Mexico to further build demand for U.S. Dairy to capitalize on USMCA, once ratified.
Launches of U.S. cheese in Mexico and China through Costco retail partnerships, as well as in Chile through focused retail engagement.
The launch of the USA Cheese GuildTM, an internationally branded effort to facilitate education about and preference for U.S. cheeses within culinary, foodservice, communications and retail channels.
Halal food training for dairy exporters exploring growth in Islamic nations, such as Indonesia - a top 10 global dairy importer. Vilsack noted that USDEC is in Indonesia on a trade mission this week with the Foreign Agricultural Service of the U.S. Department of Agriculture and a dozen U.S. dairy ingredient exporters. Indonesia is working to expand its dairy supply chain.
A pop-up U.S. Dairy display to increase visibility and induce product trial across regions.
Partnerships with fitness centers and cheese marketers in Japan. USDEC has a partnership with fitness chain Curves, which sells concentrated whey protein from the United States to customers at its 2,000 locations. In addition, USDEC Japanese cheese marketing partner Chesco is introducing high-end U.S. cheeses in its own stores, as well as other Japanese grocery and department stores.
"At USDEC, we're about planting the seeds of new ideas and approaches to grow export markets for a brighter future for the U.S. dairy industry," Vilsack concluded. "We are poised to compete to win and get to The Next 5%."
TheCattleSite News Desk