CoBank: How Low Can Dairy Prices Go?
ANALYSIS - While the cure for low prices may well be low prices, the key question is how low must prices go before the cure takes effect.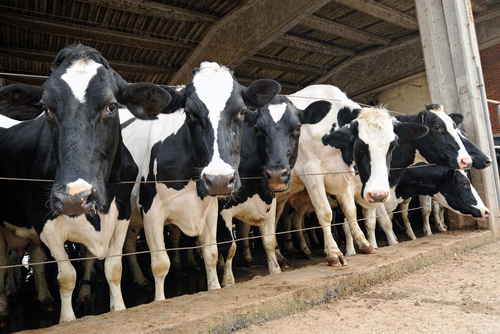 According to CoBank's assessment of current market conditions, dairy product prices still have a way to go before they hit bottom.
Futures prices continue to project a modest recovery beginning in mid-2016, but CoBank expects that it will likely be postponed until 2017.
Around the globe, current milk prices are converging toward, or even slipping below, the cost of production on most dairy farms.
US milk prices are expected to test multiyear lows in 2016 due to oversupply in the global market and greater competition in key export products such as nonfat dry milk and whey derivatives.
Granted, strong US domestic demand supports Chicago Mercantile Exchange (CME) spot cheese and butter prices. But this strength is bittersweet because US cheese and butter prices are high enough in relation to global prices to attract growing imports from Europe and Oceania.
In January 2016, global milk production in key dairy exporting countries and regions (Australia, New Zealand, European Union, United States, Argentina, and Brazil) continues to post YoY (year-on-year) gains in excess of 2 per cent, or 1.3 billion pounds, largely due to expanding output from Europe.
In contrast, lower YoY output in Australia and New Zealand (down 187 million pounds) and below trend gains in the United States and South America are tempering global milk production growth.
Milk production growth in both Australia and New Zealand was negative in January 2016. Australian milk output fell 3.8 per cent YoY in January (down 70 million pounds) as a result of dry conditions, and New Zealand's milk output fell 2.1 per cent YoY (down 117 million pounds).
Fonterra, New Zealand's largest dairy cooperative and milk buyer, estimates that output for the 2015-16 season will fall short of last season by 4 per cent, which represents a larger contraction than the season-to-date pace.
Fonterra's latest production forecast is questionable, however, given that weather conditions have improved and farms are cash-starved. As a result, dairy ingredient buyers believe there will be a longer tail to New Zealand's milk production season and prices there will continue to languish.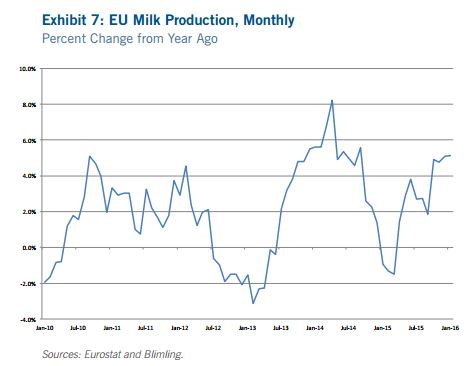 European milk production growth is driving significant gains in global milk output. The EU produces 1.5 times the amount of US annual milk output and six times what New Zealand produces.
In 2015, the EU produced 335 billion pounds of milk, up 2.5 per cent from 2014. Milk output in December 2015 and January 2016, surged 5.1 per cent (1.3 billion pounds) from a year ago.
Even greater YoY increases are anticipated during the next couple of months because EU producers were stifling output to minimise quota penalties in the comparable period a year ago.
Global dairy product market prices are not expected to increase any time soon. European milk prices have stubbornly held above 27 Euro cents per litre, which hasn't been low enough to spur any meaningful correction in EU milk production growth.
Going forward, a rebound in global dairy markets is unlikely to occur until YoY growth in European milk output diminishes or global demand surges, and neither one of these outcomes is likely to occur until late 2016 or early 2017.
Today, all US producers are collecting smaller milk cheques, with fewer and fewer opportunities to lock in higher effective milk prices through hedging. Meanwhile, many dairy producers with large inventories of corn silage and contracted feeds may not realise the full benefit of falling feed costs, and those that raise their own feed are apt to have higher production costs than current spot market prices.
Its large, affluent domestic market is a key asset for the US dairy sector. Yet it is also an attractive market beckoning world exporters. The US cheese and butterfat markets carried significant premiums above world market cheese and butter prices in 2015 and continue to do so in 2016.
As a result, the US dairy industry lost market share in both the global cheese and butterfat markets and became the world's second largest cheese importer after Japan and the second largest importer of butterfat after China.
The memory of record high milk prices in 2013-14 still lingers in dairy producers' minds. Many are optimistic that a recovery is just around the corner. Perhaps it is. But the much anticipated recovery in dairy product markets will remain elusive until end users can see that global milk and dairy product supplies are tightening.