Australian Cattle on Feed at Record Levels
ANALYSIS - Cattle in Australian feedlots reached record levels in the final quarter of 2015 with 997,765 head on feed, with the increase driven by more cattle in the large NSW feedlots, which offset a small decline in Queensland.
Australian Lot Feeders' Association (ALFA) President, Tess Herbert said the results reflected the decrease in the Australian dollar and grain prices.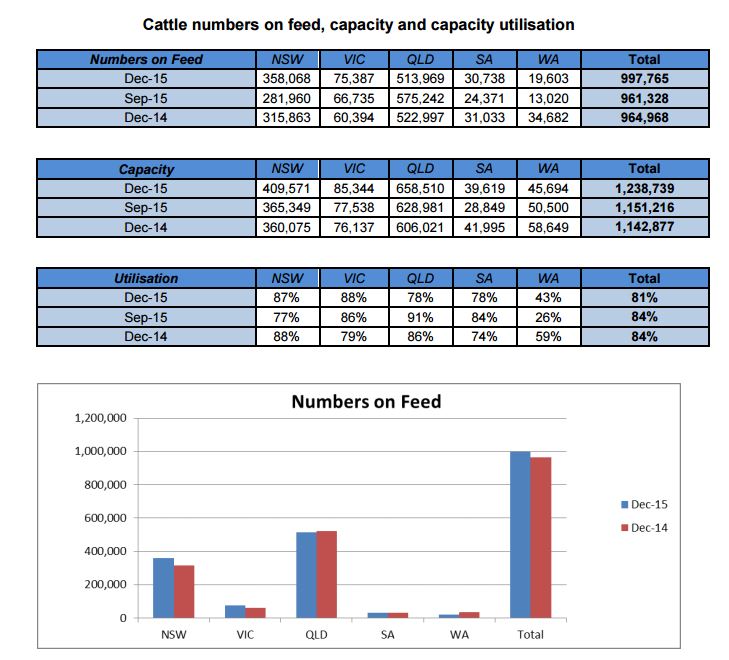 "The Australian dollar averaged 72US¢ in the December quarter, which is a 16 per cent year-on-year decline," Ms Herbert said. "At the same time, Darling Downs wheat averaged $281 per tonne, back 11 per cent, and sorghum decreased 8 per cent, to average $270 per tonne for the last three months of the year," Ms Herbert said.
Meat and Livestock Australia's (MLA) Manager of Market Information, Ben Thomas, observed the strong demand for grainfed beef: "December quarter grainfed beef shipments were on par with the previous record volume set in 2006, with a little over 69,100 tonnes swt exported."
"Japan continued to be the dominant market for Australian grainfed beef, taking just over 52 per cent of Australian shipments for the quarter," he said. "Korean exports continued to grow during the quarter, with 13,000 tonnes swt exported over the three months, up 40 per cent year-on-year."
Mr Thomas also explained that strong international demand resulted in solid cattle prices throughout the December quarter.
"Whilst the Queensland 100-day grain fed steer over-the-hook indicator finished the year below where it peaked at the end of September, it averaged 557¢/kg cwt during the quarter, up 133¢/kg cwt year-on-year," Mr Thomas said.
Ms Herbert said it was expected that the first quarter of 2016 will more than likely see a decreased number on feed, "due to the high cattle prices and tighter supply."