Allendale, Inc. Issues Cattle on Feed, Cold Storage Estimates
ANALYSIS - With cattle feeders more than $500 per head in the red, Allendale, Inc. expects USDA to release the second smallest October Cattle on Feed Report placements since 1996.
"October Placements are expected to be 5.9 per cent smaller than last year at 2.228 million head. This is the second smallest October placement since the current data series started in 1996," said Rich Nelson, chief strategist at Allendale, Inc.
USDA's cattle feeding margin suggests a $515 per head loss on outgoing cattle, with $174 breakevens versus $133 sales. This would be 11 months in a row of losses for cattle feeders.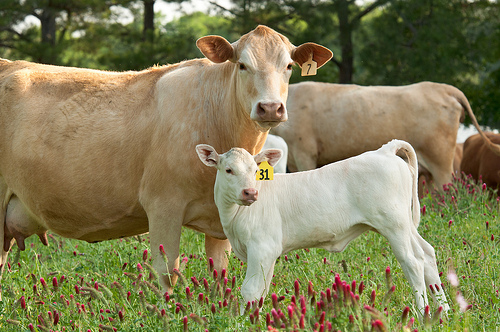 Live cattle rose from $121 at the start of the month up to $138 at the end. Corn averaged $3.76 in western Kansas in October ($3.73 in September, $3.52 in October 2014). October placements supply the March through August slaughter period.
Allendale anticipates a Marketing total 3.3 per cent lower than October 2014. 2015 had one less weekday and one more Saturday than 2014. The 1.629 million head estimate is the smallest October figure in the current data series back to 1996.
Total Cattle on Feed as of November 1 is 1.8 per cent larger than last year, which is a decline from the October 1 total of up 2.3 per cent.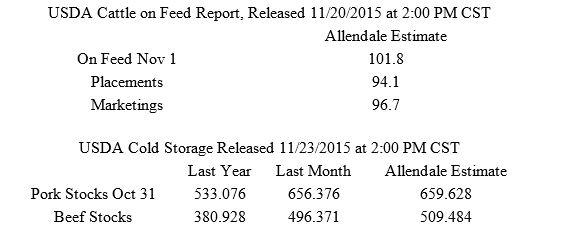 Regarding Monday's Cold Storage Report, Allendale projects a 660 million lb. total pork stock level for the end of October. The five-year average is 534 million lbs. The Allendale estimate represents an increase of 3 million lb. from the previous month. This is just over the five-year average month-to-month change for October of a 1 million lb. increase.
Beef stocks, at 509 million lbs., are above the five-year average of 417 million pounds. This represents an increase of 13 million lb. from the previous month. The five-year average change is a 1 million lb. increase.
Allendale, Inc. is a professional full-service futures trading brokerage firm based in the Chicago suburbs.