Breaking Supplier/Farmer Genetics Link Will Hinder Industry
ROMANIA – By severing the direct link between global genomic suppliers and commercial dairy farms, the Romanian government could have jeopardised the country's dairy herd development, say analysts at the USDA.
Last month, the Romanian government debated a bill that, if passed, will mean all genetic marketing and transactions involving commercial livestock farms must be undertaken through local animal husbandry associations.
This is expected to favour local suppliers due to pricing advantages held over foreign companies.
But, while stricter rules on semen buying may have benefits, the negative consequences of limiting imports of high quality genetics from established dairy nations could have far reaching consequences, according to Michael Henney, of the Council for Agricultural Affairs in Poland.
"It is pretty evident that if you want to improve the quality of your animal genetics and you don't have the stocks to do that domestically, you have to infuse better quality genetics from elsewhere," he stated.
"As far as we understand there has been an official announcement from the Ministry and it is going to affect all suppliers," stressed Mr Henney. "We are trying to get a handle on the final regulation that we understand has not been issued, but the preliminary information is that all non-Romanian companies will be affected, whether in Europe or outside."
By severing links with the world's bovine genomics companies, Romanian dairying faces the possibility of 'lagging' behind much of Europe.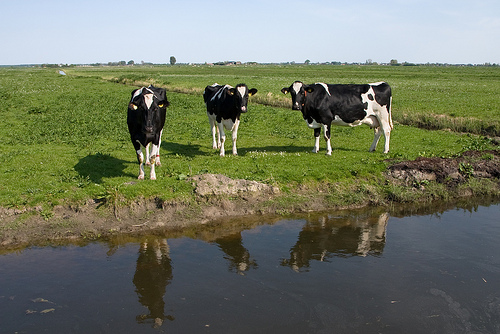 Cows in Holland - Superior dairy genetics could be kept from Romania, seriously limiting scope for production upturn in a post-quota Europe.
Mr Henney suggests this is a counterproductive decision which, given post-2015 quota removal, will limit the sector's expansion as established dairying nations take advantage of unhampered production.
"It's an interesting manoeuvre by the government if their interests really are to make the local livestock sector competitive with the European Union," said Mr Henney.
"With the dairy quota set to come off in the next couple of years, if the Romanians don't improve their genetic stock and improve their productivity they will remain uncompetitive with much more efficient operations in Germany, Denmark, France and the UK," he added.
But, the effects of this policy change could extend beyond Romania and into export income for the US, Canada and other major semen suppliers.
Semen straw sales to Romania from the US have been increasing fast over the past two years.
Last year 394,147 doses were bought, more than doubling the quantity of shipments in 2011. This was worth $715,000 to the US economy last year.
Large commercial units, the main target customer for US exports, can only obtain semen from county level suppliers following the rule change. The rule does not include 'back yard' or non-commercial enterprises.
Despite this, there is little scope for trade with smaller farms and government analysts have said that exploiting this market is not a progressive step.
The review comes as part of a formalising of the bovine insemination industry in the country. The same government bill also looks to bring in stricter rules on semen/embryo storage and procedures.
Semen quality verification can only be attained after serological testing for Infectious Bovine Rhinotracheitis (IBR) and Infectious Pustular Vulvovaginitis.
Samples must be stamped and marked with information pertaining to the breed, date of collection, donor name and the authorisation number of the collection centre.
Michael Priestley
News Team - Editor
Mainly production and market stories on ruminants sector. Works closely with sustainability consultants at FAI Farms