U.S. Exports Reach Record Levels in April
US - Capitalizing on steady global demand, declining supply from other exporters and favorable pricing relationships, U.S. dairy exporters moved record volumes overseas in April, according to the US Dairy Export Council.
U.S. exports of dry ingredients (milk powder, whey products, lactose), cheese and butterfat topped 168,000 tons in April, up 20 per cent compared with March (on a daily-average basis).
Total value was $558.8 million, up 16 per cent from March, and also a new high. Gains were led by an unprecedented level of milk powder shipments.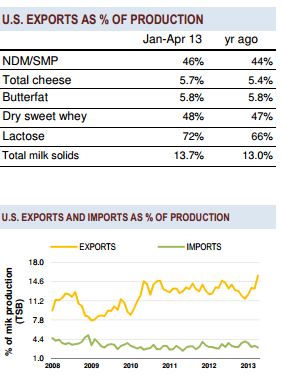 April exports of NDM/SMP were 55,187 tons; the previous high was 47,787 tons in October 2010. Exports were equivalent to 61 per cent of U.S. NDM/SMP production in April, leading to a steep draw-down in manufacturers' stocks during the month.
April also marked the third straight month of improved export volumes. February-April shipments were 38 per cent higher than volumes posted in the previous three months November-January). Shipments of cheese, WPC and lactose also continue to exceed prior-year levels.
Cheese exports in the first four months of the year were up 7 per cent vs. a year ago, WPC was up 16 per cent and lactose was up 11 per cent . In addition, fluid milk/cream (+62 per cent ) and ice cream (+52 per cent ) posted very strong increases in the January-April period.
Dry whey exports improved in April, posting their highest volume since May 2012. April exports of 19,647 were up 6 per cent vs. a year ago.
On a total-solids basis, exports were equivalent to 15.7 per cent of U.S. milk production in April, easily the most ever. Meanwhile, imports as a percent of milk-solids production were 2.9 per cent .
TheCattleSite News Desk