venture | dairy Identifies Opportunity in Rwanda
ANALYSIS - venture | dairy, the Illinois-based impact investment organization, has embarked on a new enterprise-based initiative to help small holder dairy farmers in emerging markets advance milk yields through knowledge, technology and capital, writes Sarah Mikesell, TheDairySite senior editor.
"venture | dairy was founded to empower dairy entrepreneurs to establish sustainable business practices that can improve their lives, the lives of their families, and their communities," said Trevor Tomkins, Ph.D., retired chief executive officer of Milk Specialties Global. "This is the driving force behind our organization."
venture | dairy is both a not-for-profit organization and a social investment fund. The not-for-profit operation prepares dairy enterprises to thrive by supporting technology advancement and training in dairy production, and coaching those involved through the fundamentals of business and value-chain development.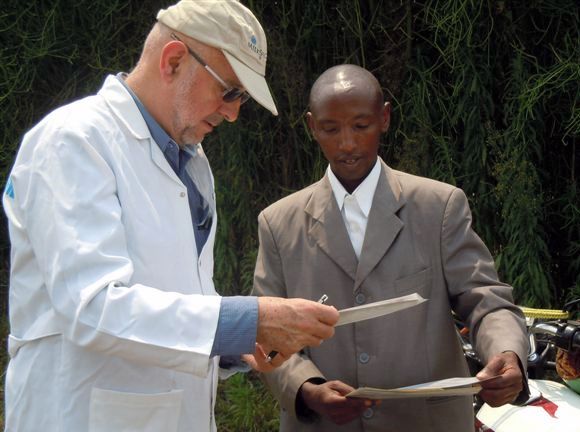 The organization's inaugural project in Nicaragua includes the formation of a Cattle Hub that will work with Nicaraguan farmers to improve milk production and farm profitability through value chain economics.
venture | dairy is also conducting a feasibility study in Rwanda to determine whether its developing dairy industry can be helped by construction of a dairy processing plant.
Rwanda's Opportunity
"I tell people, if you closed your eyes and moved from Nicaragua to Rwanda, and didn't open them so you didn't see that there were different people, the circumstances are so very similar," Tomkins said. "There are lots of very small farms, but in Rwanda, there has been a lot of focus on big projects to help."
Both the Gates Foundation, working with Heifer International, and the East African Dairy Development Project have been very successful helping farmers to increase and improve their level of milk production through improved genetics and improving pasture conditions. As a result of this, there is now a large opportunity for more processing capacity.
"What happens in a country like Rwanda is quite commonplace in eastern and western parts of Africa: there is a market for "gray milk," he said. "Gray milk literally comes from farms, often packed in plastic – sort of like plastic or aluminum gas cans – and put on the back of bicycles, then it's cycled off to a nearby village. With a scoop, the gray milk is poured into containers at individual houses."
This process can create all kinds of health and environmental issues. It's common knowledge to locals that the milk has to be boiled before it is consumed, but boiling the milk destroys the protein, vitamins, and minerals which devalues its precious nutritional contribution. The gray milk concept also undermines an organized dairy industry and prevents farmers from getting consistent pricing on a regular basis.
The venture | dairy concept in Rwanda is to build a smaller version of the Nicaraguan processing plant that will produce ultra-heat-treated milk to be used for school milk programs and distributed throughout the country. It will also be a stable source of nutrition for small villages.
"We anticipate the processing plant will be the anchor, and we'll be able to build a Cattle Hub centered around our processing plant," he said. "Then our Cattle Hub will be able to offer services like education and record keeping with feed analysis. There's no reason why you shouldn't have a lab in the middle of rural Rwanda, because with an Internet connection, you can transfer information anywhere in the world."
Educating Families
Women are key in small-holder operations throughout the developing world, and are often the decision-makers. The same is true in Rwanda's dairy industry.
"The dairy industry is such a great place for women farmers – raising the cows, and milking," Tomkins said. "Women are fabulous at these jobs."
Cattle Hubs won't just impact milk yields - they'll impact the families and the community as a whole. First, income increases and in developing communities, more money often equates to educating children.
"So many developing communities really focus on how they can better educate their children, because they know the only way that these struggles and cycles will end is with a strong education for their children," he said.
Limitless Opportunities
The opportunities for venture | dairy are virtually limitless, Tomkins said, and extend beyond the borders of Nicaragua and Rwanda. Western Africa, Vietnam, Cambodia, and Central and South America also show great promise for this type of investment opportunity.
"India is another huge opportunity. India produces more milk than any country in the world -- 100 million cows produce 100 million metric tons of milk a year," he said. "But from an efficiency standpoint, that means cows are producing only two to four liters of milk a day. We can help improve their efficiency and feed their growing population."
Who Should Invest?
venture | dairy is looking for investment from organizations, high net-worth individuals, family foundations, and people who share an understanding of agriculture and of the organization's mission.
"Some people prefer to give some money to the 501(c)(3), because they've really got a philanthropic bend, but we think that more and more people in today's environment are looking for an investment," he said. "They want to see their money be put to work for something really tangible. So they'd be able to invest, for example, specifically in our projects in Nicaragua or Rwanda."
This article is the last in a three-part series. To read the first article which details venture | dairy, click here. To read the second article focusing on venture | dairy's Cattle Hub project in Nicaragua, click here. To visit the venture | dairy website, click here.