Analyst: Tightening Supplies Mean Bullish US Cattle Market
ANALYSIS - Among a matrix of consumer demand decrease, strong exports and market liquidation, the US cattle market is in the middle - not the top - of a post-drought market dip, writes Michael Priestley, TheCattleSite editor.
This was the message of Allendale, Inc. chief strategist Rich Nelson, who speaking at the Allendale Ag Leaders Conference, warned of slow recovery in the sector that would see US beef production declining through 2015.
Current herd expansion plans won't impact national herd numbers for three years and holding heifers back on farm means tighter supplies in year one and two of the expansion period, said Mr Nelson.
"When we hold back, this year's calf will breed next year and then they will calve the following year," he said. "A spring born calf will not reach the feedlot until the fall, and some calves will be waiting until the following summer."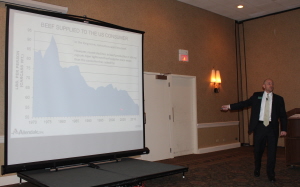 "The main Allendale message is that we are in the middle of a mini-super cycle and the New Year dip in prices was just part of the bigger overall bullish picture."
Slaughter figures are down 4 per cent on the same period last year. Based on high feed costs as a disincentive to buy calves, placement decreases have amounted to 21 straight months of feedlot number losses, said Mr Nelson.
"We will be seeing greater drops of 6 per cent by the time we hit spring, which is when we often see supply tightening," he said.
Countering lower slaughter numbers are positive weight gain statistics through a favourable winter. Mr Nelson told the Allendale audience that weights are around 2.5 per cent higher meaning a production drop of 1-2 per cent decline overall.
"We have seen cold temperatures in the key southwest Kansas area but cattle are doing just fine. There has been some drying going on, and most of the precipitation has not been snow storms, but rain," he said.
Heavier weights are being seen in some feedlots as stock is held longer. Mr Nelson stated this was due to feeders losing money for two straight years.
"The feedyards are going to wait for feed costs to drop hard before getting aggressive on placements. Over the last year there have been some serious losses seen," he said.
Discussing the effects of losses throughout the value chain, Mr Nelson said, "The industry has seen a downturn since 2006 with packing plants in the north and northwest closing down."
The market effects of meat packing plant closure are mostly short term. Packers continue to buy similar cattle quantities.
"Whatever is offered by the feedlots and whatever is demanded by the consumer will not change. The issue is how aggressively they're going to build numbers and over the next two years; it is possible we might see other packing plants move into lower numbers and consolidation issues," he noted.
A point of interest for Mr Nelson was the strong response that cow/calf prices have shown following industry liquidation.
"A large rally starting in 2009 through 2012 has been noted. Calf trading has been strong through January, and it tells us that we are ready for the next round of tightening supplies," he said. "Last year we peaked in early 2012 at $200 down from $100 per calf, however, this year we face a very big change in feed costs. If corn falls from $7 a bushel to $5 or below then feedlots are going to be making money and much more aggressive calf buying will be seen," added Mr Nelson.
From an export standpoint the US ships over three quarters of beef to the big four: Mexico, Canada, Japan and South Korea. However, growth has been noted globally as secondary countries that have historically bought less are buying more.
That secondary category includes Russia, who recently embargoed US beef due to mounting fears surrounding the use of the feed additive ractopamine, now used in 60 per cent of US feedlot cattle.
"They are not a significant beef buyer, accounting for 6 per cent (144 million pounds) through 2012, but Russia saying they are going to ban our product sounds scary, it really does," cautioned Mr Nelson who listed a forecast drop of 4 per cent for 2013.
Positive news comes from Japan, however. They have lifted the age of cattle allowed into the country by 10 months which means around 80 per cent of US cattle will be eligible for this market, he said.
The restrictions came after the BSE scare of 2003. Now cattle that are 20 months of age are allowed for slaughter and shipment to Japan.
Mr Nelson said conservatism could turn to optimism if Japanese quantities lift. The four per cent export drop from Russia could turn to a 10 per cent lift from Japan.
"The issue right now is who cares if Russia takes off 144 million pounds? The number one buyer - Japan - may not go up to one billion tonnes next year but you can bet they can buy up to 750 yo 800 tonnes," he said. "What if this happens? We could see a $7 routing and possibly higher - instead of a $131 - $132 contract, the figure could be $140."
Pressure is also coming from within the United States. The average US consumer is eating 18 per cent less beef than in 2005.
"Beef has been maligned as a fatty meat which is a long term demand problem. The US consumer used to eat 85 pounds per year which is down to 50 lbs a year," he said.
In addition to health and lifestyle changes, the consumer is also posed with tax and income setbacks. Mr Nelson warned that as the country pays for Obamacare, the national health care policy, through tax hikes, beef demand will continue to decrease.
Allendale analysts have forecast consumer demand decreases into 2015, amounting to a 24 per cent drop from 2005 figures.
Drawing the talk to a close, Mr Nelson concluded that the 2013 market would favour feeders. He predicts tightening supplies and the potential of sharply lower corn prices could see the feeder market rocket.
Michael Priestley
News Team - Editor
Mainly production and market stories on ruminants sector. Works closely with sustainability consultants at FAI Farms