Slaughter Cattle Over a Buck: Past and Present
By Shane Ellis, Iowa State University Extension, Economics Department and published in Iowa Farm Outlook Newsletter. It doesn't happen very often, but when it does it gets attention in the beef industry.

The three digit threshold of $100/cwt for live fed cattle has only been crossed a few times, and all occurrences have been within the fourth quarter of 2003 and in the second quarter of 2007. Figure 1 is a graph of weekly Iowa fed steer prices during fall 2003 beginning in September and spring 2007 beginning the first week of February. Although this April's price peaks were not as pronounced or variant as those in 2003, the general trend of higher and then lower weekly prices are similar.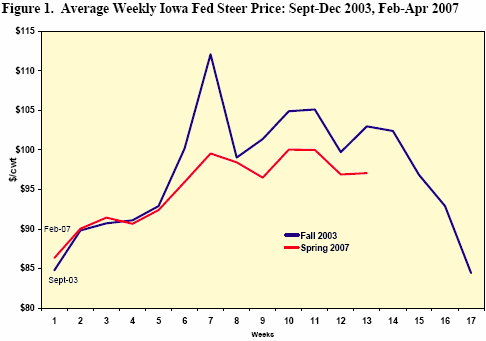 Whether or not there will be another price rally before the coming of Memorial Day weekend has yet to be seen, but there should be plenty of time for one more, before prices starts their seasonal decline. So what are some of the similarities and difference in market condition during this two time periods? We know that export volumes are significantly different between the two periods. Beef exports in 2003 were at record volumes, but the discovery of BSE quickly ended that run. Currently beef exports have increasing significantly from last year, but are still well below the trade volume of 2003. Not for the purpose of bring up bad memories but to consider where we have come, consider Figure 2 which contains the monthly beef exports for a 14 month period beginning in 2003 and 2006. Beef exports peaked in the summer of 2003 and had decline significantly in the fourth quarter even before the discovery of BSE. This should indicate that there were market forces other than exports that were at work to drive up beef prices to record highs. Exports at the start of 2007 were following a seasonal trend of decline. Although exports will be higher than a year ago, a market altering increase will not occur anytime soon.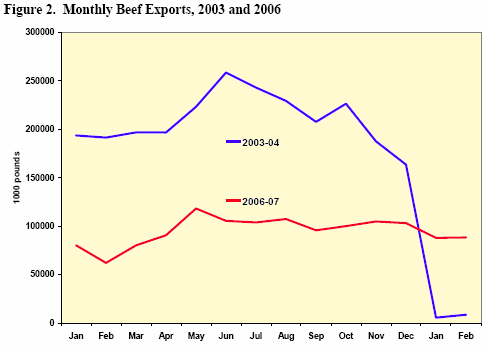 The US beef industry continues to increase beef production while at the same time the nation remains a net beef importer, so let us examine how prices and consumption have interacted. Figure 3 is a scatter plot of quarterly beef production and live cattle prices from the first, second and fourth quarters of the past 5 years. The third quarter was excluded to improve clarity. Trend lines were added to show the general direction of the supply and price relationship. In the first quarter of 2007 cattle prices were well above the normal trend line, indicating a shift away from the normal first quarter demand curve and moving closer to that of second quarter demand. Record high prices of 2003 were fairly close the normal third quarter trend line. Less production during that period resulted in increased prices.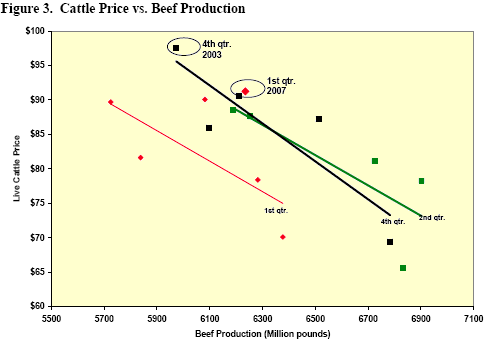 Packer buying behavior can also be influenced by the choice-select price spread and the value of animal byproducts. Figure 4 is a graph of the choice-select boxed beef price spreads for 2003 and 2006. Prior to and during the record prices in the last part of 2003 the spread was significantly wider, and then narrowed as cattle prices remained high. The recent cattle price run up was preceded by a narrow choice-select spread, so competition for the "well finished" cattle was not a likely contributor to the recent $100/cwt cattle prices. Meanwhile, the value of animal co-products is up as much as 17 percent from a year ago, for additional value of $2/cwt of live weight.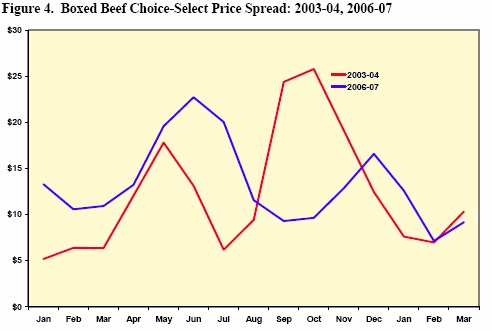 May 2007