CQUniversity's breakthrough research for stud cattle breeders
In a major breakthrough for stud cattle breeders, CQUniversity's researchers can now automatically track and record critical production data for calving dates.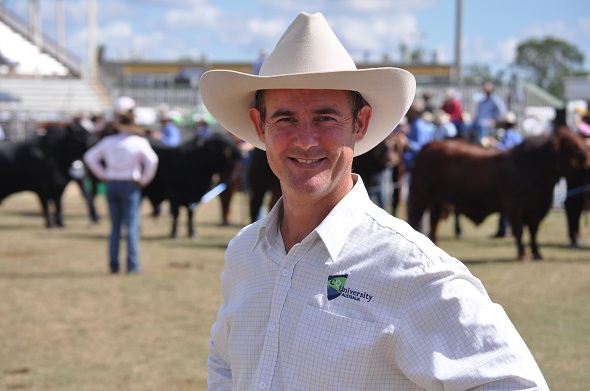 Traits that have the potential to play a large role in genetic improvement, like birth date, are often the most difficult and most labour intensive to obtain accurate records.
Many producers who operate more extensive production systems have a wide calving window, and it takes a lot of time to manually capture dates of birth, but this information is critical for participating in genetic performance recording programs like BREEDPLAN.
Which is why researchers at CQUniversity developed the DataMuster research tool, a software system which connects to paddock-based sensors to automatically capture and analyse phenotype information, saving producers time and money, and reducing stress on their herd.
"We have now developed an algorithm that can automatically identify a calving event," CQU's Prof. Dave Swain said. "The algorithm uses weight change to automatically identify a calving event and thereby provide more accurate life-time performance records for progeny growth rates as well as maternal calving intervals."
The new date of calving algorithm was developed by CQUniversity's Precision Livestock Management team as part of a five-year automated phenotyping research project funded by CQU and the Meat & Livestock Australia Donor Company.
The project has connected walk-over-weigh equipment on stud and commercial breeding properties across Queensland and the Northern Territory with CQU's DataMuster software.
"Automated weight monitoring and analyses took the hard work out of capturing accurate and regular performance data for even the toughest of traits – a process which is normally a challenging and costly exercise for producers," Prof. Swain said.
"Automated dates of birth provide the potential to deliver unprecedented data that can be used to improve fertility in extensive cattle operations."
This system has the potential to be incorporated into genetic improvement programs like BREEDPLAN, providing the opportunity to more cost effectively assess genetic performance at an individual animal level but across larger groups.
"Making it easy for more producers to participate in genetic evaluation programs like BREEDPLAN will enhance the genetic improvement of the entire Australian beef herd," Prof. Swain said.
More information is available at www.datamuster.net.au.