Trichomoniasis Management Helps Increase Calving Rates
Reports by producers of a high incidence of abortions and low pregnancy rates in beef cattle herds in Chihuahua led researchers at Autonomous University of Chihuahua in Mexico to uncover the root cause of the problem, writes Ivan Leyva-Baca, DVM, PhD, Animal Health Product Applications at Thermo Fisher Scientific.
The study, led by Dr. José Alejandro Ramírez-Godínez, faculty of Animal Science and Ecology, Autonomous University of Chihuahua, Mexico, showed that 60 per cent of herds in the Chihuahua province are infected with Trichomonas parasites causing trichomoniasis (Trich). In herds that were tested for Trich and in which management measures were implemented, pregnancy rates increased on average by 30 to 40 per cent.
Trich is a highly contagious sexually transmitted disease caused by Trichomonas foetus (T. foetus). Bulls are the carrier of T. foetus and show no outward signs of this untreatable infection. Cows become infected when they are naturally bred with an infected bull. The primary symptom in cows is embryonic death causing infertility, which contributes to scenarios where cows are in heat when they should be pregnant.
"We suspected that the high incidence of abortions and low pregnancy rates in Chihuahua cattle herds was caused by Trich, so we began a research project to test for T. foetus in bulls," said Dr. Ramírez-Godínez. "The very first bull was tested positive, so we knew right away that we had Trich in the state of Chihuahua. We then set up a research project to check Trich prevalence."
Chihuahua Study Results
The research project tested 762 bulls from 42 counties in the state of Chihuahua, and 21.8 per cent of the bulls were positive for Trich, which Ramírez-Godínez considered to be a high incidence level. More concerning was a herd prevalence of more than 60 per cent. A herd was considered positive when at least one bull tested positive. Even one infected bull on the ranch can lead to an entire cow herd becoming infected and can cause pregnancy rates to plummet.
"Herds owners easily accepted the results because they were observing abortions, lower pregnancy rates, and a high incidence of open (non-pregnant) cows ," he said. "Once we started testing for Trich, our suspicions were confirmed and we had our explanation."
Bulls tested positive in 24 counties out of the 42 tested in the state of Chihuahua. There were no specific areas of the state that were higher than others, indicating Trich is widespread in the state of Chihuahua.
The Devastating Cost of Trich
The economic impact of Trich can be tremendous in infected herds.
"In Chihuahua, we worked with a family operation running more than 2,000 mother cows," he said. "We tested 150 bulls for them and 58 bulls were infected with Trich. Their pregnancy rate was 40 to 45 per cent. Since clearing out the infected bulls and implementing other management changes, their calf crop is up to 82 per cent. With 2,000 cows, we are talking about a value of about US$500,000."
Another Chihuahua ranch that runs 400 cows also had declining pregnancy rates near 50 per cent. Out of 50 bulls, 18 tested positive and were eliminated from the herd. Their pregnancy rate is now at 85 per cent.
"Diagnostic testing is the starting point to determine if there's a problem, and then we implement management practices to reduce the economic impact of the disease moving forward," he said. "We know it's working because in most cases, pregnancy rates have increased by 30 to 40 per cent."
Controlling Trich in Mexico
Controlling Trich should start with a bull testing program for all of Mexico, not only in Chihuahua, said Dr. Ramírez-Godínez. In a successful control program, the test results are then used to implement herd management measures. Infected bulls should be removed from the herd. All new bulls coming onto a ranch should be tested for Trich. Infected cows should be allowed three to four cycles to clear any existing Trich disease and then synchronized to the same reproductive cycle and bred with Trich-free bulls or artificial insemination (AI). Cows should be pregnancy-checked. Any cows with uterine problems should also be removed from the herd.
"Even if bulls test negative, it's important to continue to monitor the herd through diagnostic testing on a regular basis," Ramírez-Godínez said.
Diagnostic Testing
The Autonomous University of Chihuahua's study was conducted in collaboration with Thermo Fisher Scientific, using the VetMAX™-Gold Trich Detection Kit*. Thermo Fisher helped train the diagnostic lab team at the University with a workflow for real-time PCR and provided instrumentation. Workflow is critical to get optimal sensitivity and specificity of results.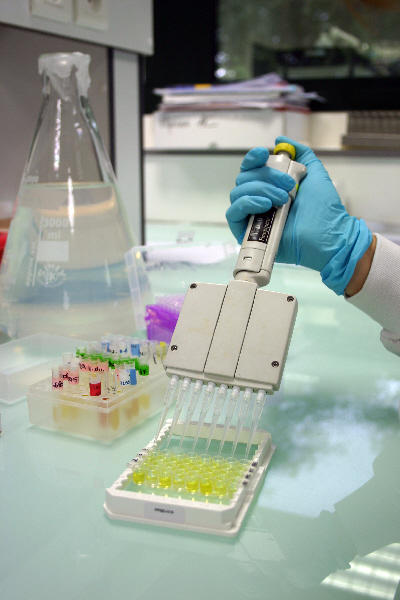 "There is no doubt that the real-time PCR test is best for Trich testing," Ramírez-Godínez said. "The test itself is more expensive than other diagnostic options, but it gives a great return on investment. When you talk to producers who have experienced how economically devastating the disease can be, they say it's very cheap."
Real-time PCR testing is highly sensitive and highly accurate, and results are available the next day. Using the older method of culture followed by microscopy, results will take weeks because three samples need to be taken every two weeks.
"Culture isn't as accurate as PCR, so you are going to end up culling negative bulls," he said. "Real-time PCR is the best technology out there."
Next steps
Now that it has been established that Trich is a problem in Mexico, the first step is to work with other universities to expand bull testing, Ramírez-Godínez said. Next, best management practices and protocols should be outlined for producers to follow when they are taking samples as well as steps to take if bulls test positive. Dr. Ramírez-Godínez said an education program about the value of testing that is targeted to producers and veterinarians is also needed.
"Veterinarians are certainly aware of Trich, but producers aren't enthusiastic about testing so we must talk with them to change their mindset," he said. "Regardless of herd size, producers need to better understand the disease, and the significant economic impact it can have on their ranch."
This article first appeared in Spanish in Entorno Ganadero.
For more information about cattle diagnostics, click here or connect to the Thermo Fisher Scientific Cattle Resource Center.
Sponsored Article
---

Our Partners
---