A Look at THMilk in Viet Nam - Mega Style Dairying
Standing in a huge field watching massive green and yellow John Deere self propelled forage harvesters gobbling up three metre high crops of Mombasa grass and spewing the chopped forage into huge trailers running alongside, you could easily be forgiven for thinking you were in the middle of the American Midwest, writes Stuart Lumb.
Through the heat haze, huge pivot irrigators, also imported from the US, crawl over the ground, sprinkling water on to the growing crops.
It's also ironic that two countries that were engaged in a bitter war 50 years ago now trade goods with each other, in ever increasing amounts. In fact this harvesting operation was actually taking place on a former state farm four hours drive from Hanoi, Viet Nam.
History of the operation
THMilk is a privately owned business set up in 2010 and which employs 1400 staff. The operation is run on very commercial lines and it has the distinction of being the world's largest dairying operation.
It employs Israeli consultants as Israel is noted for the quality of its dairy industry, plus Viet Nam and Israel both are similar climatically. Much of the dairying equipment also comes from Israel.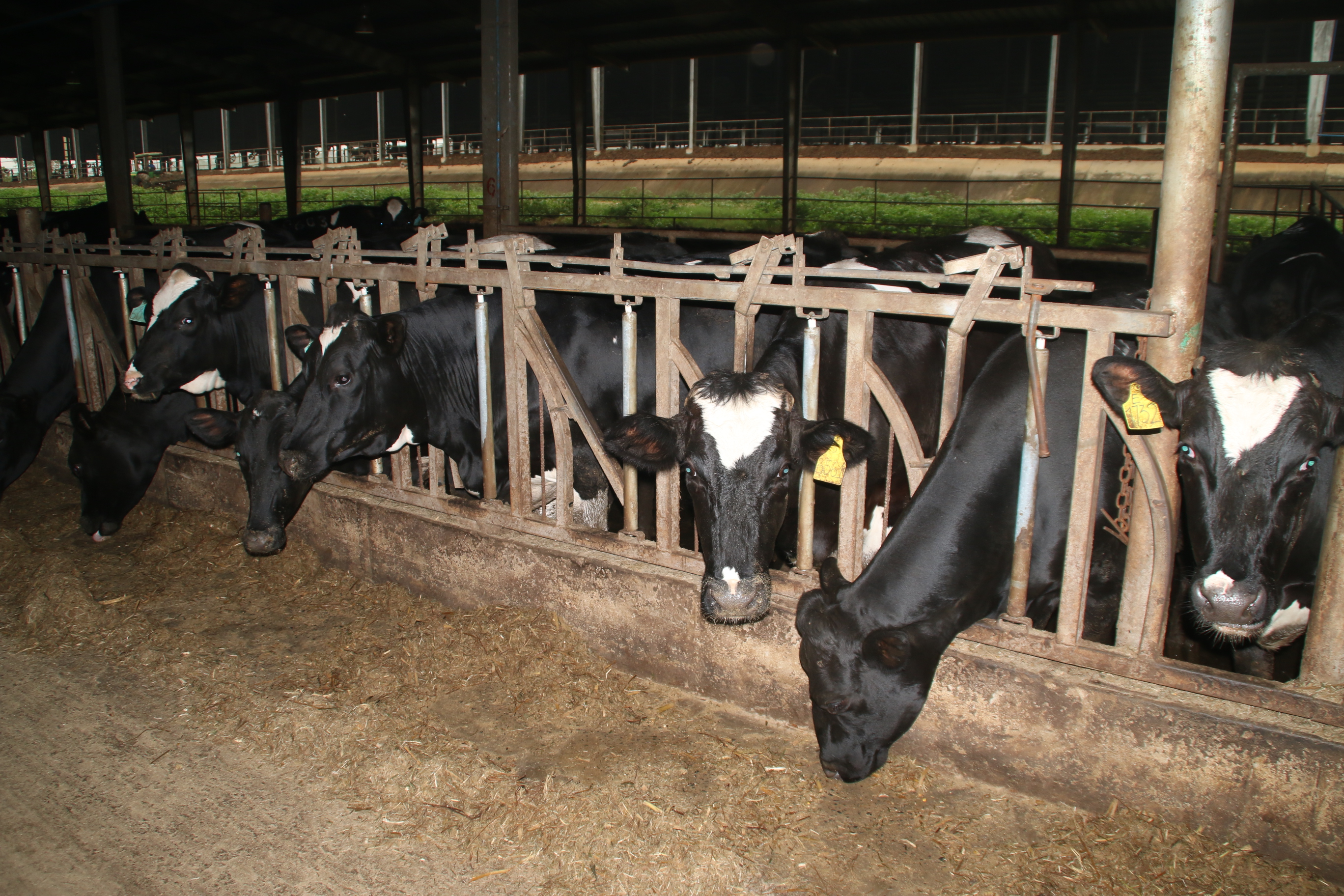 Viet Nam is short of milk, with milk powder being imported and re-constituted for drinking. This is not an ideal situation and the government wants, through THMilk, to eventually give each Vietnamese child a glass of milk each day.
TH stands for "true happiness" and the Vietnamese philosophy is that milk will boost each child's growth and intelligence, plus improve their health.
Incidentally, THMilk is the only company that is allowed by the Vietnamese Government to supply milk to schools, as quality standards have to be extremely high.
A school milk programme was similarly implemented in England in primary schools just after WWII. Half pint bottles of milk were delivered daily to the school, stacked in crates in the playground. The author can remember one chilly winter's morning being given an ice cold bottle of milk, covered in snow and being told to stop complaining and to get it drunk, "as it was good for me!"
Initially 45,000 in-calf Holstein heifers were shipped by boat from New Zealand, although new farms will be stocked with females from Canada. By 2017 cow and heifer numbers will have risen to 137,000 and by 2020 to 200,000.
Currently the business is made up of seven separate farms. Six are in production whilst the seventh one acts as a quarantine facility.
THMilk is currently farming 8100ha. The question might be asked, where is the land that THMilk will need to provide feed for all the predicted cow numbers?
Quite simply, Vietnam is still a Communist country and it still has many huge state farms, not necessarily being farmed very well and these farms can be transferred to THMilk in order to grow feed for the expanding needs of this huge milk producer.
Farm units at THMilk
A typical farm unit will around 7,500 cows and heifers in milk 9 plus calves at any one time and females get dried off after being milked for 300 days.
Females are milked through 60 place herringbone parlours by staff sourced locally who work in 3 shifts, 0430- 1200, 1300-2030 and 2100-0330.
Each farm has 6 vets who treat sick cows and heifers and carry out inseminations. Cows are housed in huge widespan buildings with wide passages which allow big wagons to dispense feed to the cows.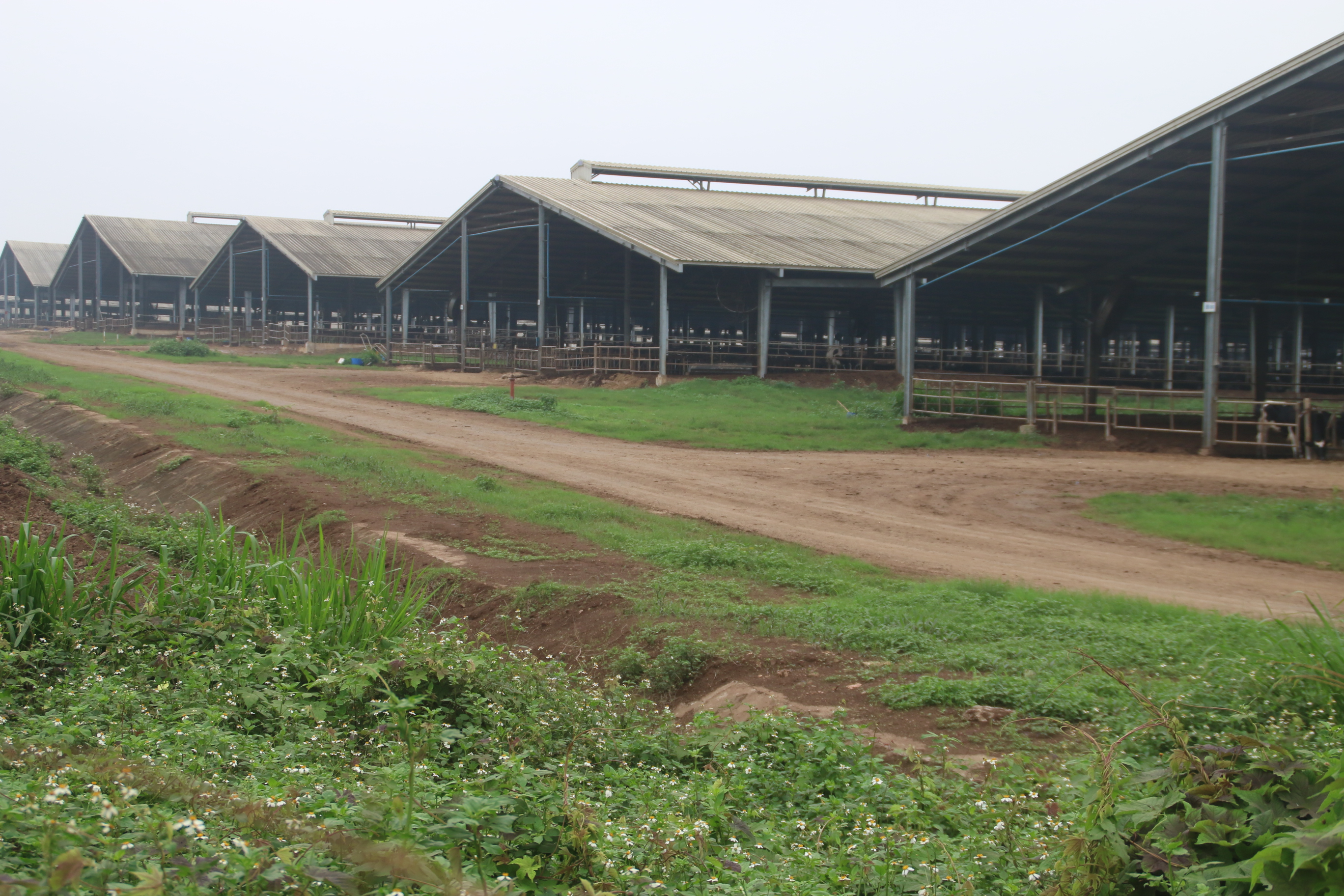 Initially stocking rates were too high and had to be reduced. The heat and humidity were affecting yields but fitting fans cured the problem.
Huge amounts of manure are produced. Most of this ends up back on the land as fertiliser although some is composted and some manure is allowed to dry out and then used as bedding.
Milk yields have steadily risen over time at THMilk

| | |
| --- | --- |
| Year | Litres per cow |
| 2013 | 7500 |
| 2014 | 8100 |
| 2015 | 9000 |
Varied cropping
THMilk's land stands 50-100m above sea level and receives 1800mm of rain , with 70 per cent of this arriving between June and October.
Even so it's cost effective to use irrigation. It's possible to get 3 crops of whole crop corn which is harvested at 35 per cent dry matter.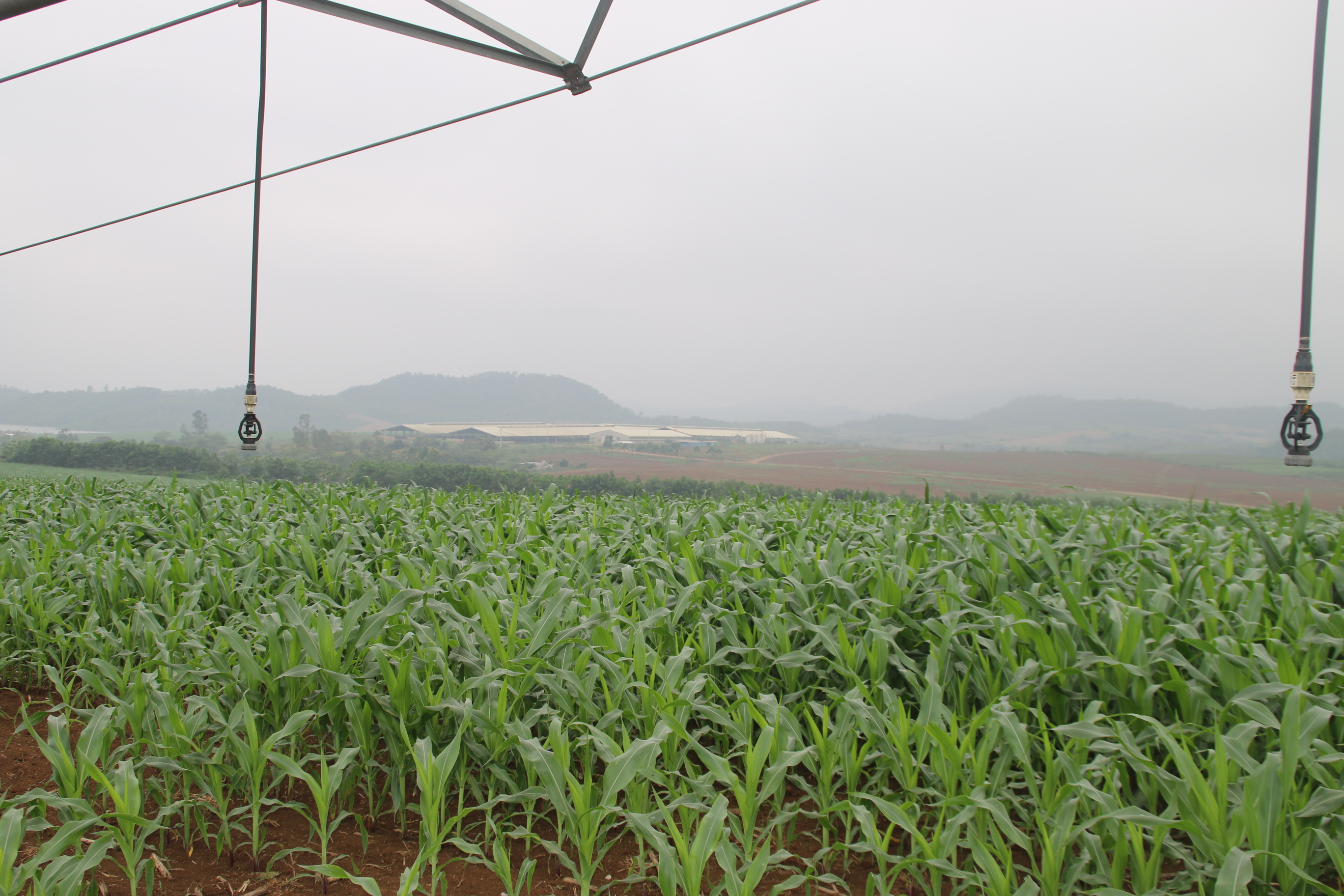 Soya and Sunflowers are also grown, with sorghum being grown where irrigation is not possible. Corn silage and Mombasa grass makes a good combination, with some silage bought in from neighbouring farms.
Heifers are fed silage made from "baggage", which is a by-product from sugar cane, ensiled with molasses. They also receive any left over feed mixed for the cows.
Feed logistics
The Feed Centre is a simply amazing facility. It uses Israeli technology as a template and was designed to produce 450,000 tons annually.
That figure has been greatly exceeded as it's currently producing a million tons per year and TMR (total mixed ration) production is non stop.
Articulated rigs with huge buckets scurry around the yards filling the mixers, which then discharge the rations into the feed wagons.
Each TMR wagon holds 9-10 tons, and the farm has 50 such wagons.
Any feed concentrates not grown on farm are delivered in on huge 60 ton articulated trucks, in meal form, as meal suits the cows (and of course is cheaper than pellets), but so much dust is generated moving the raw materials around that the tractors have to have their headlights on 24/7, in order for the operators to see what they are doing.
Rations are formulated on computers, in a large office.
Aflotoxins are measured both in feed and milk. Feed aflotoxin levels were running at 25 parts per billion, which is below problem levels but if levels increase then toxin binders are included in the rations.
Formulations are then emailed to the fore end loader operators, who select the ingredients which are then weighed out and tipped into the feed wagons. The Israeli consultants strongly emphasise that cows like being fed at exactly the same time each day so the feed delivery programme has to planned in very great detail.
Processing
The THDairy plant, which started production in December 2010 operates 24/7 and has 10 lines. One produces yoghurts, one produces probiotic milk and seven lines produce UHT milk. 12 tankers supply the dairy with milk and they also operate 24/7.
German equipment is used to pasteurise the milk and robotic equipment from Italy is to be found on the yoghurt line.
From an observation platform it's possible to see all the dairy and its equipment. There are conveyors moving milk cartons in all directions and it really is a most impressive sight.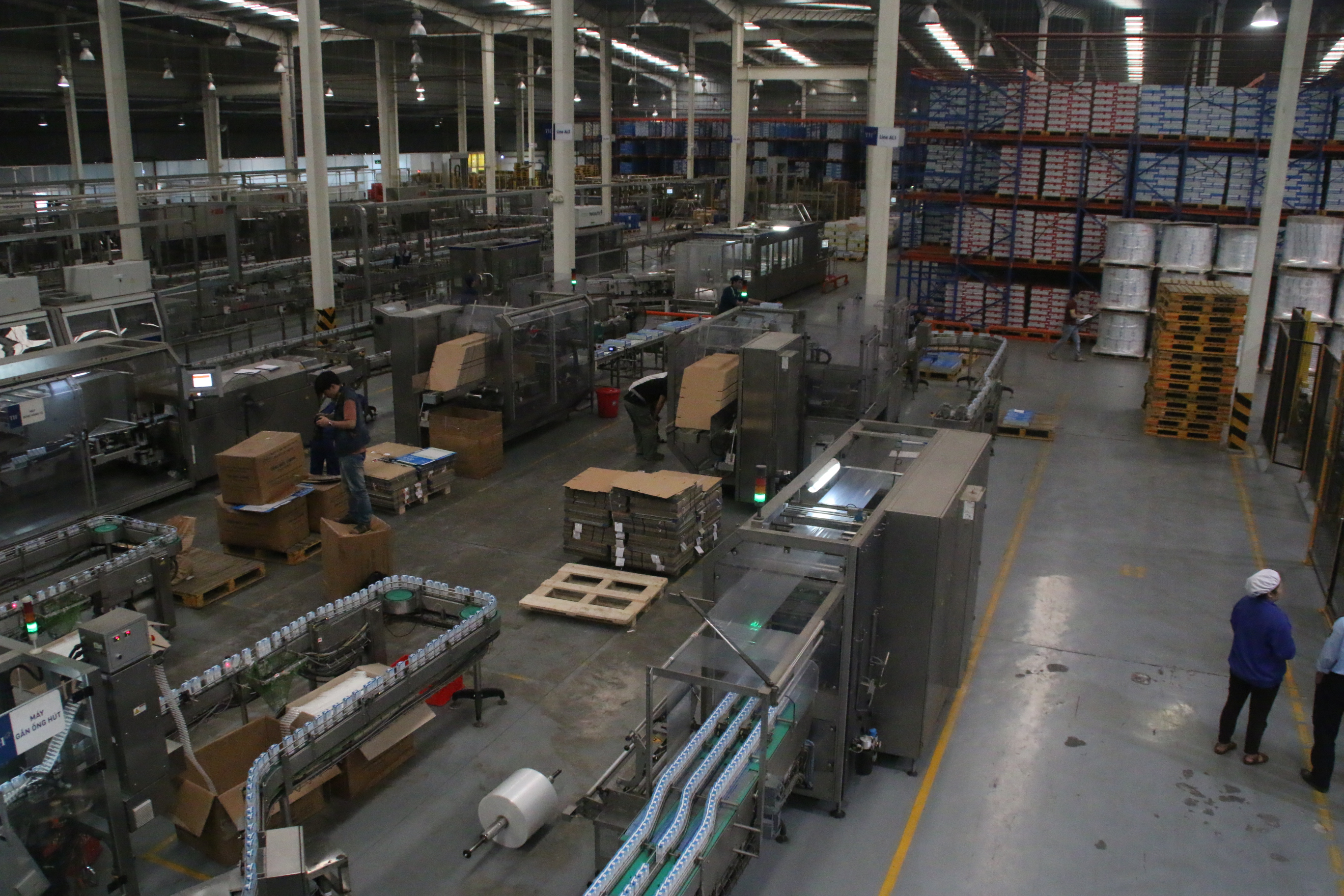 Being in a hot country the THMilk operation needs millions of litres of clean water and the company has a very impressive water treatment plant. Water goes through three stages during treatment, including chlorination. Chlorine is added automatically, with the amount dependent on the cleanliness of the water. Two plants each treat 3000 litres/ day.
THMilk is a simply amazing project and the numbers are mind boggling. The Vietnamese government is to be congratulated on its vision in terms of eventually ensuring that each and every Vietnamese child will receive his or her daily carton of milk.
Author's note:
My very grateful thanks are due to Quang Thanh Trinh, Director, Olmix Vietnam and Thuong Hoang & Trang Vu, also of Olmix Vietnam for organising the author's visit. Thanks are also due to the many staff at THmilk who gave up the best part of a day to show the author round the company's facilities and who made his visit such a memorable experience.