Global Dairy Markets Stagnate
Large Chinese stocks of milk powder and increases in Northern Hemisphere milk production are causing continuing soft prices heading into the US/EU spring flush.
There has been little change in market sentiment in the last couple of weeks, writes Alan Levitt from the US Dairy Export Council.
The tone remains weak and buyers are comfortable. Chinese milk powder stocks are limiting purchases from the world's largest buyer.
Prices for whey proteins have fallen to their lowest levels in more than four years. Sweet whey is down more than 20% in the last 14 months and WPC is down close to 40% from a year ago. Meanwhile, lactose prices are just a third of what they were at their 2012 peak.
EU Milk Deliveries Down
EU-28 milk deliveries in February are estimated 11.1 million tons, down 0.6 percent from the prior year. Irish milk deliveries were down just 0.6 percent after running at minus 15 percent over the previous three months. January numbers for the EU-28 were revised higher, to 12.0 million tons, down 0.1 percent year-over-year.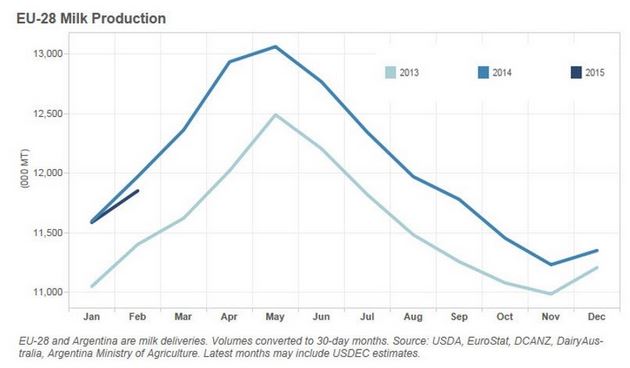 New Zealand Milk Production Falls
Fonterra reported March milk collections in New Zealand were down 3.0 percent from a year ago. Year-to-date, Fonterra collections remain 1.1 percent higher than the previous season.
Pasture conditions have worsened in the last three weeks as the season winds down. With most of the year in the books, we expect full New Zealand 2014/15 production to come in about 1.7 percent above 2013/14 levels.
NZX futures continue to reflect bearish sentiments. WMP futures average $2441/ton to September.
Argentina Dairy Exports Down Over a Quarter
In the first two months of the year, Argentina exports of milk powder, cheese, butterfat and whey were down 28 percent from last year, and the smallest volume since 2010. WMP exports were just 18,254 tons, down 30 percent.