Uganda Latest: Porridge, Hand Wounds and Harvest Prospects
Apollo Saku is a farmer, agricultural academic and project leader for Planting for Hope Uganda, a sustainable wealth creation programme aimed at empowering rural communities through farming and cooperative schemes.
Along with the Planting for Hope team, Apollo is teaching the Kititi and Bukunda people to farm sustainably and market produce and crafts.
The land currently under his stewardship lies to the west of Lake Victoria in the Kyanamukaaka region in the Masaka District of south west Uganda.
There is good news at the village school this month – no children are studying on an empty stomach.
All children eat a cup of porridge for lunch daily, thanks to sponsorship programmes.
Similarly, adults within the Kititi community have benefited from education recently, in the form of a trip to a sustainable fish farm.
"We left in the morning and we spent the entire day there," said Apollo. "A lot was learnt and seen – a worthwhile visit."
Such exposure should help women in the cooperative to develop new ideas for sustainable subsistence farming, he added.
However, Apollo had a mishap back in September, when he cut his hand at his Aunt's house in Kampala.
"I had a cut on my right hand," he explained. "I got a soft tissue injury plus tendon damage. I was rushed to Mulago hospital in Kampala."
Meanwhile, on the crop and livestock front, a positive harvest outlook is coming to fruition after ample rains.
Beans, sweet potatoes, cabbages, onions, egg plants, tomatoes and many more have been planted for the season.
Mostly, produce will be shared around fifty households at weekly meetings, although some crops, like the sweet potatoes, are cash crops which will head to market.
Apollo expects to raise funds, possibly to start a catering service in the village.
He said: "We expect to harvest between 15 to 20 sacks of sweet potatoes and each is projected at £ 7, giving a total yield of £140.
"The returns after sale will be discussed with the women in the cooperative and decide what to do with the finances.
"They are very keen to start a catering service; perhaps this can be their starting point to invest their returns into this catering business."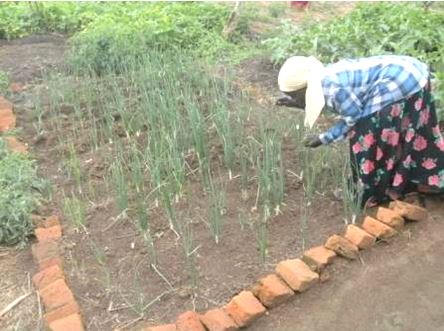 Gardening in the Planting For Hope vegetable garden