Making Better Mastitis Treatment Decisions: Is On-farm Culture Right For Your Dairy?
Mastitis presents stockmen many challenging questions on the subject of treatment duration, type and whether all cows should receive the same treatment, says veterinarian Erin Royster.
In fact, we know that not all cases of clinical mastitis are the same, and thus, shouldn't all be treated the same way, writes the University of Minnesota Expert.
Some cases are short-lived and seem to clear up on their own, while others persist for weeks or may recur several times throughout the lactation. In reality, most cases will appear to clear up within 4 to 6 days no matter what you do. But without intervention, a significant percentage of those cases will become subclinical, meaning that the udder is still infected but no longer showing any symptoms of infection. These subclinical cases contribute high SCC milk to the bulk tank, impair the productive capacity of the udder, pose a risk of transmitting the infection to other cows, and are likely to flare up into clinical mastitis again in the future.
One of the factors that affects whether a case of mastitis is likely to cure (either spontaneously or with antibiotic treatment) or become a chronic infection is the type of bacteria causing the infection. Certain mastitis pathogens are more difficult to cure than others. For example, cows infected with Staph aureus typically have very poor cure rates (20 to 30 per cent) following antibiotic treatment; whereas, a cow infected with a mild case of E. coli mastitis has a 70 per cent or greater chance of cure even without antibiotic therapy.
When milk from a cow with clinical mastitis is cultured to identify the bacteria causing the infection, no bacterial growth is found in 20 to 40 per cent of cases. A small percentage of these cases may be caused by bacteria that do not grow in routine culture conditions (such as Mycoplasma). However, in the majority of these "No Growth" cases, the cow's immune system was able to cure the infection by the time the milk sample was collected. Clearly, there is no need to use antibiotics when no bacteria are present, and this could be 20 to 40 per cent of cases in your herd!
The goal of mastitis treatment should be to reserve antibiotics for infections that are most likely to benefit from treatment, and to employ other management strategies for infections that are not likely to benefit from antibiotic treatment. In particular, knowing what pathogen you are dealing with can help you make the best treatment or management decision for each case of mastitis. On-farm culture is a quick, inexpensive way to get this information. Here's how on-farm culture works:
A milker identifies a cow with clinical mastitis.
A sterile milk sample is carefully collected from the affected quarter.
The milk sample is swabbed onto a culture plate.
The culture plate is incubated for 18 to 24 hours at 98°F.
The culture plate is examined and the results are recorded.
A manager or other worker decides how to treat the cow based on the culture results.
Most on-farm culture systems allow users to differentiate Gram-negative and Gram-positive bacteria. Some systems were also designed to diagnose other common categories of mastitis pathogens, such as Strep and Staph species, and even Staph aureus. In most cases, this is a sufficient level of diagnosis to make a well-informed treatment decision.
For example, the Minnesota Easy Culture System Bi-plate allows users to diagnose mastitis cases as No Growth, Gram-negative, Gram-positive, or Staph aureus. The dairy can then utilize a different treatment protocol for each of these possible results. If a dairy wishes to use a specific treatment protocol for mastitis cases caused by Strep species, the Minnesota Easy Culture Tri-plate allows users to further differentiate Gram-positive growth as Strep or Staph species. It is essential to work with your herd veterinarian to design appropriate pathogen-specific treatment protocols for your dairy.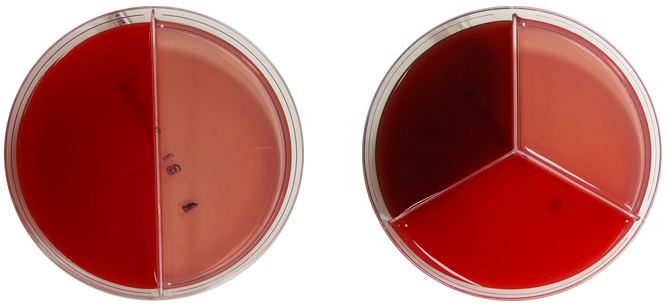 To get started, you will need a fairly short list of equipment including sample collection vials and culture plates, and a clean, well-organized lab space. The most expensive item you will need is an incubator. For many dairies, a simple Styrofoam egg incubator works well. This type of incubator will hold up to 20 plates, and can be purchased for less than $70 from a farm supply store. You will also need a well-trained individual to perform and interpret culture results. The person collecting the milk samples and performing the cultures must use good hygiene and careful technique to avoid contaminating the culture with bacteria that did not come from inside the udder. Culture supplies must be stored correctly and disposed of when contaminated or out of date.

Utilizing on-farm culture can help your dairy achieve maximum treatment success, while minimizing the use of antibiotics and the risk of an antibiotic residue violation. The University of Minnesota Laboratory for Udder Health offers consultation and training, as well as on-farm culture supplies and information on our website. Visit www.cvm.umn.edu/vdl/ourservices/udderhealth/home.html, or call (612) 625-8787 for more information or to find out when our next training will be held.