Niche and Value Added Marketing: Organic Beef
At less than 1 per cent of US beef sales, organic beef value had hit $100 million in 2009, according to Shannon Sand, South Dakota State University Business Management specialist.

The organic movement started in the United States (U.S.) in the early part of the twentieth century. The organic movement gained more visibility in the 1960's and 1970's when labeled organic produce began showing up in the market place (Kuepper 2010). Since the 1990's, there has been a steady increase in the demand for organic products.
The organic agriculture sector was growing around 20 per cent a year in 1994 and even during the recession of 2008, the organic sector in the U.S. grew 17 per cent (Kuepper 2010). Organic production in the U.S. is fairly small with 0.5 per cent of all pasture land being certified organic and 0.8 per cent of all cropland certified organic (2013 Greene).
Though it is still a relatively small component of U.S. beef sales (less than 1 per cent ), organic beef sales rose to over $350 million in 2011, up from $100 million in sales in 2009 (USDA-ERS 2011). The trend toward increased consumption of organic beef is projected to continue. The chance to enter an expanding market will entice some beef producers to transition from a traditional beef production system to an organic beef production system.
Definition and Requirements
Until 2002 USDA had no rules regulating what could be labeled as organic beef. These rules were revised in 2006 and again in 2012. According to USDA, organic beef is defined as a beef product from a recognized third party-verified organic production system which collects information on the history of every animal in the program, including breed history, veterinary care, and feed.
To be certified as organic, all cattle must be born and raised on certified organic pasture, never receive antibiotics, never receive growth-promoting hormones, must be fed only 100 percent certified organic grains and grassesi, and must have unrestricted outdoor access to organic land meeting all organic crop production standards (USDA 2012). Producers must also accommodate the health and natural behavior of their animals year round; this means managing organically from the last third of gestation. All processors must have organic certification as well, in order for beef to be certified as organic for sale (USDA 2013).
Becoming Certified Organic
The first step to becoming certified organic is for producers to get in touch with their local USDA representative, to discuss the possibility of converting to organic and find a certifying agent in their areaii. As part of the certification process, organic producers must go through a three year transition period. Until the three year mark has passed, producers cannot sell, label, or represent the product as "organic." During the transition, the USDA provides both technical and financial assistance through its Environmental Quality Incentives Program (EQIP).
Beef producers wishing to become certified as organic beef producers must apply to a USDA accredited certifying agent (See Figure 1). The agents will ask for a detailed description of the operation to be certified, including a history of substances applied to the land during the previous three years; organic products grown, raised, or processed; and a written organic system plan describing the practices and substances used.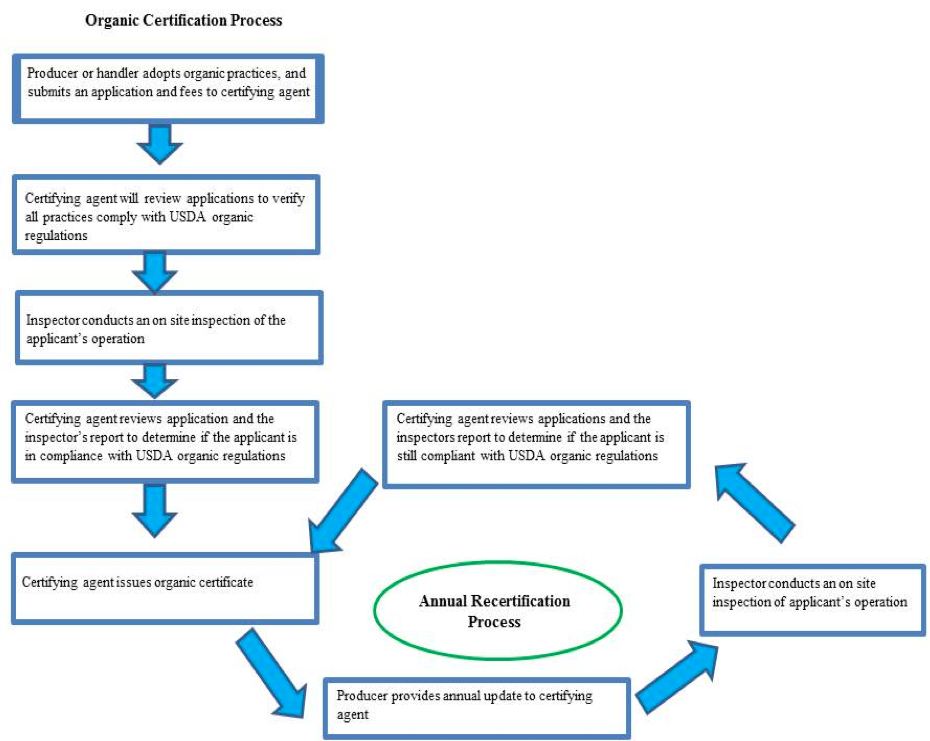 Figure 1. The cost of certification varies widely depending on the certifying agent and the size, type, and complexity of the operation and ranges from a few hundred dollars to several thousands. It is important that producers understand the fee structure and billing cycle of the certifying agent before applying. In general, certifying agents charge an application fee, renewal fee, assessment on annual production or sales, and inspection fees. After a producer is certified, the USDA Organic Certification Cost-Share Programs can reimburse producers up to 75 per cent of certification costs (Organic Integrity Quarterly 2013).
Marketing Opportunities for Organic Producers
Many export opportunities exist for U.S. organic beef producers. The U.S. currently has trade arrangements with several nations to facilitate exportation of organic products. Currently, the U.S. has agreements with Canada, European Union (EU), Japan, and Taiwan. These trade agreements offer additional marketing options for organic beef producers.
Opportunities are available for producers to begin marketing organic beef in the U.S. and for export. The organic trade association has been making strides towards increasing the amount of organic U.S. beef exported.
Even within the U.S. there is a growing consumer trend to "know where your food comes from" which allows producers using the organic beef label increased opportunity for consumer purchase, because of the traceability requirements to be certified organic. Producers interested in marketing opportunities with organic beef have to do some research on what is available in their areas. Producers can direct market where they can sell their organic beef (direct to consumers, restaurants, etc.), an organic meat distributor or co-op, speak with other organic beef producers to see how they are marketing their product, or discuss with their organic processor opportunities for organic beef sales.
Organic producers have many opportunities to reach multiple markets in the U.S., either through direct sales of products or through organic meat distributors, such as, Mountain beef, Rocky Mountain Organic Meats, and others. With changing trends in the U.S. and the rest of the world there is a place for organic beef producers.
References