Don't Waste Silage Additive: Here's How Not To
Unless silage additive is sited and calibrated appropriately , farmers can be guilty of 'throwing money away', warns a forage specialist.
This is according to Kelvin Cave Ltd, a forage and manure consultant which has referenced independent trials showing 50 per cent wastage can result from standard additive delivery equipment.
Company technical director Kelvin Cave Ltd, Andy Strzelecki, adds that shortcomings apply to forage wagons as well as self-propelled harvesters.
Alongside this, he says it is not uncommon for 50 per cent of a crop to end up without coming into contact with the additive, despite the fact that the farmer or contractor thinks he's applying the product according to the book.
"Forage additives for silage making have had a mixed press over the years, which is partly because there are so many products on the market with varying degrees of efficacy, and partly because of poor application," says Mr Strzelecki.
"Typically, products are applied above the pick-up on the 'air side' of the grass, or at the base of the chute after the accelerator on self-propelled forage harvesters, but this means they are highly vulnerable to drift, especially in windy conditions," he says.
"Further wastage has been shown to occur when flat-fan nozzles are used to spray the additive, and these would be better replaced with solid-jet sprays," he adds.
These have been amongst the findings of extensive trials undertaken by Matts Nysand and Antti Suokannas of MTT, Agrifood Research from Finland - a country in which silage making has been developed to a fine art.
"Our observations in the UK are very similar to those found in Finland, and we would echo the report's conclusions," says Mr Strzelecki.
Possible Solutions to Additive Optimisation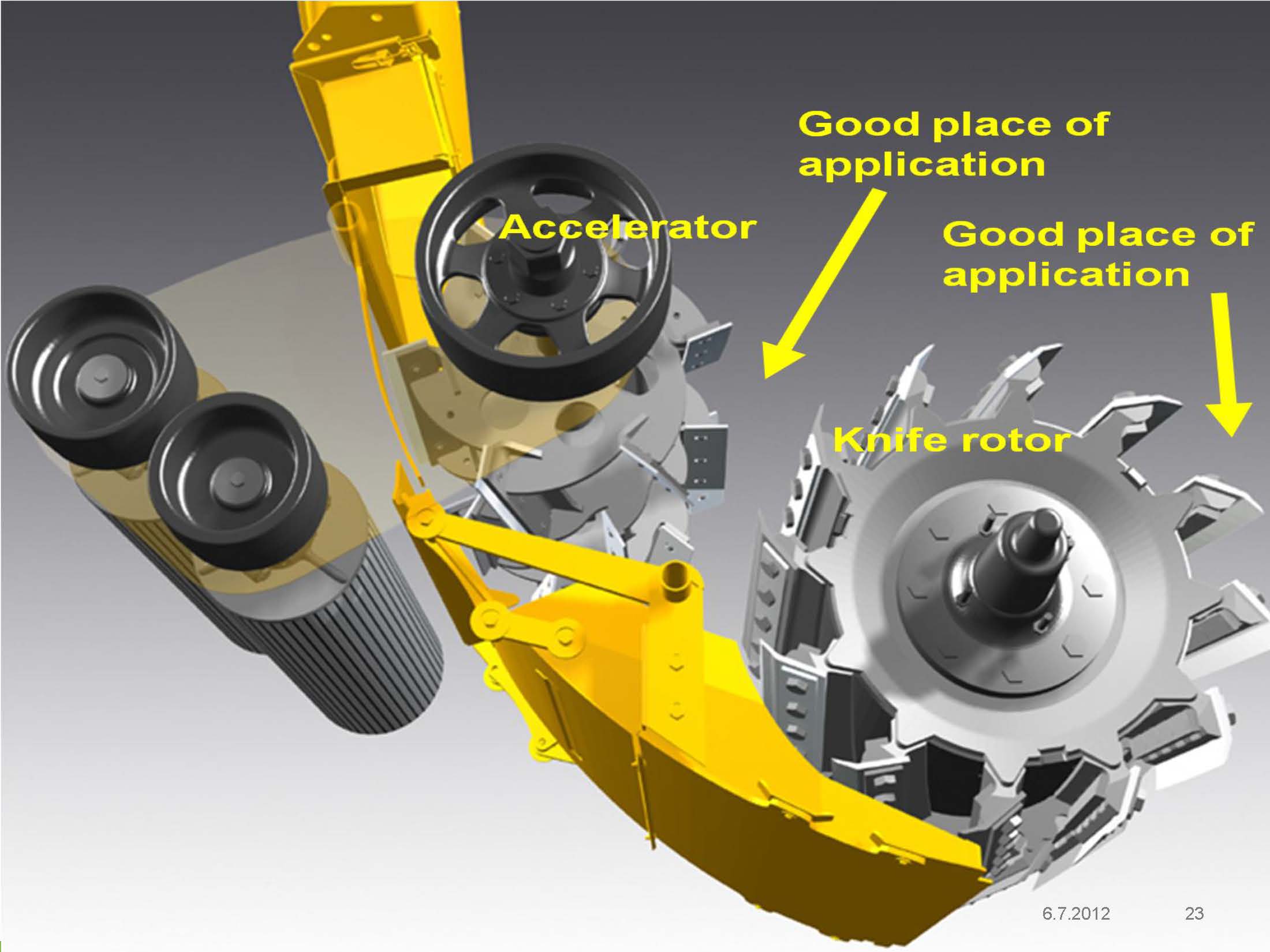 • With a loader wagon, ideally half the additive should be dosed from above, and half from below on the pick-up, and solid jets used instead of fans, which will reduce additive losses and give a better distribution;
• In a trailed harvester, the best place of application is in the lower part of the chute;
• And in a self-propelled harvester, the best place of application is inside the inlet channel before the knife rotor or accelerator.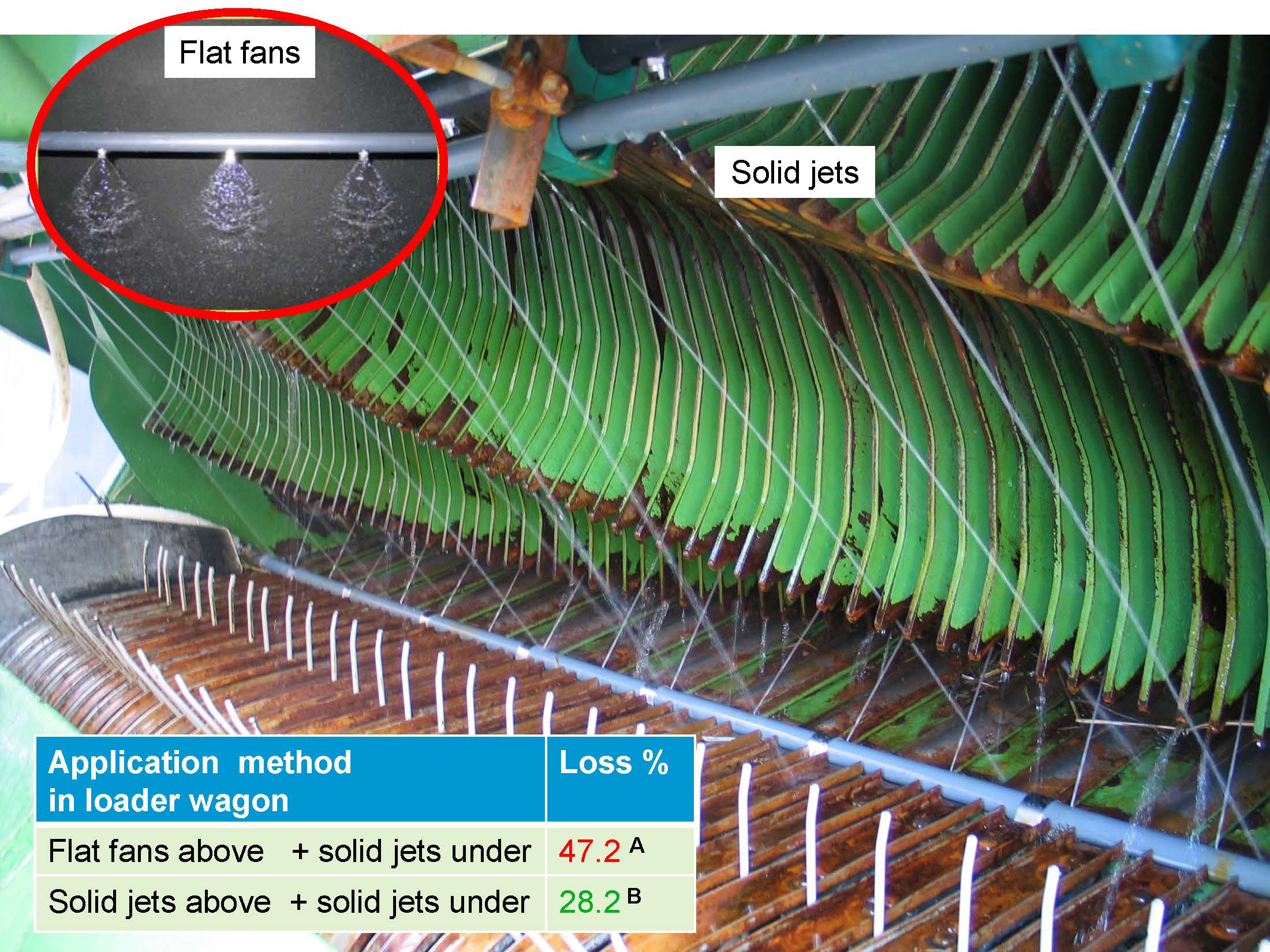 However, Mr Strzelecki has a further concern over dosing equipment in the UK, which he says is often poorly calibrated or simply inadequate for the job.
This has arisen in part because of the huge range of quantities - from as little as 20ml to as much as five litres per tonne of crop - expected to be delivered by the same equipment.
"Expecting the same equipment to deliver this range of quantities is a tall order, and I would question whether any system can accurately apply and distribute as little as 20ml per tonne," he says.
"It's for this reason amongst others that I'd not only recommend using a higher volume product which is likely to be more effectively and evenly distributed, but I'd also suggest pumps are checked for their operational efficiency before the start of the silage making season," he says.
"The wrong product and the wrong delivery system are too often the cause of disappointing results, whereas the right product applied in the correct way is capable of rescuing a silage crop from the most difficult conditions," he concludes.
March 2014